If you choose to sell your junk car on Facebook, Craigslist, or a different marketplace, you deal with private junk car buyers instead of a dealership or cash for junk cars service.
While this can be a hassle, sometimes you can get the best deal by finding a private buyer that wants your vehicle and is willing to pay top dollar versus using reputable junk car buyers. Other times you deal with people who are running a scam or trying to rip you off. Differentiating between scams and legitimate offers takes patience and a little knowledge about the fraudulent schemes that are out there. If you are selling your car on your own, look out for these warning signs with junk car buyers, especially those of the private type.
Fake Check or Money Orders
When a buyer offers to pay with a check or money order, you need to validate these forms of payment before signing over the vehicle. Unfortunately, it's not uncommon to encounter these payment scams on Craigslist and other online platforms. If it happens to be a fake check or a money order that can't be cashed, you will give away your vehicle for free if you sign the paperwork before the money is in your bank. You can confirm with the issuing bank of the check or money order instead of waiting for the funds to clear.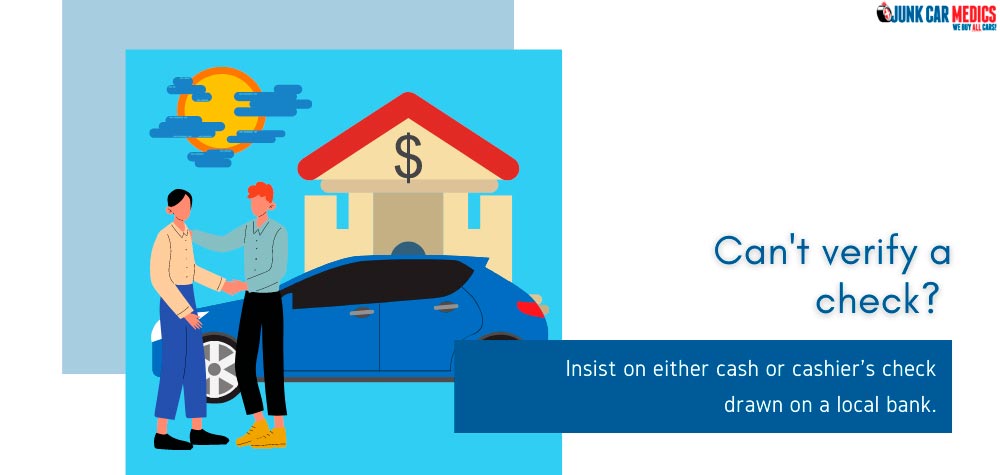 Night Hauling 
Some buyers will send a tow truck to pick up your vehicle after normal business hours. The tow driver will use one of the previously mentioned fake checks or money orders and haul your vehicle away. The buyer may also promise to pay the next day when everything is open, and then never contact you again after your car is hauled away. Make sure you have the funds before you let the car be towed away.  
24 hour junk car buyers only exist online.
Buying Without Seeing
If a private buyer offers to buy your junk vehicle without seeing it, they may be planning to scam you. It is a good warning that they will be using a fake form of payment or using the junk car transaction to gain other details about you and gain access to private information. Offering to buy your vehicle without looking at it is a definite warning sign that something is off. All buyers want to see the potential of the car they are getting, even if it is a junk car they plan to salvage or scrap. 
Handling Paperwork and Registration
Handling the paperwork of a car sale can be a hassle, especially if it is on a weekend or after business hours that the transaction is scheduled to take place. Many buyers will offer to handle all of the paperwork for you. They may claim to know a notary or have done it a million times. Either way, it is important to make sure all of the paperwork is handled correctly. If you sell a car and it is still registered to you, you can still be liable for taxes, tickets, and liens on the vehicle.
Bad Reviews
In the world of online buying and selling, many transactions are tracked and sellers can rate buyers on the platform they used to sell. If the private buyer that has contacted you about your junk car has multiple bad reviews, it is a good warning to stay away from them. No previous history on the site may also be a warning sign of someone making a fresh account to run their scams through.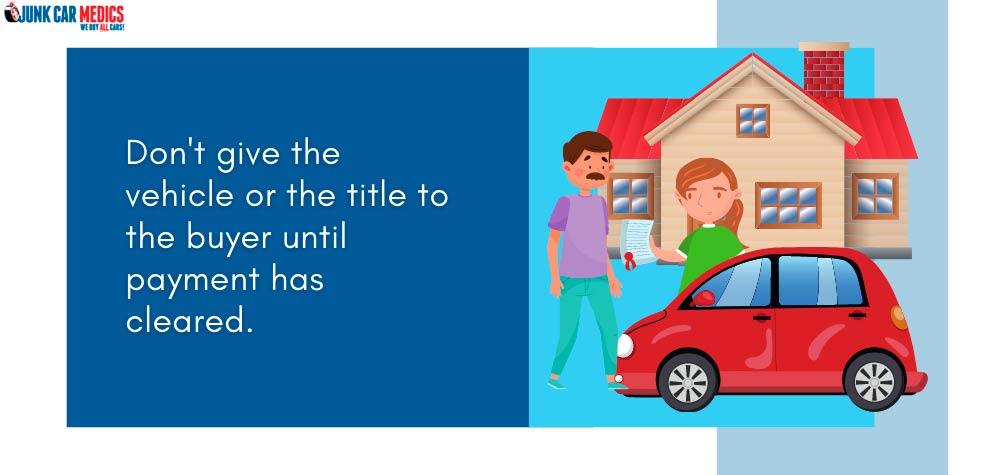 Is selling to a private buyer worth it?
While some people sell their junk cars to private buyers and have a great experience, other times it is not worth the hassle. After you take into consideration all of these warning signs with private junk car buyers, it could be a better option for you to use a junk car buying company such as Junk Car Medics. You can get a quote within minutes and have all of your questions answered without leaving your computer screen.