Hurricanes are large, swirling storms, but the main source of destruction? It isn't the wind – it's the rain that leads to flooding. Water can cause great damage to buildings, homes, cars, and other property.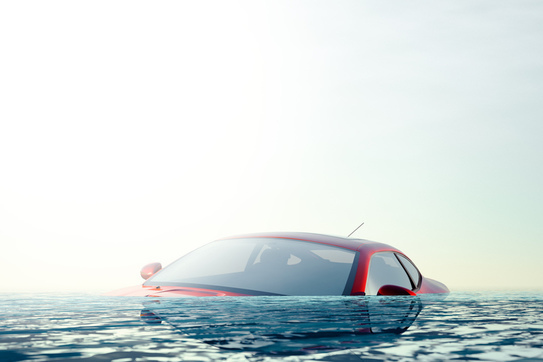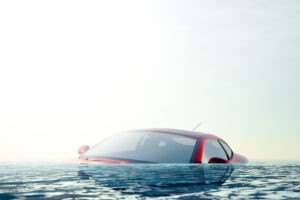 Hurricanes are the most violent storms on Earth. The damage Texas experienced during Hurricane Harvey was historic. The floods devastated Houston, one of the most populated US cities, and they are still trying to recover. Collective estimates for the damage caused by Hurricanes Harvey and Irma are around $200 billion. People aren't sure what they should do with their damaged property.
Vehicle owners have decisions to make because of the recent hurricanes. They may worry that their car is a total loss because of the water damage. However, the good news is that any car can still be sold to a junkyard.
If you need cash and have a car that received a significant amount of water damage during Hurricanes Harvey and Irma, here are some important things you need to know about selling your flood damaged vehicle.
WHAT IS A FLOODED CAR?
Was your car was submerged in water? Did it have a lot of water damage? If so, get a technician to evaluate it before you try to start it. Not only is floodwater dirty, it's often filled with salt. If you start your car, the water will spread throughout your engine. The dirt and salt will cause severe damage and will speed up the corrosion of the car parts. The engine, transmission, and electrical system will face failure due to the water.
In several cases, your car needs to be taken apart for cleaning so it will run properly. The procedure is costly – often more money than the value of the car. Many insurance agencies will call the vehicle a total loss, paying the car off instead of paying for this service.
Selling your car to a dealer or individual is not an option either. In most states, selling a car without disclosing damage information is not allowed. You could be sued for the price of the car sale and damages. Make sure you take the steps to avoid buying a hurricane-damaged car when you replace your own vehicle.
The best option is to sell your car to a car salvage company. Consider these steps to take when you're selling your flooded car for cash.
EVALUATE THE DAMAGE.
The first step is to carefully look over your car. It's important to disconnect the battery. Flooded cars typically have electrical damage and you don't want to risk electrocution. Look under the hood and see which car parts still look serviceable. A flooded vehicle still has parts that may be useful. If you have another car of a similar make and model, double check to see if there are any car parts in the flooded car that you can repurpose.
Evaluate the inside of the car too, paying attention to the seats and instrument panel. Remember to check the doors and trunk for damage. Once you have a good assessment of the damage done to your vehicle, remove any personal items you want to keep, including your license plate and insurance information.
The amount of water damage determines whether flood-damaged cars are repairable.
SET REALISTIC EXPECTATIONS.
Do your research to help you determine the amount money you are willing to accept from a junkyard. Look online at valuation websites, such as the Kelly Blue Book. Sure, your car value will be less than what it shows online. But it's still good to get a solid baseline of the value of your water-damaged car.
Remember that you're selling your car because you know it's damaged beyond repair. Be realistic as you think about how much money you're willing to accept. If you had new car parts installed recently, it's good to know which ones and the details of each to help streamline the selling process.
GATHER THE NECESSARY DOCUMENTS.
When selling your car, the most important document you need is the title to the car. Many salvage companies will not take your car if you don't have the title. The company needs to have proof you are the vehicle's owner and that you're authorized to sell it to them.
You may also need documents such as your driver's license and proof of insurance. Gather these documents before you take your car to the salvage yard to ensure the process is smooth.
Don't forget to check out the rules related to selling a car in your local state. There are helpful guides online to walk you through the process.
CONTACT A CAR SALVAGE COMPANY.
When you contact a salvage company, there are various questions you need to remember to ask them. Many people focus solely on the money they'll receive for the vehicle, but fail to discuss other important details related to the process of selling the car.
First, make sure that you have everything you need to relinquish ownership of the vehicle. Even if you have checked your state's regulations, the salvage company may have some additional requirements.
You should also find someone that will help you transport the car. If it has flood damage, it needs picking up. Even if you could start the car's engine, it wouldn't be safe to drive. Don't put yourself or others in danger while transporting your vehicle to the junkyard.
Also find out how you'll be paid for your vehicle – you should be paid for it on the spot. If a salvage yard wants to pay you at a later date, it's smart to explore other options. Do what you can to minimize your risk of being scammed. A cash payment guarantees you get the money while a business that gives you a check could be giving you a fake or canceled useless piece of paper. The recent hurricanes that have hit the country left lots of damaged cars behind. This means that water-damaged cars may soon be spread throughout the country. When you buy a new vehicle, make sure you don't purchase a water-damaged car.
LEARN MORE ABOUT COMPANIES ONLINE.
Look for a reputable company before you agree to sell your car. Take some time to learn more about the junkyard by checking out its website and reading the online reviews. There are scammers who are out to get your money after a natural disaster. Make sure you don't do business with just any company!
A smart idea is to find a company that has a long history. If a company is brand new, this can raise a red flag. There are some ways to know that a salvage company isn't a fly-by-night operation. Start by performing a Google search to verify how long the company has been in business. Read the business blog – blogs are a great way for a company to boost their visibility online. A company with a blog history wants to be seen. The companies that want to make quick money and run will operate in the shadows.
Once you establish that the salvage yard company has a solid history, check the Better Business Bureau. Ensure that there are no major complaints against them. The BBB is privately owned and non-profit, so it acts as an impartial wealth of information.
Hurrican Ian Aftermath For Flood Damaged Cars
Dealing with the aftermath of a natural disaster is an upsetting and stressful experience. It leaves a lot of question marks and uncertainties. It isn't always a clear what you should do with your damaged property, but eventually you'll need to sell your flooded car. When you're ready, look for a reputable business that will treat you well and give you top dollar for it. Choose a business that can give you cash on the spot so you can use it during the time you need it the most.