Buying and selling used car parts can be an intimidating task for newcomers. Luckily, the internet is flooded with tips and tricks for the used car parts trade. Finding out how to buy and sell car parts from a junk car is easier than you think. But, how do you know which buying and selling avenue is right for you? Let's find out.
To decide where to go for buying and selling used car parts, you want to weigh the advantages of each avenue against each other. Overall, the benefits of going the used route include saving money and being eco-friendly. However, each avenue consists of its own set of advantages that will contribute to your decision. The rest of the article will discuss the benefits of the following used auto part buying and selling avenues:
Online marketplaces, suppliers, and enthusiast forums
Auto salvage yards
Swap meets
Scrap metal yards
Are you ready to weigh the benefits and make your decision?
Online
When it comes to online platforms for buying and selling used car parts, the advantages are endless. This avenue opens you up to a seemingly never-ending pool of buyers and sellers. With just a quick google search, you can find a plethora of people looking to buy used auto parts online.
When you buy and sell auto parts online, you also have the advantage of real-time price comparison. As a buyer, you can quickly search to see how much the part you need averages across different sites to get the best deal. As a seller, you can research the parts you want to sell before listing to ensure you and your seller get the most bang for your buck.
Now comes the following question: What's the best place to sell car parts online? Many online platforms are focusing on auto sales. From individual sellers to large suppliers, you are sure to find the best platform for you.
Online Marketplaces
When looking where to sell used car parts online, the easiest route to go is with a marketplace. Online marketplaces allow you to buy and sell directly to another person by setting your price point, photos, description, and terms.
A few of the most popular online marketplaces that car enthusiasts use include:
Craigslist
eBay
Facebook Marketplace
Facebook Groups
Craigslist and eBay are online marketplaces that have been around the longest. Millions of people utilize these platforms to buy and sell a wide variety of products and services. Used auto parts and vehicles are among the most popular products on the sites. Both platforms offer a large inventory of items from individual sellers and high-quality search engines to help you find exactly what you are looking for.
Facebook Marketplace and Facebook Groups are newer to the scene but provide community and convenience to buyers and sellers. As long as you have an active Facebook account, buying and selling on Facebook is relatively easy. Through the Marketplace, you can search different categories, access live chats with sellers and buyers, and search keywords for parts you are looking for. By joining Facebook Groups, you can access more niche areas of makes, models, and parts.
Online Used Parts Suppliers
If you are more comfortable buying from a larger supplier than from an individual seller, then online used auto part suppliers will be a better fit. Typically, online suppliers are platforms working with hundreds, if not thousands, of recyclers to sell and purchase used auto parts. There are plenty to choose from, but two suppliers worth highlighting are Car-part.com and PartsMarket.
Car-Part.com is a supplier working with thousands of auto recyclers' to supply buyers with over 100 million auto parts. The easy-to-use site offers features like standard and multi-part search engines, price sorting, distance sorting, and live chat rooms. Users can also choose to search parts by images, and they offer resources for both buyers and recyclers'.
PartsMarket labels itself as a one-stop shop for all things auto parts. Thanks to their nationwide facility network, PartsMarket offers a wide selection of quality parts. This one-stop shop allows users access to over seven million parts from over 250 vendors. Some of the site's most popular features and services include a high-quality security system, fast delivery, easy returns, and guaranteed warranties.
Enthusiast Forums
Enthusiast forums can be good for finding parts for specific makes and models. Forums can help with networking when trying to find buyers and sellers who are working on projects of similar interest. Enthusiast forums are also suitable for acquiring information about specific parts that might be harder to find through generic blogs and marketplace groups. These forums are also good for building community and trust in your area(s) of interest.
Auto Salvage Yards and Junkyards
From the outside, looking in auto salvage yards can be an overwhelming sight. Don't let their looks fool you; salvage yards have several significant advantages to them.
Due to parts being salvaged from junk cars, the prices are set relatively low. Some yards will even offer used cars in their entirety for affordable prices. You also don't have to worry about buying an unusable part. Auto salvage yards test out parts before putting them for sale to ensure you get a quality purchase.
Auto salvage yards are also good spots to find parts for both domestic and foreign brands. If the thought of sifting through yards to find a part for your specific make seems daunting, always check the yard's website before visiting. Many salvage yards keep inventory lists on their websites to save time.
Salvage yards are also excellent spots for finding rare parts. Auto yards offer great deals on older, hard-to-find parts making them great for restoration projects. They are also great spots for owners of phased-out cars looking for replacement parts.
Not all auto salvage yards will purchase parts from individual sellers. However, those that do offer an eco-friendly alternative to getting rid of your old car or parts. Sellers get a chance to make some extra cash while the parts are put up for resale, saving them from sitting in landfills, making the choice of buying junkyard parts a great one.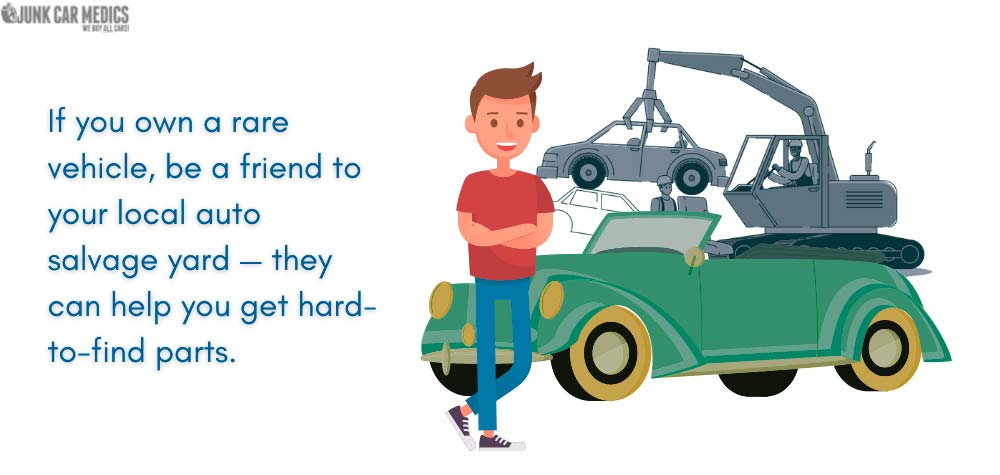 Swap Meets
If you're still wondering, "Where can I sell car parts for cash," then swap meets are a great way to buy and sell locally. Auto-centered swap meets often attract a larger volume of classic and vintage cars and car parts that are difficult to find elsewhere.
From a buyer's point of view, swap meets can connect you to a lot of other car enthusiasts, providing a good information hub and sense of community. As a seller, you are likely to attract people who have a profound interest in cars and will put the parts to good use.
Some things to keep in mind about swap meets is that sellers may need permits to sell depending on the swap meet's location, size, and guidelines. It is also likely that you won't be offered any warranty or return policies at swap meets. You will want to do your research on individual swap meets before attending.
Scrap Metal Yards
Scrap metal yards are best for selling any of your unusable or unwanted parts. Recycling your scrap metal is an excellent way to promote the reuse of metal to help the environment. They offer a great alternative to throwing out your old parts for free to sit in landfills. Scrap metal yards help lessen the amount of new metal needed and lower pollution levels.
Wrap Up
The most challenging choice to make when buying or selling auto parts is where to do it.
With the age of technology comes the quickest way to buy and sell auto parts of all kinds. Online marketplaces, suppliers, and forums are efficient platforms to use if you are looking to get the job done quickly.
Auto salvage yards are excellent for those looking for a local buy. This is also a way to get significant savings and find rare parts. Salvage yards are also great for the environment as they save parts from sitting in landfills.
Swap meets are another great way to buy and sell locally. They are often excellent spots for finding cars and parts for classic and vintage vehicles that are otherwise difficult to find.
Lastly, scrap metal yards are an excellent choice for recycling any unwanted or unusable parts.
Whichever of these you end up doing business with, one thing holds true: buying and selling used car parts in place of buying new is an excellent way to save money and stay eco-friendly.