How to Junk a Car for Cash
Junk Car Medics Help Center
Realizing you have to junk a car for the first time and unsure where to start?  Maybe you've been down this road before but just want to find the best  junk car service around?
Either way, we get it. Junking a car can be a stressful experience.
The Guide to Junk Cars for Cash has everything you need to sell a junk car for cash whether it's your first time or not.
WHAT YOU'LL LEARN
First time with a junk car? Unsure how the industry works?
Our cash for junk cars learning center is a great place for newbies to learn about the basics such as what is a junk car, how to junk a car, and whether it's time to junk a car for cash.
We'll ask you a few basic questions about your car.
It's a quick process that'll take less than 2 minutes to complete, and you'll get a fair market offer to sell your car for cash. Offers to sell a car can range from $50 - $15,000 depending on various factors.
Here is a complete list of the information you'll need on your vehicle:
Make, model and year (Ie, 2009 Toyota Camry)

Vehicle condition – include problems and damaged areas

Mileage, or odometer reading

Exterior, interior description

Mechanical condition

Title status – clean titles preferred

Does the car run?

Can the car be towed?

Are the tires flat?

Overall condition of all four tires and wheels

Damaged glass, mirrors or lights

Do you have the keys?

Zip code for the car's location
Step 2: Accept the offer by entering your VIN and scheduling the pickup
Simply enter your VIN and a representative will contact you to make arrangements to remove your vehicle and get you paid.
Want to shop around? No problem. We'll share your offer with you by email so you can take a moment to decide if you prefer.
We'll send you a local representative to pick up your car for free.
The rep will walk you through the steps to sign over the title, get the keys, and pay you in cash or by check (which we guarantee!).
Selling your car for cash can be a daunting task, there's so much to consider.  JunkCarMedics.com has simplified the process of selling a car and purchases 1,000's of cars every month across the United States.
Our car buying process is quick, easy, and painless!  We also pay the most cash for cars!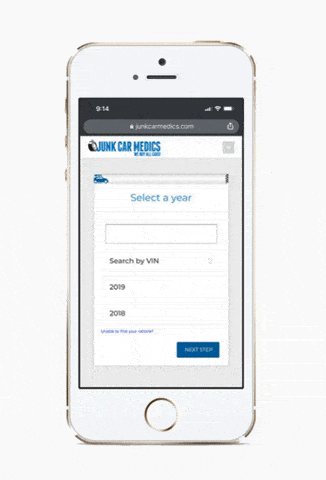 WHAT YOU'LL LEARN
How much is my junk car worth?
Find out how the scrap value of your car is determined and how different conditions impact current junk car prices.
WHAT YOU'LL LEARN
A title and registration is what you need.
Get answers to touch questions like can i junk my car with no title or if theirs a lien as well as how to transfer the car title when you sell your car.
WHAT YOU'LL LEARN
Who will get your car if you use our cash for junk cars service?
Learn all about our junk car buyers and those other car buyers such as individuals on Craigslist.
WHAT YOU'LL LEARN
Getting an offer to junk a car is fast, free, and simple.
Accepting your junk car offer is the same.  You'll find our whole process is quick, easy, and painless.
WHAT YOU'LL LEARN
Find out how junk car removal works and the process of completing the sale and getting paid to junk your car.
It's quick, easy, and painless.
6 RESOURCES
We Pay Top Dollar For Junk Cars
Why to NOT Use JunkCarMedics.com
Cash for Cars or Check?
Cash for Junk Cars Same Day Pickup
JunkCarMedics.com is Legit
JunkCarMedics.com Vs. Junkyards Near Me
By now you know what it takes to get cash for junk cars and should have a good idea of what price you can expect.  But JunkCarMedics.com makes it easy to get an exact offer in 1-2 minutes with no obligations.  Get your instant offer now and you can have your car sold in 1-2 days!