Get More Cash for Cars and Junk Cars in Milwaukee, WI
Junk your car to Milwaukee's #1 cash for cars service that gets you up to $500 more.
Get a fast offer with our best price now:
We Buy Junk Cars for Cash in
Milwaukee
We buy junk cars in Milwaukee and we will beat the prices of all auto salvage yards. Whether you live further north or south along Lake Michigan or are further inland to the west, we want your junk car.
You might be wondering what the catch is. After all, a junk car buyer in Milwaukee that gives you the most amount of money for your junk car while making the entire process easy must be up to something, right? Truth is however that we at Junk Car Medics are all about the benjamins in Milwaukee, WI. Our buyers are standing by to help you solve this problem and provide you with the money you deserve as a result. They'll even help with purchasing it and donating the profits to charity in Milwaukee for you. We will also will help you deal with the DMV, if you need to find the correct title and registration.
A rusting, unwanted vehicle is a sickness that we here at Junk Car Medics are more than happy to remedy with our experience, professionalism, and commitment to you, our customer. With the best prices around, free removal, and plenty of assistance if requested, it has never been easier for Milwaukee residents to get the money they deserve for their vehicles. Click here and learn more about how we can help you. Junk Car Medics pays top dollar. It's quick and easy!
Junk Car Medics Milwaukee
Milwaukee, WI 53202
(414) 250-0480

Calling Hours:
Call For Quote 24/7
Business Hours:
Mon-Fri: 8 am – 7 pm
Sat: 8 am – 2 pm
Sun: Closed
How to Junk a Car in
Milwaukee, WI
Junk Car Medics makes selling a junk car for cash in Milwaukee, WI quick, easy, and painless. Get up to $1,500 to junk cars and up to $5,000 for used cars.
Here's how it works:
Step 1: Get an Instant Offer Online or by Phone
We'll ask you a few basic questions about your car's condition, mileage, and whether you have the title.  It's a quick process that'll take less than 2 minutes to complete, and you'll get a fair market offer to junk your car.
Step 2: Accept Your Offer and Make Arrangements
After you accept your offer a representative will contact you to make arrangements for the removal of your junk car.  Towing and removal are free of charge.
Step 3: Get Paid More For Using Junk Car Medics in
Milwaukee
Upon pick up, sign over the title, hand over the keys, and you'll get paid on the spot with a check for your car.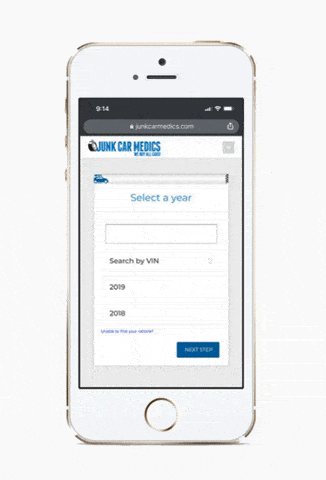 Why Junk Your Car to Junk Car Medics Cash for Junk Car Service in Milwaukee?
Jon S. - Junk Car Medics Customer
I was trying to get rid of my 2008 GMC 1500 that needed a new transmission. Out of 8 different company's not only was there online quote fast and simple but they offered the best and highest price. When accepting the offer they made it easy with no complications. I scheduled my appointment and the driver came by the next day to remove it and pay me. If you are trying to get rid of your junk car they are the ones I recommend!
Recent Purchases By Our Junk Car Buyers in
Milwaukee, WI
2003 Honda Odyssey

Zip: 53206
Offer Price: $550
Offer Date: 10-05-2021
2000 Oldsmobile Bravada

Zip: 53208
Offer Price: $500
Offer Date: 10-04-2021
2007 Hyundai Accent

Zip: 53216
Offer Price: $520
Offer Date: 10-03-2021
2007 Hyundai Accent

Zip: 53216
Offer Price: $520
Offer Date: 10-02-2021
2010 Chevrolet Traverse

Zip: 53209
Offer Price: $550
Offer Date: 09-20-2021
2005 Chevrolet Equinox

Zip: 53204
Offer Price: $645
Offer Date: 08-21-2021
2006 Toyota Avalon

Zip: 53208
Offer Price: $870
Offer Date: 08-07-2021
2002 Honda Accord

Zip: 53214
Offer Price: $605
Offer Date: 07-15-2021
2008 Nissan Altima

Zip: 53212
Offer Price: $590
Offer Date: 07-02-2021
2001 Chevrolet Suburban

Zip: 53209
Offer Price: $700
Offer Date: 06-27-2021
2006 Honda Pilot

Zip: 53210
Offer Price: $645
Offer Date: 06-16-2021
2005 Infiniti G35

Zip: 53216
Offer Price: $560
Offer Date: 06-12-2021
2008 Nissan Rogue

Zip: 53215
Offer Price: $785
Offer Date: 06-08-2021
2007 Buick Terraza

Zip: 53209
Offer Price: $645
Offer Date: 05-17-2021
2007 Acura TL

Zip: 53210
Offer Price: $540
Offer Date: 05-15-2021
Milwaukee, WI October 17, 2021
Milwaukee Junk Car Prices
Top 7 Used Cars in
Milwaukee, WI
Coming soon
Top 7 Junk Cars in
Milwaukee, WI
Coming soon
The #1 Junk Car Removal Service in Milwaukee
You might be wondering, why bother selling my junk car? Truth be told, there are city ordinances and laws that can make your junk car into a source of future fines. Along with taking up space, your car will cost you time and money. While selling your junk car may seem like more work, it is in fact easier and quicker than you might imagine. Milwaukee isn't just the cultural and economic center of Wisconsin; it is also the best place to get an amazing deal on your vehicle while being paid on the spot.
I think we can all agree that selling a junk car in Milwaukee, WI is anything but easy, right? The truth is, it doesn't have to be this way. The Junk Car Medics are remaking the entire buying and selling process by focusing on your needs and providing you with a price that cannot be beat. Along with paying more than the competition, we will make the entire process straightforward, working with you through every point to make the transaction as simple as possible. Contact us now and learn about our 100% satisfaction guarantee!
Where Can I Sell My Junk Cars In Milwaukee, Wisconsin?
Auto junk yards in Milwaukee are a dime a dozen. However, with generally shifty practices and quotes you cannot always rely on, Junk Car Medics is a refreshing change with upfront practices and a professional manner. We buy junk cars in Milwaukee and we will beat any prices out there.
What Do I Need To Sell My Junk Car In Milwaukee?
You will require your title and registration information. By contacting us, we can help you go through the process of finding this information. In addition, we can provide you with free towing and junk car removal services in and around the greater Milwaukee area. The value of your vehicle will be determined by the overall weight of the vehicle. Once you are fully satisfied and payment is received, we will scrap the vehicle.
Does Junk Car Medics Provide Any Guarantees or Promises?
Yes! We provide a 100% satisfaction guarantee. We understand that as a company, our reputation is only as good as the service we provide for you. That is why we provide this guarantee, as our thanks and continued support to the greater Milwaukee community. It is our hope that by setting a gold standard, you will consider us in the future for all of your junk car needs.
Call Junk Car Medics Cash for Junk Cars Service in Milwaukee, WI Now!
---
Along with covering Milwaukee, we also cover the surrounding areas as well. This includes Shorewood, Glendale, River Hills, Menomonee Falls, Brookfield, New Berlin, Greendale, Franklin, and St. Francis. In addition, area codes covered include 53202, 53203, 53233, 53205, 53204, 53215, 53208, 53211, 53212, 53206, 53210, 53219, and 53200. If your zip code is not covered here, then please do not hesitate to contact us and we can work something out.