When you scrap a car the resulable parts are removed, the fluids are drained, and what's left is the metal of the vehicle.  It is then sold to a local metal recycling facility at current scrap metal prices.
It is then fed into a giant shredding machine, which breaks it down into small chunks of metal.
Additional processing separates these chunks of mixed metal into ferrous metals (iron and steel) and non-ferrous metals (aluminum and copper). All these metals will be recycled into new raw materials, which will then be used in the manufacture of new cars and other products.
This means scrap metal prices per ton, specifically scrap steel prices per ton have a heavy impact on the vehicle recycling industry and a junk car's value.
Add a header to begin generating the table of contents
Last Updated: November 1, 2021
A Scrap Car's Value is Mostly Determined by The Price Per Ton of Metal
Your car's value as scrap is based primarily on its weight and recyclable scrap metal content. When a junk car operation purchases your vehicle, what they're really buying is the value of that scrap metal.  They purchase your car based on current scrap metal prices.
Steel, aluminum, copper, and other metals can be sold for cash to scrap metal dealers. Those scrap metal dealers, in turn, sell the metal to manufacturers who recycle the metal and turn it into new cars, building materials, wire, smartphones, and many other items.
Scrap metal prices can vary largely by location and demand. If car manufacturers aren't making many cars, the prices of steel and aluminum drop. If builders aren't constructing new homes and apartment buildings, the prices of the metals they use also drop. International factors can also affect scrap metal prices.
Your scrap car is a combination of varying amounts of different metals. The most recent statistics, which are for 2017 models, list the content of the metal in the average vehicle as follows:
| | |
| --- | --- |
| Steel | 2090 lbs. (approx. 1 ton) |
| Aluminum | 416 lbs. |
| Iron | 243 lbs. |
| Copper & Brass | 69 lbs |
| Lead (battery) | 37 lbs |
Keep in mind that these numbers apply to an "average" 2017 model vehicle. Smaller, lighter vehicles will have lesser amounts of each metal, while larger, heavier vehicles will have more. Older vehicles will have a higher steel content and a lower aluminum content, due to the increasing use of aluminum for weight reduction in newer vehicles.
Your scrap car's overall weight is a big part of its value
To give you an idea of how much the weights of different vehicles can vary (which is reflected in their scrap values), here are the lightest and the heaviest vehicles on the market. All other vehicles will fall somewhere in between:
| | |
| --- | --- |
| The Lightest: | |
| Mitsubishi Mirage (Subcompact Car) | 2,018 lbs. |
| | |
| The Heaviest: | |
| Ford F450 Super Duty Crew Cab (HD Pickup Truck) | 8,600 lbs. |
Bottom line, that huge and heavy F450 will have a much, much higher scrap value than the tiny little Mirage!
If you want to know how much your specific vehicle weighs, there are several places you can look:
Your owner's manual: This includes a section with vehicle specifications, including the weight of your car.
Inside your driver's door: Some vehicles have stickers with vehicle information on the inside frame of the driver's door.
The manufacturer: You can contact your vehicle's manufacturer for this information.
Online: Websites such as Love to Know have published lists of weights for the most popular vehicle models.
Also, check out our post on how many tons a car weighs.
What is the metal in your scrap car worth?
Now we come to the prices of individual metals in your junk car. Here are the prices for the metals listed above, as shown on the iscrappapp.com website for November 1, 2021. Remember that market prices fluctuate, so these can change on a daily, weekly, or monthly basis. Prices can also vary from region to region:
| | |
| --- | --- |
| Steel | $212.00/ton |
| Aluminum | $0.62/lb. |
| Iron | $167.00/ton |
| Copper | $3.31/lb |
| Brass | $1.78/lb. (brass) |
| Lead (battery) | $0.54/lb |
Understanding Scrap Metal Prices And How They Are Calculated
There are many factors that determine the value of scrap metal and which ultimately cause prices to fluctuate. They include:
Current Market Prices – A reflection of scrap prices on the commodity exchanges.
Industrial Demand –Industries such as technology, construction, and automotive use scrap metal. When the demand for various metals is high in these industries, the prices increase, and vice versa.
Time of Year – The seasons can also greatly affect when scrap metals are in demand by various industries, causing prices to rise or fall.
A Worldwide Pandemic – When industrial companies shut down due to COVID-19 in early 2020, they stopped buying metals, killing demand and driving down prices.
Scrap metal prices change on an ongoing basis. They even vary within different regions of the country.
Obtaining accurate, up-to-date pricing can take some research.
We've done that research for you. Here are some charts that will show you recent scrap metal price trends:
Steel: What most of your car is made of
Scrap steel dropped from the mid-$200's in the winter of 2019-2020 to the low $200's during the spring and summer. Prices recovered in the fall, rising past the $300 mark to hit $330 per ton in December. This is a reflection of the worldwide industrial shutdown caused by the COVID-19 pandemic, followed by subsequent recoveries in China and other parts of the world. If this pricing trend continues, it should result in slightly higher prices for the steel found in junk cars.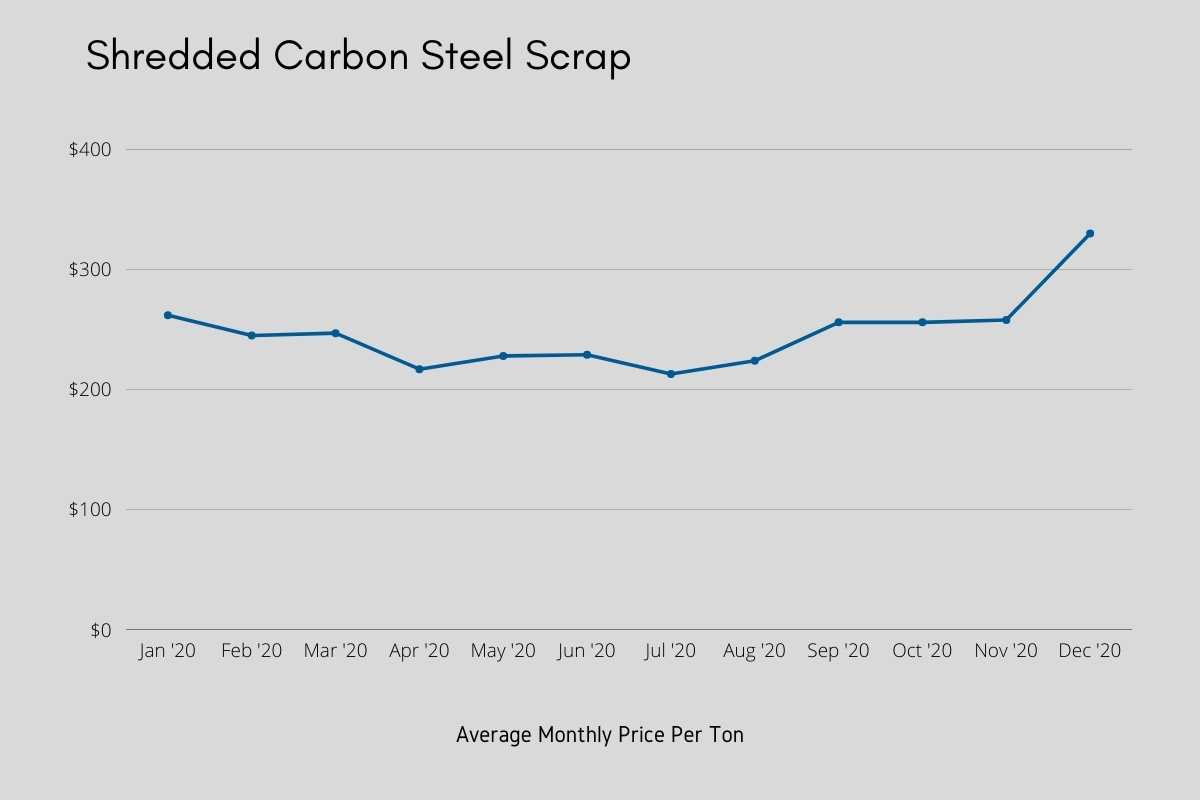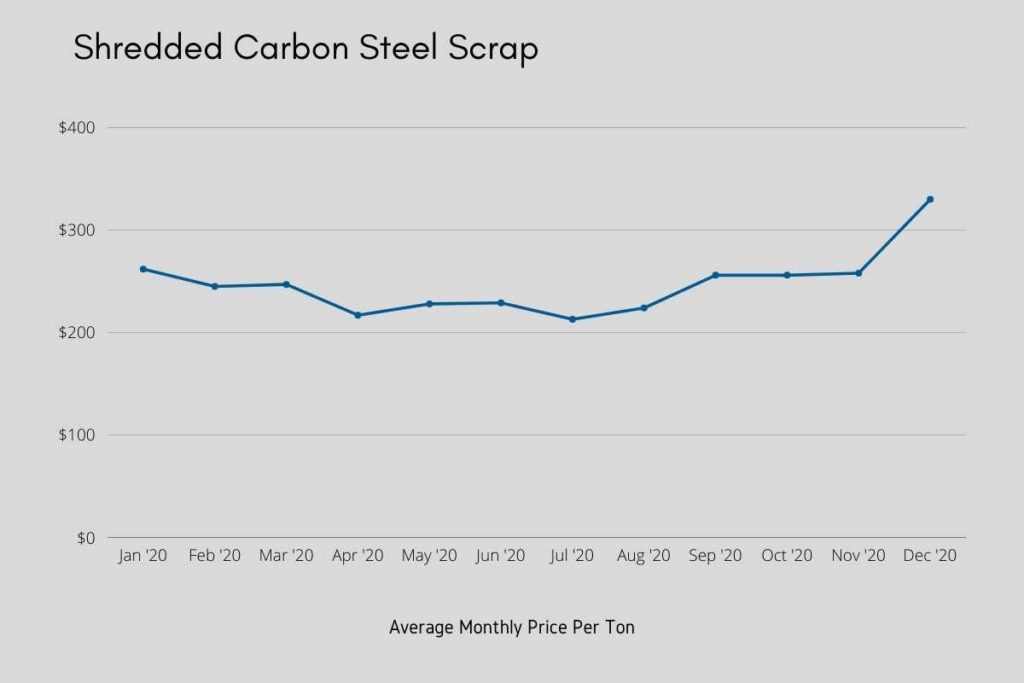 Aluminum: Used on various parts throughout your car (engine, doors, hoods, and rims)
Aluminum followed a similar pricing trend to that of steel during 2020. It started at $1773/MT (Metric Ton) in January, dropped to $1460 by April, then steadily recovered to a high of $2015 in December, Staying above the $2000 mark in January of 2021. This bodes well for aluminum pricing going into 2021 and should support a small increase in scrap car prices.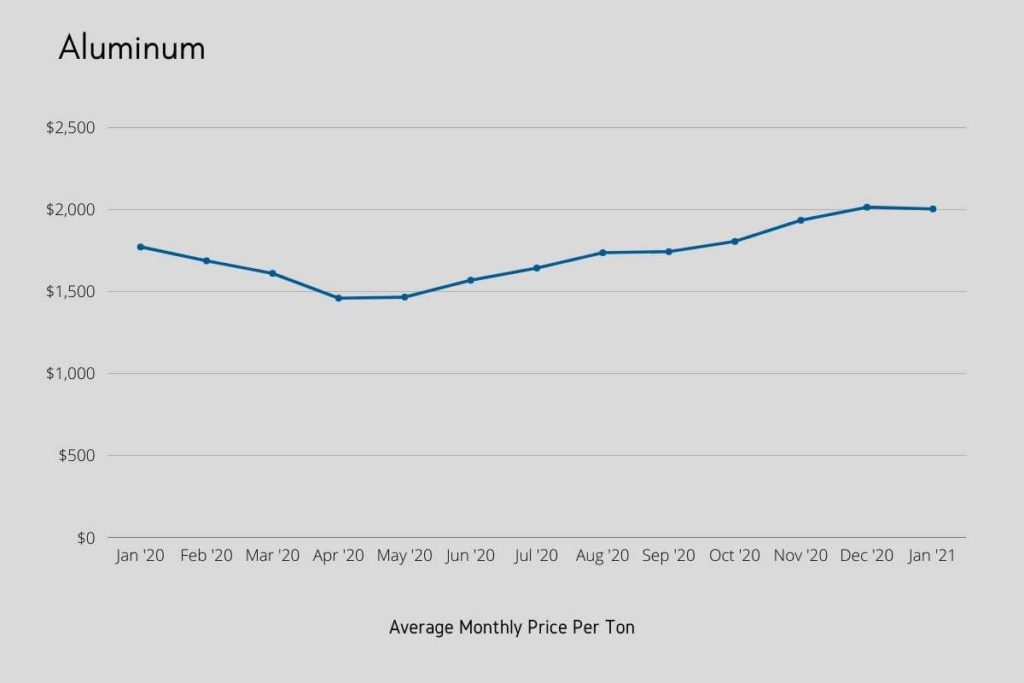 Copper: Found in your scrap car's wiring, starter, alternator and other components
A similar pattern can be seen in copper prices. Starting at $6031 in January, hitting a low of $5058 in April, and then roaring back to $7972 in January 2021, copper increased by nearly a third since the beginning of last year. Once again, this increases the value of the copper content in your scrap car – if this pricing trend continues to be supported by the metals markets.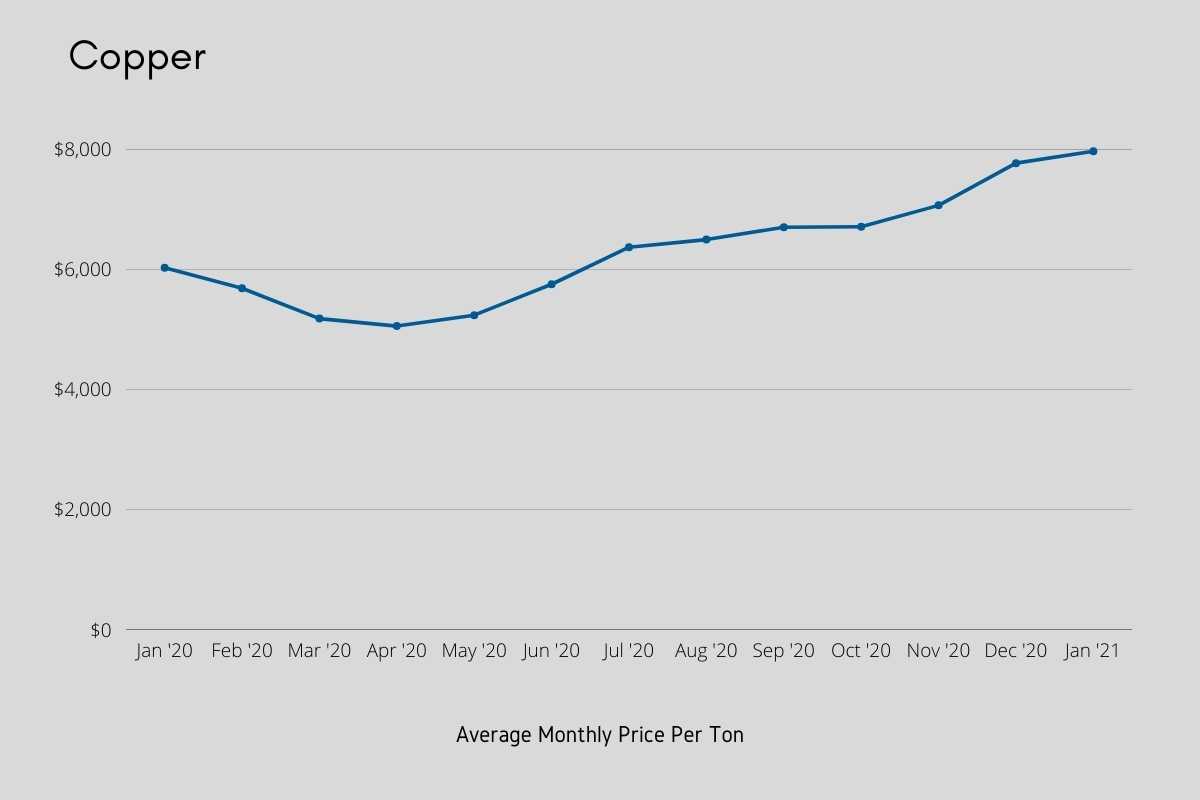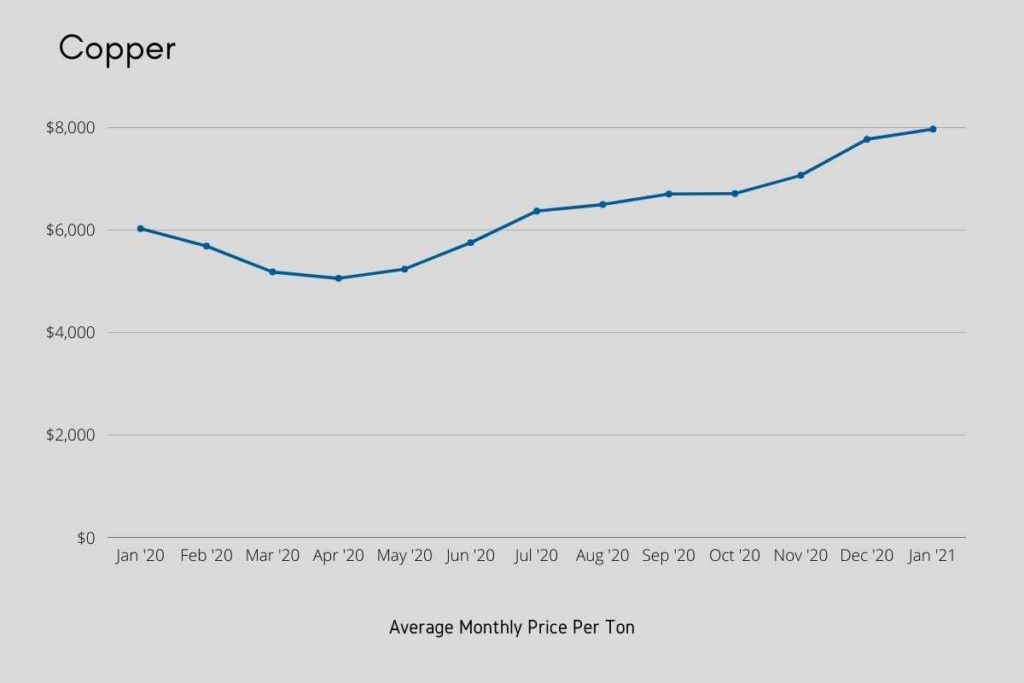 Platinum: Located within your car's catalytic converter
Once again, the pandemic-related pattern holds for the pricing action of platinum. The precious metal dropped during the first few months of the year, bottoming out in April, then rising to a high in January 2021 that was more than ten percent higher than January of the year before. This could mean a slight uptick in the value of the platinum that can be recovered from the catalytic converter of your scrap car.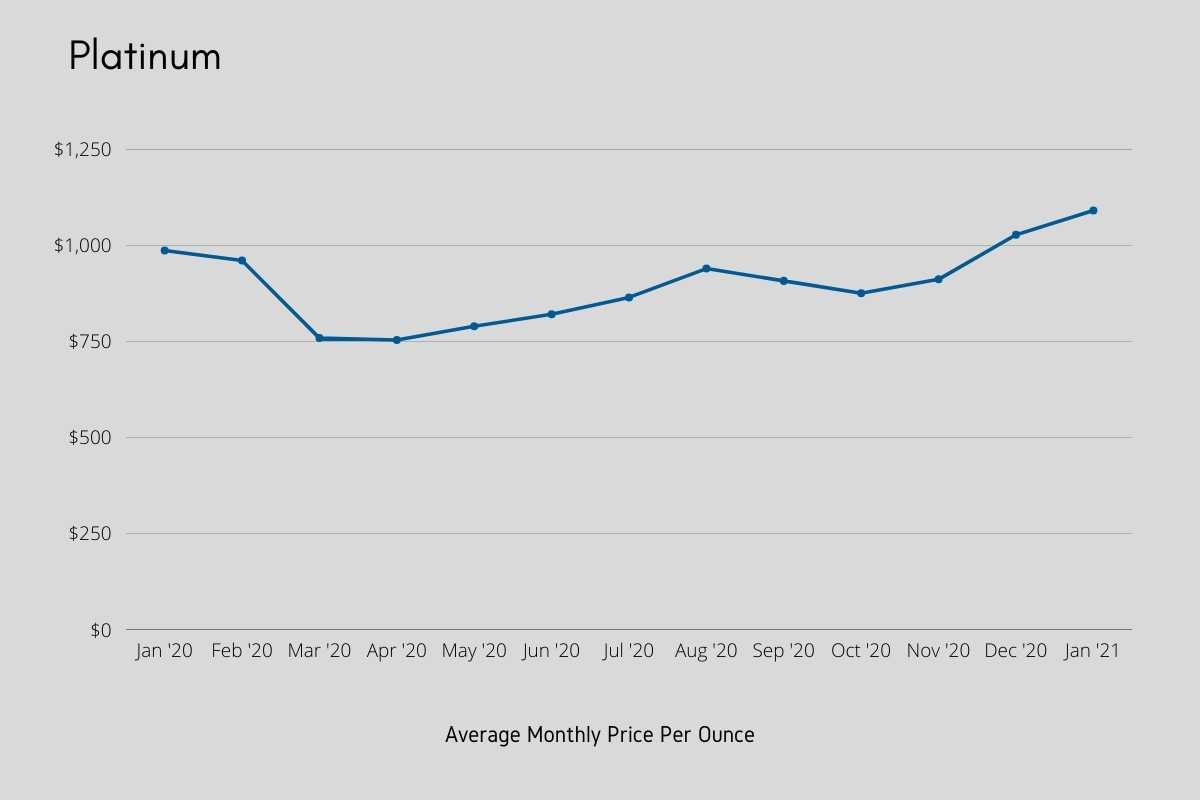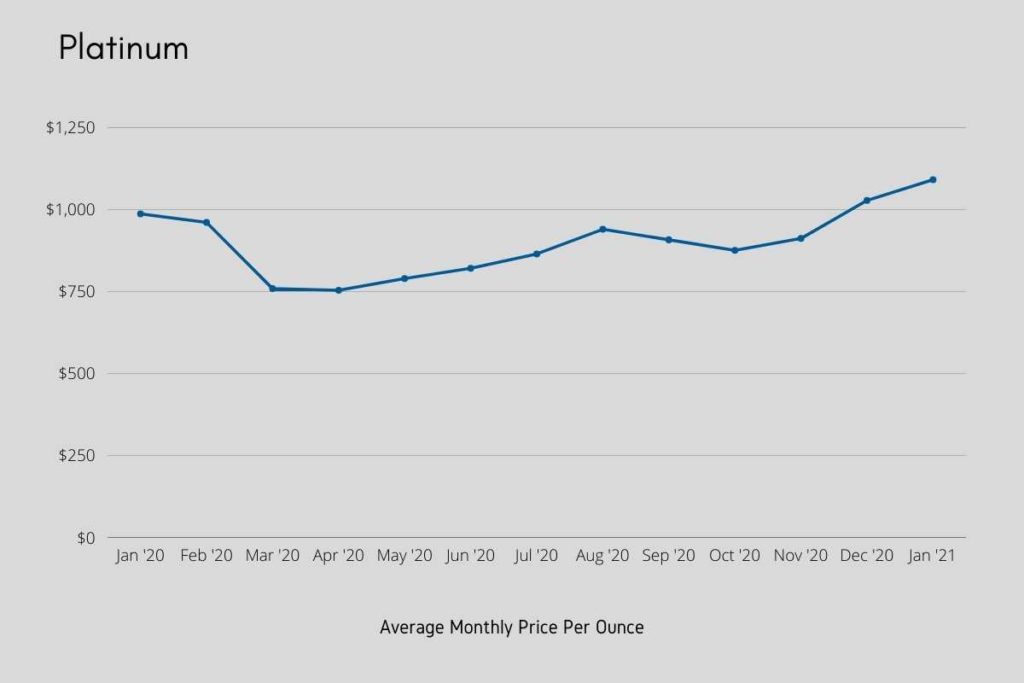 How to Find Updated Scrap Metal Prices
Just like with other markets the Internet is a great place to go to do some research. There are several websites out there that allow you to see what the scrap metal market looks like at a glance. Here are some of the big names out there in the scrap metal market:
ScrapMonster - Founded back in 2009, ScrapMonster has a plethora of scrap metal pricing info on its website. You can look over market prices for scrap metal in places like the United States, China, and Europe. They have prices for most metals in the scrap market, including different grades of steel and electronics.
ScrapRegister - is another website dedicated to the scrap metal industry. This website doesn't feature any prices from the European market, but they do have info on the Chinese, Japanese, and Indian scrap markets. They also divide each of these regions into smaller geographical categories.
iScrapApp -Founded in 2011, this website features many of the same features as the other sites above for finding scrap metal prices today. It features the lowest number of available markets. iScrap only lists the prices from the United States scrap market on its homepage.
Call Your Local Metal Recycler - There's no better place to get your local prices then the local scrap metal mills. How Can I See National Scrap Car Prices?
You can check out our page on national scrap car prices.  We'll keep you updated with the average price for various junk cars.