Who pays the most for junk cars is a common question that the staff at Junk Car Medics hears all the time because we buy junk cars. Who pays the most for junk cars is largely defined by the vehicle, location and it's conditon.
Junk Car Medics is typically the best place to sell a junk car for the most cash. Junk Car Medics pays between $100 - $1,000 on average for junk cars. Being an online junk car buyer allows Junk Car Medics to maximize the value of your junk car. From our website to our customer service team to our network of buyers, we've found ways to squeeze every last dollar out of old cars to maximize the returns of our customers.
How do we do it? Glad you asked.
Excellent Network of Junk Car Buyers
Salvage yards, auctions, even individuals: there are plenty of people in the market for even the oldest cars. Metal is metal no matter where it comes from and scrapyards can only remain open if they maximize their volume.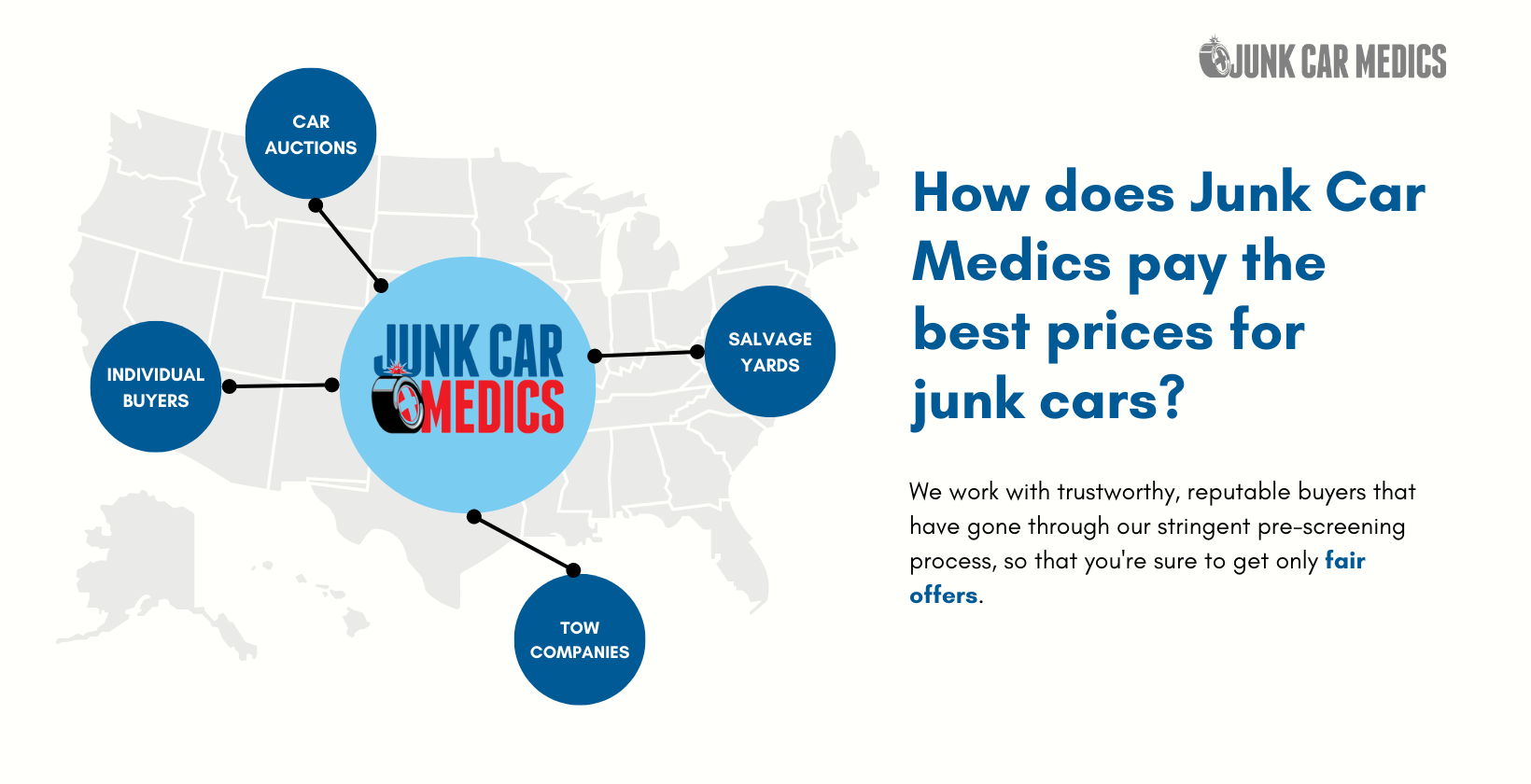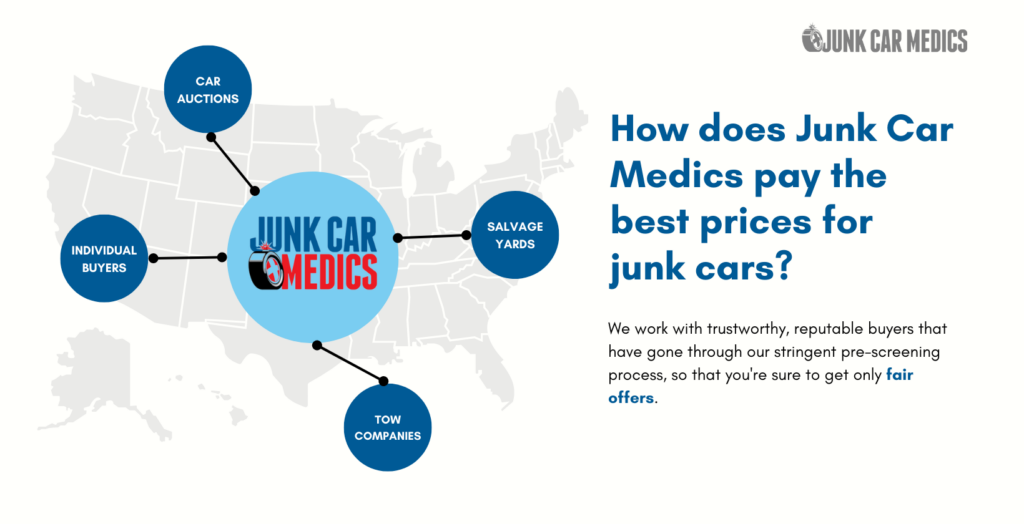 We work with reputable buyers who offer fair prices for each transaction. Our only goal is to get them the most cash for the car. So if that means the buyers have to fight it out amongst each other, so be it.
Before someone joins our junk car buyers as places that buy junk cars, we screen them to ensure their practices are as straightforward as they claim. Once they're in the network, they're evaluated on a regular basis. People change, companies reorganize, priorities shift: we don't take anything for granted.
Won't an Auto Salvage Yard Pay Me More for My Car?
Auto salvage yards are known for lowballing people. It's human nature. The less they pay you, the more they make. Sometimes, they're known for going about this in underhanded ways.
For instance, they might claim they'll give you a certain amount, only to turn around and charge you to tow the car. With Junk Car Medics, the towing service is built-in, so you can trust the original price you're quoted.
Isn't Junk Car Medics Just Another Middle Man?
Not really. Our service streamlines the process of turning in a junk car rather than serving as nothing but a go-between: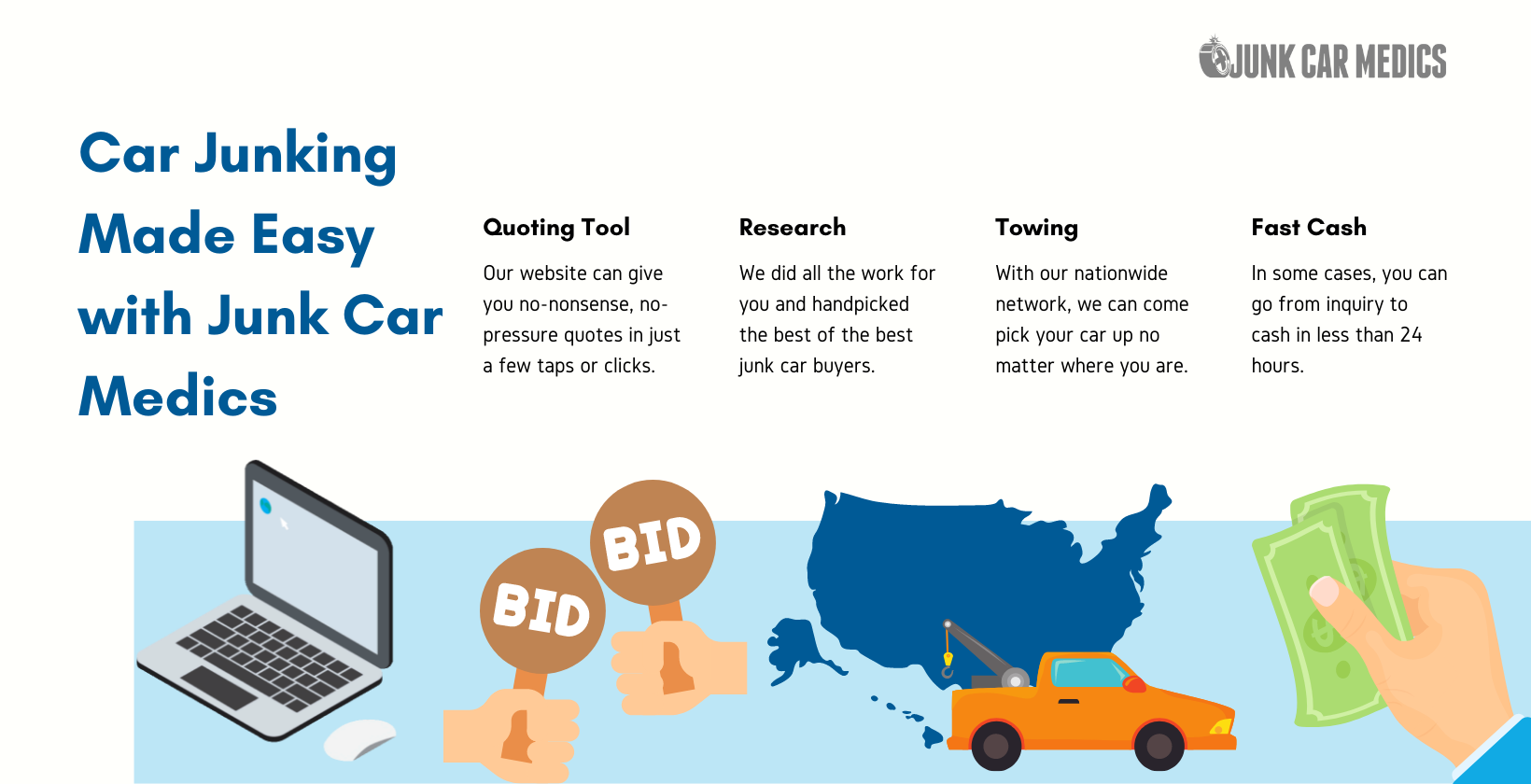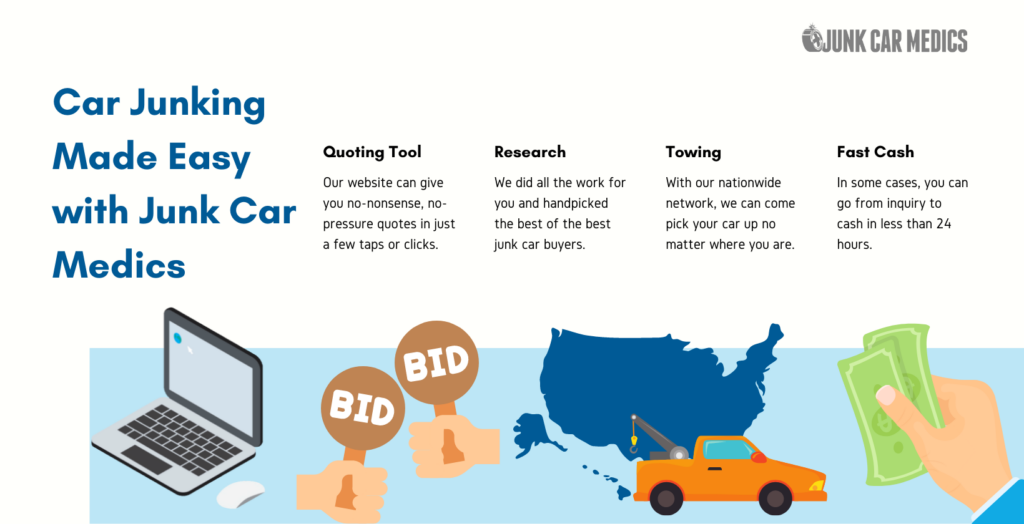 Quoting tool: No-pressure quotes from our website are a great jumping off point for people who don't want to hear a 15-minute spiel before they buy someone. Once you get a quote, you can sleep on it, forget it, whatever you want!
Research: Instead of having to call 10 different services (and likely call them several times because you forgot you already crossed them off your list), we work with reputable buyers who offer fair prices.
Towing: Our network stretches across the US, so chances are we can find a way to come get your car. That usually means coming to your property or storage facility, but it's not unusual for cars to break down anywhere from your parking lot at work to the middle of nowhere.
Fast cash: The checks we cut get to you quickly. In some cases, you can go from inquiry to cash in less than 24 hours. It's a major perk for our customers.
Junk Car Medics isn't taking money out of people's pockets. It's the buyers who pay us with a finder's fee, not the customers who pay us out of their own savings. Yes, we're not doing this for free, but we're also providing a valuable service that saves people time and puts some extra money in their hands.
Why Use Junk Car Medics Junk Car Buyers?
Check our reviews — we'll wait. Most of our customers are just happy they've found a company that is looking for them rather than looking out for the bottom line. While our customer service team is happy to take calls about questions or concerns, the truth is that most people don't have any hassles to speak of.
Plus, we pay more cash for cars. By getting a whole group of buyers together instead of just a few, there's more chance that your car is going to start some sort of bidding war. It all adds up to more dollars and cents to put toward a safer vehicle (or whatever you want).
Does Junk Car Medics Offer Same Day Cash for Junk Cars
Yes, when possible you can get cash for your junker on the same day. There are a few factors that determine it such as the time of day, scheduling, weather, and availability.  Junk Car Medics operates during normal business hours and provides 24/7 online offers.  Read about junk car buyers that buy junk cars 24 hours a day and what to watch for.