We Pay More Cash for Cars in St. Petersburg, FL
Junk your car to St. Petersburg's #1 cash for cars service that gets you up to $500 more.
Get a fast offer with our best price now:
We Buy Junk Cars for Cash in
St. Petersburg
We are the most trusted junk car buyers in St. Petersburg, FL, with our own free towing service and a phone line that is always open—you can get a quote on the value of your junk car immediately, just give us a call and provide us with the following details: the make and model, the car's age, the car's mileage, your vehicle's condition. From that information, we'll be able to come up with a competitive payout for your vehicle and then make arrangements to buy it off you. Call us at (855) 587-0227 to learn more.
What You Should Know About Us
• We buy junk cars in St. Petersburg, FL
• You can sell us any car—even cars without titles
• We offer free removal in St. Petersburg, FL
• Get the latest scrap metal prices in St. Petersburg, FL from us
• We buy all cars, in all conditions, guaranteed.
We have a team of appraisers onboard who are willing to pay as much as $7,500 for undesired cars. Typically, high payouts go to cars that are running and in good enough condition to warrant resale on the used market. Higher value also goes to vehicles that have salvageable components that are in high demand—depending on the make and model.
Junk Car Medics St. Petersburg
St. Petersburg, FL 33701
(855) 587-0227
Calling Hours:
Call For Quote 24/7
Business Hours:
Mon-Fri: 8 am – 7 pm
Sat: 8 am – 2 pm
Sun: Closed
Top rated junk car buyers.
How to Sell Junk Cars in
St. Petersburg, FL
Sell junk cars in St. Petersburg, FL with our quick, easy, painless process. Get up to $300, $500, even $1,500 cash for junk cars, old cars, damaged cars, and used cars.
Here's how it works:
Step 1: Get an Instant Offer Online or by Phone
We'll ask you a few basic questions about your car's condition, mileage, and whether you have the title.  It's a quick process that'll take less than 2 minutes to complete, and you'll get a fair market offer to junk your car.
Step 2: Accept Your Offer and Make Arrangements
After you accept your offer a representative will contact you to make arrangements for the removal of your junk car.  Towing and removal are free of charge.
Step 3: Get Paid More For Using Junk Car Medics in
St. Petersburg
Upon pick up, sign over the title, hand over the keys, and you'll get paid on the spot with a check for your car.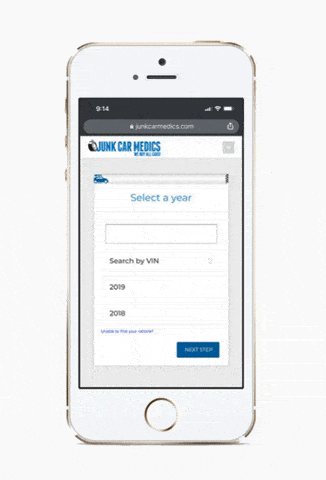 Why Junk My Car with Junk Car Medics in St. Petersburg?
Jon S. - Junk Car Medics Customer
I was trying to get rid of my 2008 GMC 1500 that needed a new transmission. Out of 8 different company's not only was there online quote fast and simple but they offered the best and highest price. When accepting the offer they made it easy with no complications. I scheduled my appointment and the driver came by the next day to remove it and pay me. If you are trying to get rid of your junk car they are the ones I recommend!
St. Petersburg Junk Car Prices
Over the last 12 months junk car prices in St. Petersburg, FL increased 25% on average for vehicle year models 1998-2008, the most commonly junked years! Let's take a look at some of the numbers:
Most Common Junkers in St. Petersburg
2000 Honda Accord - $380.00
2009 Dodge Journey - $802.50
2012 Ford Fiesta - $485.00
2009 Nissan Maxima - $1,743.33
2005 Gmc Yukon - $693.33
1995 Toyota 4Runner - $650.00
2006 Bmw 3-Series - $485.00
2005 Pontiac Vibe - $732.50
2001 Toyota Camry - $537.50
2007 Toyota Camry - $1,720.00
Junk Car Prices in St. Petersburg by Year
1997 - $434.38
2000 - $466.67
2001 - $558.75
2002 - $546.90
2003 - $504.58
2004 - $439.58
2005 - $588.70
2006 - $581.58
2008 - $600.56
2009 - $868.67
10 Cars Over $500 in St. Petersburg
2011 Hyundai Santa Fe - $1,575.00
2005 Chevrolet Colorado - $1,040.00
2011 Bmw 5-Series - $4,180.00
2001 Audi Tt - $1,415.00
2010 Toyota Camry - $1,860.00
2005 Dodge Ram 1500 - $1,390.00
2002 Toyota Rav4 - $1,230.00
2006 Ford Mustang - $1,090.00
2007 Ford Ranger - $1,255.00
2009 Volkswagen Routan - $1,340.00
The #1 Junk Car Removal Service in St. Petersburg
Is there an abandoned car somewhere on your property? Maybe a ruined, worn out junker that you can't wait to get rid of? Or perhaps a damaged truck you've been meaning to repair? What if you could get a considerable sum of money for selling the car as-is? At JunkCarMedics.com, we offer exactly this service, buying used and junk vehicles while paying top dollar rates for them.
For instance, if a particular vehicle model is known to have faulty engine components, a junk car that doesn't run but nonetheless uses those same engine components can earn a considerable sum of money for its owner if the parts are in good shape. Knowing which parts are in demand and how much they're worth is the business of our appraisal team, and their expertise is what makes us such a successful business.
Can I Sell My Junk Car if I Don't Have the Title?
We get this question a lot. Many of the people we make payments to give us cars without titles. These vehicles are often abandoned ones left on their property—from whom are you expected to get a title in that circumstance? Fortunately, the answer is yes; you can sell your junk car without a title in St. Petersburg, FL
To do so, you need to sign a few more documents that establish you as the owner of the car or truck. This isn't a complicated process, and our compliance experts will walk you through it, even going so far as to provide you with the specific forms you need to file. This way, we're able to buy your car even if you lost the title.
Free Towing & Removal
Another way we help out those who sell us their clunkers is by offering our towing services free of charge. Unlike other buyers in the area, we never overcharge and never assess hidden fees in order to drag down the payout we promised. With the Junk Car Medics Cash for Junk Cars Service in St. Petersburg, FL, the price you're quoted on the phone is the price you're going to get for your car, so long as it conforms to your description.
---
We buy cars in the following zip codes in St. Petersburg: 33701, 33702, 33703, 33704, 33705, 33707, 33709, 33710, 33711, 33712, 33713, 33714, 33715, 33716, 33729, 33730, 33731, 33732, 33733, 33734, 33742, 33747, 33762.
We also purchase cars in all surrounding areas including Gulfport, Saint Pete Beach, Pinellas Park, Seminole, Largo, Safety Harbor, Clearwater, Dunedin, Tampa, Oldsmar, Palmetto, Bradenton, Egypt Lake-Leto, Palm Harbor, South Bradenton.
Recent Purchases By Our Junk Car Buyers in
St. Petersburg, FL
1997 Ford F-150

33709
$620
05-25-2022
2008 Saturn VUE

33710
$700
05-10-2022
2011 Chevrolet Equinox

33710
$815
05-09-2022
2003 Pontiac Vibe

33710
$560
05-06-2022
2009 Mazda CX-7

33712
$665
05-01-2022
2002 Mazda 626

33712
$555
03-14-2022
2010 Honda Accord

33716
$955
03-02-2022
2007 Mercury Mountaineer

33711
$645
02-27-2022
2007 Nissan Altima

33712
$525
02-26-2022
2007 Audi A4

33715
$735
02-16-2022
1997 Toyota Corolla

33710
$510
02-05-2022
2005 Chevrolet Malibu

33713
$510
02-04-2022
2004 Mercury Mountaineer

33714
$535
01-31-2022
2004 Toyota Camry

33712
$620
01-31-2022
2004 Hyundai XG350

33711
$515
01-30-2022