Cash for Junk Cars in St. Louis, MO: $100-$5,000+
Get your best offer to sell your junk car for cash in St. Louis, MO to top-rated junk car buyers nearby.
Get an offer in 1-2 minutes
to sell your car now.
We Buy Junk Cars for Cash in St. Louis
View Recent Junk Car Prices in Saint Louis
Do you own a junk car? Have you been struggling to find a way to get rid of it? We'll give you cold, hard cash for your vehicles no matter what shape they're in. Junk Car Medics are here to heal all of your vehicle illnesses. Contact us for your free quote!
We Offer Cash for Junk Cars in St. Louis, MO
Here's the deal: if you have a junk car, we'll buy it from you. It's as simple as that. It doesn't matter what kind of car it is or how old it is. We'll come to wherever you are and give you cash for your clunker. Instead of calling junk yards yourself, we'll do all the heavy lifting for you. Our experts know the true value of your vehicle, so we always get the best deals from auto junk yards in St. Louis.
Junk cars for cash programs can be complex, which is why we've streamlined the process and offer a transparent deal. Junk Car Medics are just what the doctor ordered! We'll give you an honest quote and pick up the cars for free. That's right, we offer free removal in St. Louis, Missouri and we can help you with donating your clunker to a local charity also.
We're always interested in your junk cars and old beaters. It doesn't matter if you're in the heart of St. Louis or on the outskirts of St. Louis County. We offer free pickup from Boulevard Heights to Riverview and everywhere in between.
You might be worried that you have to fill out a mountain of forms to sell your junk car in St. Louis, but have no fear, all you need to complete the transaction is your title and registration. We'll help you through any extra paperwork that the DMV might have, but the transaction can be very simple. We try to make everything as easy as possible, so you can relax and enjoy your wad of cash. Heard enough? Contact us now, or watch our informative video to learn more.
Cash for Cars in St. Louis, MO
It's important to remember that we'll buy any kind of junk cars in St. Louis. As long as your car isn't currently submerged in the Mississippi river, we'll buy it. After you drag it out, give us a call and we'd still be happy to take it off your hands! Don't waste your time calling shady junk yards. They won't give you nearly as good a price as we will. We'll diagnose all of your automobiles problems and give you a cash injection to make everything better.
Whether you're in Lafayette Square or Central West End, we'll come pick up your junk cars for free. We're offering cash for your cars, which is more than enough of a reason to get in contact with us today! Don't spend another minute taking care of a clunker. Junk Car Medics are ready to give your car the right prescription: A decent burial and a big payment. Contact us today!
Frequently Asked Questions When Selling a Junk Car in St. Louis
How Do You Make Money Off Junk Cars?
We have a team of experts that know the absolute value of a vehicle's parts, and we use that knowledge to offer the best deals you'll find from any auto junk yards in St. Louis. The average person doesn't know very much about selling car parts, so there's always a danger of being cheated by less-than-honest junk car buyers. We give you big bucks for your car because we know exactly how valuable your vehicle can be.
How Much Does it Cost to Get a Quote?
It doesn't cost anything. That's right, we offer free quotes and free removal in St. Louis. A quote is an important business opportunity, so we want to give you an extra incentive to contact us. If you have any questions, comments, or concerns, you can relay them to our experts while you're getting your quote. Our junk car buyers are always standing by to help.
Is Your Process Secure?
We offer one of the safest ways to get your junk car removed. If you try to get rid of your car through the newspaper or the Internet, you have to give your name and address to total strangers. We're professionals who are here to remedy any issues. We keep your information secure, and our team of experts will be sure to work quickly and effectively.
Do You Have Any Guarantees?
Your satisfaction is 100% guaranteed or we'll do everything in our power to make it right! Be sure to voice any questions or concerns with our staff so we can help heal all of your junk car woes.
Call us now: (855) 587-0227
JunkCarMedics.com
St. Louis, MO 63114
(855) 587-0227
Calling Hours:
Call For Quote 24/7
Business Hours:
Mon-Fri: 8 am – 7 pm
Sat: 8 am – 2 pm
Sun: Closed
Top rated junk car buyers.
Read all reviews
Reasons People Junk Cars for Cash in St. Louis, MO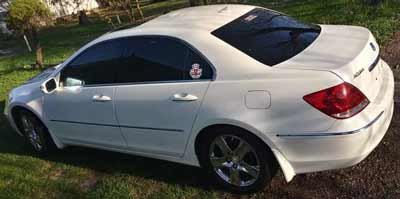 We asked Rusty Jones from Wright St. in Union, MO about his 2005 Acura RL:
I'm junking my 2005 Acura RL because it needs a new transmission.
Our Price For The 2005 Acura RL: $465.00
St. Louis Junk Car Prices
Over the last 12 months junk car prices in St. Louis, MO increased 85% on average for vehicle year models 1998-2008, the most commonly junked years! Let's take a look at some of the numbers:
Most Common Junk Cars in St. Louis
2004 Hyundai Santa Fe - $454.00
2006 Saturn Vue - $330.00
2006 Mazda 3 - $367.50
2010 Chevrolet Cobalt - $267.50
2000 Cadillac Escalade - $550.00
2006 Nissan Murano - $670.00
2001 Honda Civic - $365.00
2007 Pontiac G5 - $337.50
2002 Buick Century - $237.50
2011 Nissan Rogue - $490.00
Junk Car Prices in St. Louis by Year
1997 - $330.71
2000 - $440.00
2001 - $455.50
2002 - $337.89
2003 - $335.00
2004 - $724.38
2005 - $401.67
2006 - $398.48
2007 - $540.00
2008 - $458.75
10 Junk Cars Worth Over $500 in St. Louis
2004 Hummer H2 - $5,770.00
2004 Land Rover Discovery - $1,080.00
2007 Toyota Rav4 - $2,125.00
2008 Toyota Prius - $1,500.00
2009 Honda Accord - $1,725.00
2010 GMC Terrain - $1,020.00
2011 Buick Enclave - $1,725.00
2012 Audi A4 - $4,745.00
2012 Toyota Prius C - $1,920.00
2013 Buick Verano - $890.00
We Service St. Louis & Surrounding
We buy cars in the following zip codes in St. Louis: 63101, 63102, 63103, 63104, 63105, 63106, 63107, 63108, 63109, 63110, 63111, 63112, 63113, 63114, 63115, 63116, 63117, 63118, 63119, 63120.
Recent Junk Car Offers in Saint Louis, MO