Sell My Junk Chrysler PT Cruiser
How Much Cash Can I Get For My Junk PT Cruiser?

Your Chrysler PT Cruiser weighs 3,123 pounds, making it a good choice for the auto scrap yard based on its scrap metal weight alone. However, you'll make a more handsome sum of cash if it has useful parts and accessories that can be salvaged by a reputable junk car buyer. In general, you should expect between $300 and $4000 for your junk PT Cruiser.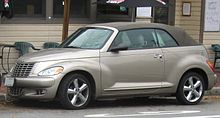 Junk car buyers like us typically focus on a few select factors when determining how much to pay for the junk cars we buy. These factors include:
• The car's weight;
• The age of the car;
• How many miles the vehicle has;
• It's location;
• Local scrap metal prices.
Another major issue is whether the vehicle has useful parts and components that may be of value to other PT Cruiser owners. For example, many of these cars suffer from a faulty turn signal and hazard light motherboard control. This makes the lights operate randomly or erratically. If your car's lights work, it may be worth more simply because that motherboard can be installed on a newer PT Cruiser and save its owner the cost of getting a factory replacement.
Find Out More About the PT Cruiser
First off, the "PT" stands for Personal Transport, which is what the PT Cruiser does best. This retro-styled compact car was originally conceived as a Plymouth vehicle, but was moved to Chrysler following the news of Plymouth's discontinuation in 2001. Chrysler released two-door convertibles and five-door hatchback versions of this vehicle; the hatchback proved to be the more popular of the two.
Chrysler updated this car model in 2006, giving it scalloped headlights and a new grille. It also gained a brand new speaker system which was a vastly improved step up from the original model. 2010 was the last production year of the PT Cruiser, which was succeeded by the Fiat 500L.
We'll buy any Chrysler PT Cruiser we can find:
2000 Chrysler PT Cruiser
2001 Chrysler PT Cruiser
2002 Chrysler PT Cruiser
2003 Chrysler PT Cruiser
2004 Chrysler PT Cruiser
2005 Chrysler PT Cruiser
2006 Chrysler PT Cruiser
2007 Chrysler PT Cruiser
2007 Chrysler PT Cruiser
2008 Chrysler PT Cruiser
2009 Chrysler PT Cruiser
2010 Chrysler PT Cruiser
Should I Sell My Junk PT Cruiser?
The PT Cruiser is without a doubt a cool car—its retro design ensures that. Since enthusiast communities exist, you may be thinking about repairing your car and putting it up for sale on the used market. Before you do that, however, consider the value of the car as-is and determine whether repairing it is worth the investment.
To do this, get a quote on the car as-is from one of our appraisal experts. After that, compare that sum with the cost of a total repair job from an authorized mechanic. If the repairs cost more than what the car is worth, then you should give us a call and get your junk Chrysler PT Cruiser sold for cash today.
Call (855) 437-9728 or request a quote online to sell your Chrysler PT Cruiser