Sell My Junk Jeep Grand Cherokee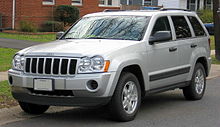 How Much Will I Get For Selling my Junk Jeep Grand Cherokee?
To start we give a broad idea of how much these factors can affect the price of selling your Jeep Grand Cherokee, a 2005 Grand Cherokee in decent condition could yield $1,200, while a 1995 Grand Cherokee SE with missing parts and very high mileage may yield $250. The Grand Cherokee has a curb weight of 4545 pounds—its weight without any occupants or baggage.
From a junk car buyer's perspective, junk car prices are influenced by the following factors:
• The vehicle's age;
• Its condition;
• Its mileage;
• Local scrap metal prices.
At Junk Car Medics, we are willing to pay up to $10,000 for used cars in decent condition. If the vehicle is not missing important parts and is still able to run dependably, you could earn yourself a tidy sum of cash for it. If your junk Jeep Grand Cherokee is simply too damaged to repair, we can offer the best price on the market for its weight in scrap metal as well as the costs of any functional components it may have.
History of the Jeep Grand Cherokee and Why We Buy Them
American automaker Jeep is known for inventing the sports utility vehicle and for its classic line of military vehicles for which it became well known. The Grand Cherokee is one of the flagship models offered by the manufacturer, combining some of the most popular features into a rugged chassis that is designed to last.
Despite its sturdy construction, if you have an older vehicle, you may find it running on its last legs and be interested in how to junk your Jeep Grand Cherokee, and that's where we can help.
Recent Offers Made for Jeep Grand Cherokee SUV's:
2006 Jeep Grand Cherokee

11207
$800
11-29-2022
2009 Jeep Grand Cherokee

43068
$550
11-28-2022
2005 Jeep Grand Cherokee

97218
$760
11-22-2022
2005 Jeep Grand Cherokee

97218
$660
11-22-2022
2007 Jeep Grand Cherokee

10567
$530
11-21-2022
2005 Jeep Grand Cherokee

19124
$675
11-16-2022
2007 Jeep Grand Cherokee

45215
$690
11-15-2022
2003 Jeep Grand Cherokee

90280
$600
11-10-2022
2005 Jeep Grand Cherokee

97232
$565
11-04-2022
2000 Jeep Grand Cherokee

33711
$510
11-03-2022
2002 Jeep Grand Cherokee

18330
$555
11-03-2022
2008 Jeep Grand Cherokee

46239
$715
11-01-2022
2006 Jeep Grand Cherokee

80212
$605
10-31-2022
2010 Jeep Grand Cherokee

78747
$565
10-17-2022
1999 Jeep Grand Cherokee

11703
$620
10-17-2022
Is it Time to Junk My Jeep?
Jeeps are designed and built to last, but are known to develop serious mechanical issues once the odometer reaches past 200,000 miles. In particular, RepairPal shows that some of the most common problems faced by Cherokee owners include leaks on the vehicle's front and rear differential pinion seals, as well as the transfer case. The site also shows that misfiring cylinders and exhaust issues due to carbon buildup on its exhaust valves are common.
While these issues by themselves may not be enough to warrant junking your Jeep Grand Cherokee outright, you may consider it when the vehicle also has missing, corroded or rusting parts. Cherokee recalls are also not uncommon, with fracturing suspension arms, stalling engines and failed alternators all occurring at various points in the vehicle's production history.
You should look at your vehicle from the perspective of a used car buyer and determine whether the cost of repairs is higher than the vehicle's resale value. In older vehicles, the discrepancy in cost may make it impossible to sell your Jeep Grand Cherokee to a dealer. If the vehicle is damaged, wrecked or totaled, then the case is clear.
If your Grand Cherokee won't net a profit on the used car market, then it's time to look for a reputable junk car buyer. Junking your Jeep can yield immediate cash without requiring you to show the car off to potential buyers and try to get it sold.
Call (855) 587-0227 or request a quote online to sell your Jeep Grand Cherokee.
.