Sell My Junk Toyota Sienna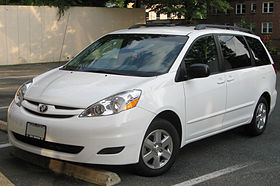 What Kind of Cash Can I Expect From Selling my Junk Toyota Sienna?
There are a few factors that go into deciding how much money you can get when selling your junk car for cash. A standard payout for this type of vehicle goes between $250 and $4000. Thankfully, the Toyota Sienna is a relatively heavy car. Its curb weight of 4,735 pounds gives it considerable heft on the scrap metal scale, and any useful components it may have will increase the price from there
If you're looking for a junk car buyer who is interested in your Junk Toyota Sienna, you should look at the following factors that auto recyclers use to determine the value of junk vehicles:
• The condition of the car:
• How many miles the car has;
• The car's age;
• How much the car weighs;
• The car's location.
With the exception of weight, all of these factors vary widely from car to the next. This fact, combined with constantly changing scrap metal prices, makes the service of an experienced junk automobile appraiser necessary. At Junk Car Medics, we are prepared to offer up to $10,000 for used vehicles of all kinds so give us a call and get a quote from one of our expert appraisers.
An Introduction to the Toyota Sienna and Why We Buy Them
Toyota began production of the Sienna in 1997, using an extended version of the Toyota Camry's platform. The scope of this vehicle was to create a "Camry of minivans", capitalizing on the reputation of the company's popular sedan. The project was a success, as the Sienna consistently sold around 100,000 units annually since the year 2000.
The Sienna has won a number of awards during its production history. Kelley Blue Book gave the Best Resale Value Award to the vehicle in 2010. This is part of the reason why the vehicle is such a commodity on the used market and why we're always interested in used, damaged or worn out Toyota Siennas.
The vehicle was also given the Top Safety Pick award by the Insurance Institute for Highway Safety. It responds remarkably well to damage, making it a great choice for auto recycling.
Recent Offers Made for Toyota Sienna Vans:
1999 Toyota Sienna

77064
$550
12-04-2022
2005 Toyota Sienna

53012
$525
12-01-2022
2006 Toyota Sienna

12740
$655
11-30-2022
2006 Toyota Sienna

76137
$520
11-27-2022
2005 Toyota Sienna

01821
$555
11-16-2022
2006 Toyota Sienna

08609
$640
11-14-2022
2002 Toyota Sienna

46074
$605
11-04-2022
2006 Toyota Sienna

90501
$810
10-17-2022
2006 Toyota Sienna

90501
$810
10-15-2022
2004 Toyota Sienna

23227
$730
10-15-2022
2004 Toyota Sienna

23227
$730
10-15-2022
2004 Toyota Sienna

23236
$900
10-14-2022
2000 Toyota Sienna

11209
$630
10-13-2022
2006 Toyota Sienna

80112
$880
10-10-2022
2007 Toyota Sienna

55106
$585
10-05-2022
Is It Time To Sell My Junk Toyota Sienna?
To find out whether junking your damaged car is a good idea, you'll want to compare the vehicle's value with the cost of repairs. If the cost of repairs approach the value of selling the car, you're better off selling it to a trustworthy auto recycler like us.
Another consideration you'll want to take into account is whether the car has valuable parts and components. For instance, the Sienna is known to consistently have problems with its electric sliding door mechanism. If your junk Sienna has a working door, it could net more on the scrap market just for that part alone. The same goes of the car's oxygen sensor, which experts know is prone to failure.
Find out how much you can get for your junk Toyota Sienna by calling us today and getting a quote. Why stress over it when you can enjoy a pain-free process if you get instant junk car quote?
Call (855) 587-0227 or request a quote online to sell your Toyota Sienna.