We Buy Junk Cars For Cash in Virginia Beach, Virginia: Sell Any Condition
Get your best offer to sell your junk car for cash in Virginia Beach, VA to top-rated junk car buyers nearby.
We Pay Cash for Cars in Virginia Beach
Apart from junk cars, we also purchase used cars in decent condition and offer attractive sums for them. We can do this because we are expert car value appraisers who buy junk cars in Virginia Beach and can accurately price out the value of each individual component. This lets us pay up to $7,500 for used cars of all kinds.
The advantages this offers anyone who wishes to sell a used car in Virginia Beach, VA is evident. Instead of spending weeks or even months dealing with potential buyers through a classifieds ad, you can get a fair price for your car immediately just by calling us. The best junk car buyers in Virginia Beach.
All you need to sell your car to us is:
A valid state ID or driver's license
The vehicle's title
As mentioned above, we are qualified to purchase junk cars and used trucks without titles in some cases. Our specialists will help you get through the process simply and efficiently so that you don't have to let the paperwork get in the way.
Take the stress of selling used cars off your shoulders by calling the Junk Car Medics for the job. Whether you live in Hampton, Newport News, Norfolk, Chesapeake, Portsmouth or Suffolk, you can rely on us to arrive on your property quickly, appraise the value of your car, and pay you for it.
Junk Car Medics Virginia Beach
Virginia Beach, VA 23450
(855) 587-0227
Calling Hours:
Call For Quote 24/7
Business Hours:
Mon-Fri: 8 am – 7 pm
Sat: 8 am – 2 pm
Sun: Closed
Top rated junk car buyers.
How to Sell Junk Cars in
Virginia Beach, VA
Sell junk cars in Virginia Beach, VA with our quick, easy, painless process. Get up to $300, $500, even $1,500 cash for junk cars, old cars, damaged cars, and used cars.
Here's how it works:
Step 1: Get an Instant Offer Online or by Phone
We'll ask you a few basic questions about your car's condition, mileage, and whether you have the title.  It's a quick process that'll take less than 2 minutes to complete, and you'll get a fair market offer to junk your car.
Step 2: Accept Your Offer and Make Arrangements
After you accept your offer a representative will contact you to make arrangements for the removal of your junk car.  Towing and removal are free of charge.
Step 3: Get Paid More For Using Junk Car Medics in
Virginia Beach
Upon pick up, sign over the title, hand over the keys, and you'll get paid on the spot with a check for your car.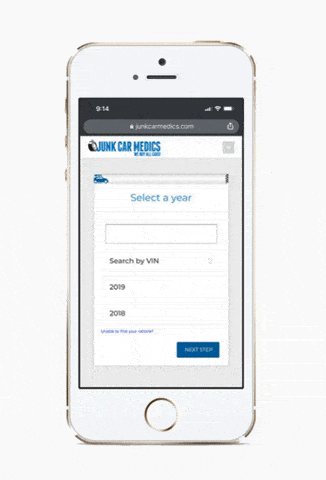 Why Junk My Car with Junk Car Medics in Virginia Beach?
Jon S. - Junk Car Medics Customer
I was trying to get rid of my 2008 GMC 1500 that needed a new transmission. Out of 8 different company's not only was there online quote fast and simple but they offered the best and highest price. When accepting the offer they made it easy with no complications. I scheduled my appointment and the driver came by the next day to remove it and pay me. If you are trying to get rid of your junk car they are the ones I recommend!
Virginia Beach Junk Car Prices
Over the last 12 months junk car prices in Virginia Beach, VA increased 67% on average for vehicle year models 1998-2008, the most commonly junked years! Let's take a look at some of the numbers:
[visualizer id="33696" lazy="no" class=""]
Most Common Junkers in Virginia Beach
2004 Mazda Mazda 6 - $348.75
1994 Honda Accord - $273.33
2008 Ford Focus - $318.33
2005 Cadillac STS - $400.00
2006 Honda Odyssey - $482.50
2006 Ford Escape - $430.00
2001 Dodge Stratus - $347.50
2006 Volkswagen Passat - $357.50
2003 Honda Pilot - $845.00
2005 Dodge Stratus - $330.00
Junk Car Prices in Virginia Beach by Year
1999 - $288.57
2000 - $444.29
2001 - $323.89
2002 - $375.38
2003 - $543.33
2004 - $1,256.33
2005 - $320.00
2006 - $405.68
2008 - $547.50
2010 - $829.29
10 Cars Worth Over $500 in Neptune City
2004 Toyota 4Runner - $3,035.00
2006 Toyota Prius - $1,410.00
2008 BMW 3-Series - $1,390.00
2010 Ford F-150 - $2,865.00
2003 Ford F-150 - $1,310.00
2011 Chevrolet Impala - $1,070.00
2011 Ford Escape - $1,665.00
2008 Nissan Pathfinder - $1,340.00
2004 Lexus RX 330 - $3,510.00
2014 Dodge Avenger - $1,520.00
The #1 Junk Car Removal Service in Virginia Beach
Is there an old, abandoned car taking up valuable space on your property? Do you have a wrecked car that you don't know what to do with? Call Junk Car Medics and get paid for junk cars instantly. We are the most reputable junk car buyers in Virginia Beach, VA, with a network of scrap metal partners and component buyers who give us the deals we need to be able to offer you top-dollar rates.
At Junk Car Medics, we purchase wrecks and ruined vehicles of all kinds, shapes and sizes. We buy junk trucks, wrecked cars and more. In each case, our appraisal specialists offer the highest possible rate and make the entire purchasing process as simple and easy as possible.
Free Junk Car Removal in Virginia Beach, VA is Simple With Us
Not only do we offer the highest possible rates as a junk car buyer in Virginia Beach, VA, we also tow cars for free. This is a valuable asset because many of our competitors charge for the towing process. This means that even if the original amount for junk cars quote seems high, it'll get dragged down by extra charges and hidden fees.
With Junk Car Medics, you get the exact sum promised in the quote we offer over the phone. As long as the junk car you're selling is as described, we guarantee full payment as soon as we arrive at your property to tow it away.
Do junkyards in Virginia Beach buy junk cars for cash?
Yes, many junkyards in Virginia Beach buy junk cars. However, it's crucial to know that they might not always offer the most cash for your vehicle. To get the highest value from your junk car, it's best to get offers from several junk car buyers within the city. By comparing multiple offers, you position yourself to secure the best price for your junk car.
What You Should Know:
We will buy any car, in any condition
You can enjoy free junk car removal services in Virginia Beach, VA with us
We buy wrecks, totaled vehicles and used cars or trucks
You get a guaranteed sum for your car
We can provide you with up-to-date scrap prices in Virginia Beach, VA
We are qualified to buy cars without titles
Call Junk Car Medics Cash for Junk Cars Service in Virginia Beach, VA Now!
---
We service all nearby cities including Norfolk, Chesapeake, Hampton, Newport News, Portsmouth, Suffolk, Williamsburg.
We buy cars in all of Virginia Beach County including these following zip codes in: 23450, 23451, 23452, 23453, 23454, 23455,   23456, 23457, 23458, 23459, 23460, 23461, 23462, 23463, 23464, 23465, 23466, 23467, 23471, 23479,  23518, 23521.
Recent Purchases By Our Junk Car Buyers in
Virginia Beach, VA
2013 Dodge Dart

Zip: 23451
Sale Price: $845
Date: 09-26-2023
2013 KIA Optima

Zip: 23453
Sale Price: $525
Date: 08-29-2023
2013 Chevrolet Cruze

Zip: 23452
Sale Price: $625
Date: 07-20-2023
2008 Saturn Astra

Zip: 23464
Sale Price: $500
Date: 06-12-2023
2008 Honda Pilot

Zip: 23462
Sale Price: $685
Date: 05-27-2023
2009 Acura MDX

Zip: 23451
Sale Price: $645
Date: 05-02-2023
2006 Nissan Pathfinder

Zip: 23454
Sale Price: $530
Date: 04-26-2023
2004 Honda Civic

Zip: 23464
Sale Price: $535
Date: 04-14-2023
2008 Honda Civic

Zip: 23464
Sale Price: $985
Date: 04-14-2023
2008 Chevrolet Suburban

Zip: 23462
Sale Price: $755
Date: 03-30-2023
2015 Dodge Dart

Zip: 23452
Sale Price: $890
Date: 03-26-2023
1999 Toyota 4Runner

Zip: 23464
Sale Price: $945
Date: 03-25-2023
2006 Nissan Murano

Zip: 23451
Sale Price: $525
Date: 03-25-2023
2010 Ford Escape

Zip: 23456
Sale Price: $690
Date: 03-22-2023
2008 Nissan Rogue

Zip: 23464
Sale Price: $680
Date: 03-21-2023
2002 Ford Explorer

Zip: 23454
Sale Price: $610
Date: 03-21-2023
2010 Ford Escape

Zip: 23456
Sale Price: $560
Date: 03-20-2023
2007 Ford Escape

Zip: 23452
Sale Price: $700
Date: 03-17-2023
2008 Acura RDX

Zip: 23453
Sale Price: $525
Date: 03-11-2023
2007 Hyundai Veracruz

Zip: 23464
Sale Price: $935
Date: 03-09-2023
2008 Nissan Rogue

Zip: 23464
Sale Price: $655
Date: 02-28-2023