Cash for Junk Cars in Tacoma, WA: $100-$5,000+
Get your best offer to sell your junk car for cash in Tacoma, WA to top-rated junk car buyers nearby.
Get an offer in 1-2 minutes
to sell your car now.
We Buy Junk Cars for Cash in Tacoma
View Recent Junk Car Prices in Tacoma
Time to get rid of that clunker taking up space? You could try selling it yourself. But that will take lots of time you just don't have. And finding a buyer might just not happen. Trying to deal with shady auto recyclers can be more stressful. They just want to make quick buck. But you don't want that junker taking up more space. Now, you can get cash for junk cars in Tacoma, Washington.
That's where Junk Car Medics come in. When we make an offer, we stick to it! We give you more money than anyone else. Our goal is to satisfy each customer.
Sell Your Junk Car for Cash in Tacoma in Any Condition
JunkCarMedics.com buys cars of any make, model, or type. It doesn't matter what condition your junker is in--we want it. Wrecked, damaged, totaled? We want your junker. Even if there is no title to your car, we can work with you! No matter where you live in Tacoma, we'll come get your junker. We even offer free towing and removal. Don't bother with those sketchy salvage yards or places that need a title. We offer cash for junk cars in Tacoma, Washington.
Whether you need to get down to the SeaTac Airport or just want to take a trip to the Point Defiance Zoo, getting rid of your junker gives you the extra cash to do what you want. No more slowing down!
SOME FREQUENTLY ASKED QUESTIONS
What paperwork do I need?
All you need is the title of the car and the registration.
Do You Buy Cars Without Titles?
In most cases, we can buy cars with no titles. But just in case, you should always give us a call first.
What do I do with the plates?
You can take your plates back to the DMV. If you have other concerns you can also check here at the local DMV.
Call us now: (855) 587-0227.
Junk Yards in Tacoma, Washington
JunkCarMedics.com can give you the best deals around, no matter who you call. Just to prove it, we want to give you a list of some of our local competitors. We guarantee that we can offer you even more money for your junk car than any junk yard in the area.
JunkCarMedics.com
Tacoma, WA 98401
(855) 587-0227
Calling Hours:
Call For Quote 24/7
Business Hours:
Mon-Fri: 8 am – 7 pm
Sat: 8 am – 2 pm
Sun: Closed
Top rated junk car buyers.
Read all reviews
Recent Junk Car Offers in Tacoma, WA
Reasons People Junk Cars for Cash in Tacoma, WA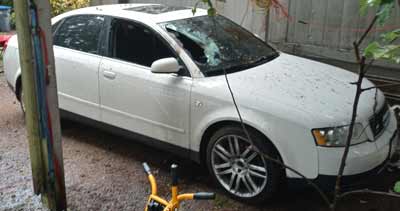 We asked Scott Mooney from Shelton, WA about his 2003 Audi A4 Quattro:
I'm junking my 2003 Audi A4 Quattro because it caught on fire and the passenger seat, door panel, and headliner need to be replaced.
Our Price For The 2003 Audi A4 Quattro: $3000.00
We Service Tacoma & Surrounding
We Buy Cars in all zip codes in Tacoma including these popular ones: 98401, 98402, 98403, 98404, 98405, 98406, 98407, 98408, 98409, 98411, 98412, 98413, 98415, 98416, 98417, 98418, 98419, 98421, 98422, 98424, 98431, 98433, 98442, 98443, 98444, 98445, 98446, 98447, 98448, 98464, 98465, 98466, 98471, 98481, 98490, 98493.
We also purchase cars for cash within up to 100 miles including in cities such as: South Tacoma, Ruston, Fircrest, Hilltop, North End, New Tacoma, Fife Heights, Fern Hill, Hillsdale, Salishan & all surrounding areas.