Sell My Junk Ford Escape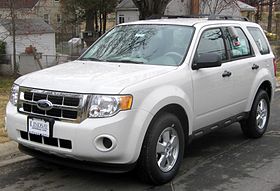 How Much Is My Junk Ford Escape Worth in Cash?
The Ford Escape has between 3,247 and 3,457 pounds of curb weight to offer, making it an attractive model for auto recyclers and scrap metal dealers. However, the bulk of the car's value will come from salvaging parts and components, so a quote is necessary in order to get an exact price on your car. You can expect to earn anywhere between $300 and $4000 for a junk Ford Escape.
As reputable junk car buyers, we carefully appraise vehicles brought to us and try to offer the highest possible price for them. In order to do so, we look at the following factors:
• The car's condition;
• The car's age;
• The mileage of the car;
• Its location;
• Local scrap metal prices.
All of these factors combine to form a base price for a particular vehicle. Depending on the demand and availability of parts, additional accessories and components may increase this value significantly. We're prepared to pay up to $10,000 when buying a used car in decent running condition, so give us a call and find out how much yours is worth!
About the Ford Escape
This particular model is a compact crossover vehicle originally released in 2001. The Ford Escape resulted from a collaboration between Ford and Mazda, with Mazda releasing the very similar Tribute as a result. The manufacturers' concept was to create an SUV that does not use a body-on-frame design, but instead a unibody with a fully independent suspension. These vehicles weren't designed for full off-road use, but had many accessories and components designed to make occasional off-road use viable.
The second generation Ford Escape includes an electronic stability control system as standard and an updated exterior. In addition, the interior was completely redesigned, with a Ford family navigation system included.
Recent Offers Made for Ford Escape SUV's:
2008 Ford Escape

43219
$500
11-28-2022
2005 Ford Escape

11225
$560
11-25-2022
2002 Ford Escape

95608
$515
11-21-2022
2008 Ford Escape

17502
$500
11-18-2022
2009 Ford Escape

77067
$860
11-17-2022
2019 Ford Escape

19021
$805
11-17-2022
2008 Ford Escape

68107
$580
11-14-2022
2005 Ford Escape

77498
$680
11-12-2022
2007 Ford Escape

10701
$515
11-07-2022
2009 Ford Escape

30350
$715
11-04-2022
2010 Ford Escape

23462
$545
11-03-2022
2007 Ford Escape

21045
$545
10-31-2022
2012 Ford Escape

33179
$540
10-31-2022
2004 Ford Escape

44256
$540
10-30-2022
2007 Ford Escape

60563
$510
10-30-2022
Is It Time to Junk My Ford Escape?
If you are thinking of selling your damaged Ford Escape, you might be able to get a better deal by selling it as-is. Junk Car Medics is happy to purchase damaged and worn vehicles of all kinds, offering top-dollar rates for them around the country.
Should I repair it first before I sell my car online?
However, if you're thinking about repairing your vehicle and selling it on the used market, an arithmetic exercise can help you determine where the most value lies.
First, get a quote from our appraisers on how much you can get selling your junk Ford Escape for cash today. Next, get a quote from a mechanic on the cost of repairing the vehicle entirely. If the repair costs are greater than the value of the vehicle, you're better off selling it as-is in most cases. Call us today and get that quote!
Call (855) 587-0227 or request a quote online to sell your Ford Escape.