Sell My Junk Ford Fusion
How Much Cash Will My Junk Ford Fusion Get Me?
Do you have a Ford Fusion that you would like to get off your hands for one reason or another? Don't be shy. You can sell your Ford Fusion to Junk Car Medics quickly and smoothly. We are a company that does nothing but buy cars all day long. We provide free towing services for the people that we buy from, as well. Give us a call instead of wasting your time on another method. You will be extremely happy that you did such a thing because we are waiting to give you what you rightly deserve for your vehicle.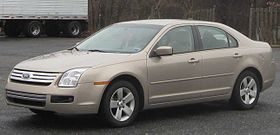 Here's How We Roll
We're a little different from your average car buying company because we use the weight of the car to come up with the primary calculations. Current scrap metal prices actually determine the bulk of what we will offer you in the quote for your vehicle. The Ford Fusion is about 3,431 pounds. We'd use that as the main basis of our calculation before we offer you a quote.
Here's How We Operate
After we get a base quote for you from the weight of the vehicle, we then make deductions based on the other information that you tell us. For example, we may deduct some if it does not start or if it has a huge dent in it or a missing windshield. You will still get a beautiful quote that you will not find easy to resist, however. Many of our customers commend us shortly after we do business with them because of our generosity. We truly want to see you get the best deal possible for your Fusion.
Don't Take the Dead-End Route
Don't settle for a dead-end deal. Call us and get the cash you deserve for your vehicle. If you take your car to a dealership, you are likely to get low-balled on the trade-in. If you put a sign on it, you are likely to be waiting a long time before anyone buys it from you. You could use classified ads, but you may end up waiting a long time for the interested person to show up. With us, you know what you are getting, and you know that you will be getting it pretty quickly. All you have to do is let us know you want us to give it to you.
We Buy all Ford Fusion Models Including the:
2005 Ford Fusion
2006 Ford Fusion
2007 Ford Fusion
2008 Ford Fusion
2009 Ford Fusion
2010 Ford Fusion
2011 Ford Fusion
2012 Ford Fusion
2013 Ford Fusion
2014 Ford Fusion
2015 Ford Fusion
2016 Ford Fusion
Don't Wait One More Minute
Don't wait one more minute or second to get the cash you deserve for such a cool car. Calling us will be one of the smartest moves you'll ever make in your life. You can request our assistance in one of two ways. You have the option to either call us on the phone or complete a short form. The phone number that you can call us on is 855-437-9728. The short form will get you in touch with us too, and then we can all figure out just how much you will receive for your vehicle. The faster you call us, the sooner you can get some cash in your hands.
Call (855) 437-9728 or request a quote online to sell your Ford Fusion.