Sell My Nissan Altima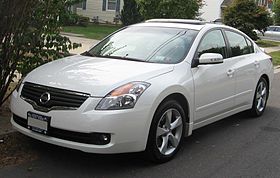 Looking to sell a Nissan Altima for cash? Here's what you need to know.
Nissan Altima's are some of the most popular SUVs in the United States. They're known to be reliable, long-lasting vehicles with few problems. As long as you treat your Nissan Altima well, it will probably last a long time.
Used Nissan Altima range in value from just a few thousand dollars for older models or vehicles that need repairs, all the way up to 20k for more recent models in good condition that have only been gently used.
When it comes to junk Nissan Altima though, prices typically range from about $225 to $664, though some junk Altima's can be worth more depending on the type of damage you're dealing with and what parts are still in good condition.
It's hard to say where Nissan Altima ranks in terms of how often they're junked because for the most part Altimas are durable long-lasting vehicles, which means that the models that get junked are either very old or the product of accidents or poor maintenance.
That means that there are a lot of old junked Altimas mixed with a few from each of the more recent model years, and occasionally, an ancient Altima that's truly reached the limit of what these cars can do.
How much can you scrap a Nissan Altima for?
Currently you can scrap a Nissan Altima for $545 on average.  The Nissan Altima has a value range between $225 - $664 for model years 1994 - 2012.  An average junk car is valued at $617. Therefore Nissan Altimas currently are valued at $72 less than the national average.
Of course, metal prices, location, and the condition your Altima is in can all affect the final price.
2010 Nissan Altima

11208
$615
11-28-2022
2010 Nissan Altima

21229
$525
11-28-2022
2008 Nissan Altima

90222
$890
11-27-2022
2003 Nissan Altima

07107
$520
11-27-2022
2010 Nissan Altima

19120
$525
11-27-2022
2009 Nissan Altima

55330
$585
11-26-2022
2008 Nissan Altima

85040
$590
11-26-2022
2013 Nissan Altima

33510
$765
11-26-2022
2004 Nissan Altima

28716
$85
11-25-2022
2010 Nissan Altima

95391
$575
11-25-2022
2010 Nissan Altima

95391
$590
11-25-2022
2011 Nissan Altima

85204
$595
11-24-2022
2008 Nissan Altima

75088
$650
11-22-2022
2013 Nissan Altima

89102
$900
11-21-2022
2003 Nissan Altima

19061
$525
11-19-2022
Nissan Altima Weight in Tons
The amount of metal used in a vehicle is a huge part of its value on the junk market. Junk vehicles are typically harvested for usable components, like the catalytic converter, and recyclable metal.
Not all of a vehicle's weight is going to be useable metal, but heavier models are typically going to offer more value on the junk market.
| | |
| --- | --- |
| Vehicle | Vehicle Weight |
| 2001 Make Model | X |
| | |
| | |
Nissan Altima Scrap Value by Year
Every model year is a little different, both in how much recyclable metal was included in the design and in the value of potentially salvageable parts. When you're looking at the average value of a junk Nissan Altima, it's not just what's potentially there that you need to consider, but what salvageable or recyclable parts are usually there for that make and model.
| | |
| --- | --- |
| Nissan Altima by Year | Average Value |
| 1994 Nissan Altima |  $                           300.00 |
| 1995 Nissan  Altima |  $                           225.00 |
| 1996 Nissan  Altima |  $                           325.00 |
| 1997 Nissan Altima |  $                           427.50 |
| 1998 Nissan Altima |  $                           303.13 |
| 1999 Nissan  Altima |  $                           390.00 |
| 1999 Nissan Altima |  $                           323.89 |
| 2000 Nissan Altima |  $                           378.67 |
| 2001 nissan Altima |  $                           357.08 |
| 2002 Nissan Altima |  $                           417.96 |
| 2003 nissan Altima |  $                           371.40 |
| 2004 nissan Altima |  $                           361.61 |
| 2005 Nissan Altima |  $                           381.97 |
| 2006 nissan Altima |  $                           410.80 |
| 2007 Nissan Altima |  $                           442.16 |
| 2008 Nissan Altima |  $                           473.64 |
| 2009 Nissan Altima |  $                           483.73 |
| 2010 nissan Altima |  $                           592.50 |
| 2011 nissan Altima |  $                           664.69 |
| 2012 Nissan Altima |  $                           663.94 |
| 2013 nissan ALTIMA |  $                        1,183.05 |
| 2014 Nissan Altima |  $                        1,175.83 |
| 2015 Nissan Altima |  $                        1,201.50 |
| 2016 Nissan Altima |  $                        2,211.67 |
| 2017 Nissan Altima |  $                        1,275.00 |
| 2018 Nissan Altima |  $                        2,075.00 |
| 2019 Nissan Altima |  $                           573.33 |
| 2020 Nissan Altima |  $                        2,065.00 |
| 2021 Nissan Altima |  $                        4,800.00 |
| Grand Total |  $                           544.97 |
Nissan Altima Used Car Value
Nissan Altima used car values vary widely depending on what model year you're talking about, the trim level of the original vehicle, any modifications you might have made, how much wear and tear the vehicle has experienced, and more.
A working Altima starts at about $4,000 for a used vehicle, mostly for older models with a lot of miles. Newer models, including the 2021 that's the newest you can expect to buy used, can go for as much as $31,000 – which is basically the like-new price.
History of the Nissan Altima
The Nissan Altima is one of the best-selling cars in the United States, and remains an incredibly popular choice when it comes to mid-size sedans. We've seen our share of Altimas on the road and in the scrap yard, where junk car buyers like us benefit from the popularity of the vehicle, selling out parts, components and scrap metal to auto recyclers.
The Nissan Altima traces its roots all the way back to the 1957 Nissan Bluebird, giving it one of the longest histories of any Japanese car on the market. The modern Altima began production in 1992 as a larger, more luxurious version of the Nissan Sentra. The manufacturer has produced Altima coupes, hybrids and more since then.
Nissan Altima Problems
All vehicles have some problems that crop up, and most models have at least one or two consistent issues that you see again and again. Here are some of the most common problems with the Nissan Altima:
Engine stalling, occasionally while moving
Engine overheating
Excessive oil use
Oil leaks
Temp gauge getting stuck
Rough idling
Misfiring pistons
Premature stud wear
Premature engine mount wear
Premature catalytic converter failure
Premature front strut wear
If you have a Nissan Altima that is damaged or in need of repairs, you may be interested in junking it for quick cash. This is often the case when the cost of repairing the car is more than the car's current value.
Some production years are more prone to mechanical failures than others. For instance, the 2002 Nissan Altima excessively consumes oil by design and is far more prone to catastrophic engine failure after 100,000 miles as a result. If you own such a car, you may get a better deal out of junking it than attempting to replace the engine.
Value of Selling Nissan Altima Scrap Car Parts
Generally working Nissan Altima scrap parts are in relatively high demand, which means that you can get good prices on them. However, because Nissan Altima's are a popular model, there are usually more of them in junkyards and scrap seller inventories compared with other, less popular, imported models.
So, while you can expect to get good prices for Nissan Altima parts, you shouldn't expect top dollar.
Nissan Altima Catalytic Converter Scrap Price
New Catalytic Converters for the Nissan Altima tend to run high, up to almost 2k dollars, which means that the scrap prices are also relatively high compared with the price on other cats.
Catalytic converter prices on the Nissan Altima also tend to be slightly higher because of the larger size of the vehicle.
Depending on the vehicle's condition and wear and tear, scrap catalytic converters from a Nissan Altima can vary from $90-$300, sometimes more. That's a good bit higher than the national average of around $150.
How Much Does It Cost To Replace A Catalytic Converter On A Nissan Altima?
Nissan Altima 2.5 catalytic converter replacements hover right around 2k dollars, with most of that money going directly into the converter itself. The replacement is usually only a couple hundred dollars in labor costs.
Sell a Nissan Altima For Cash Today
We buy Nissan Altimas in any condition, for cash. We'll give you fair value on your scrap Altima, based on the most up to date metal and scrap prices.
Have a different Nissan you need to sell? We'll take that one too. Whether you're looking at a Versa, Sentra, Rogue, or Pathfinder, we can help. Just give us the information for the vehicle, and we'll give you the price, it's as easy as that.