Sell My Junk Ford Expedition
You Can Earn Fast Cash For Your Ford Expedition—How Much?

If you own a damaged or worn out Ford Expedition, you can get cash for it today by selling to a junk car dealer like us. With a curb weight of 5,562 to 5,789 pounds, you can expect a payout of anywhere between $400 and $3500 for your junk car. The car is a little lighter than other full-size SUVs, but it's also very popular and yours might have parts that are in demand on secondhand markets.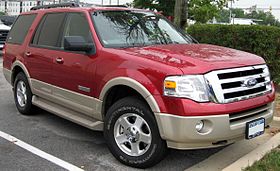 At Junk Car Medics, we look at a few primary factors when determining how much to pay for a junk car. These include:
• The age of the car;
• The car's mileage;
• Its condition;
• Local scrap metal prices.
Useful extra parts can also increase the value of your Ford Expedition. These vehicles are known to suffer from ignition coil failure and have various faulty sensors that commonly need to be replaced. If your car has these parts in good condition, you could earn more from it. We are ready to offer up to $10,000 for a used car in decent condition, so give us a call today and get a quote.
History of the Ford Expedition: Why We Buy Them
The Ford Expedition, originally released in 1996, is well-known as one of the longest-lasting vehicles on the road, making it a perfect buy for junk car dealers like us. Studies have shown that up to five percent of these cars make it past 200,000 miles, outdoing nearly every other SUV model on the road.
The first generation of Ford Expedition vehicles lasted from 1996 to 2002, after which Ford released the second generation version with an improved engine. This version lasted from 2003 to 2006. The current, third-generation Expedition has been in on the market since 2007 and continues to sell remarkably well.
We'll buy any Ford Expedition, from the first models to the most current:
1996 Ford Expedition
1997 Ford Expedition
1998 Ford Expedition
1999 Ford Expedition
2000 Ford Expedition
2001 Ford Expedition
2002 Ford Expedition
2003 Ford Expedition
2004 Ford Expedition
2005 Ford Expedition
2006 Ford Expedition
2007 Ford Expedition
2008 Ford Expedition
2009 Ford Expedition
2010 Ford Expedition
2011 Ford Expedition
2012 Ford Expedition
2013 Ford Expedition
2014 Ford Expedition
2015 Ford Expedition
2016 Ford Expedition
Should I Sell My Junk Ford Expedition For Cash?
If you own a damaged Ford Expedition, you can get on-the-spot cash for it today by calling us. To find out whether that's a good deal for your particular car, determine how much it would cost to repair the car completely. If that price is more than the value of the car itself, you're better off selling the car to us.
Give us a call and ask for an appraisal from our expert junk car buyers. We're always ready to purchase junk cars, especially Ford Expedition vehicles with salvageable parts, so call today and get an estimate!
Call (855) 437-9728 or request a quote online to sell your Ford Expedition