Sell My Junk Hyundai Elantra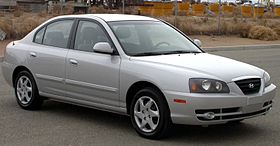 How Much Cash Will My Junk Hyundai Elantra Get Me?
That damaged car that's taking up space in your driveway could earn you some serious cash if you sell it to an auto recycler. We may not know the weight of your specific vehicle model, but we do know that the Hyundai Elantra has a curb weight that's anywhere from 2,522 to 2,976 pounds. For a car of that size, you can get hundreds or even thousands of dollars paid in cash the same day.
It gets even better: not only will we buy your car, we'll also come pick it up for you.
Whether your car is in good or bad condition, and whether or not it runs, we'll provide a free removal service. You don't have to worry about getting a broken-down vehicle started or towed to the junk yard, all you have to do is give us a call.
If you're like most people, you probably want to know how much you're going to make on the sale. Every time we appraise a junk car, we look at a few important factors, which include its age, the make and model, condition, mileage, and weight. We also consider the local scrap metal prices.
Now, for most junk cars, weight is going to be the main determining factor in how much they're worth. If it's a newer vehicle, then the condition comes into play, too. Should your car have working, in-demand parts that we can sell to our network of junk car parts buyers, you can expect to earn a bit more money.
We know you have options when it comes to selling your car, but we're also confident that you'll find dealing with us the easiest and most convenient option. Sure, you could put ads in the newspaper or Craigslist and try to sell it, but then you're waiting around for a buyer. You could take it in to the dealership as a trade-in, but then you have to haggle to get anything near the car's value.
The bottom line is this: we'll pay you a fair price in cash the day we pick up your car.
Recent Offers Made for Hyundai Elantra Cars:
2005 Hyundai Elantra

98118
$525
11-29-2022
2003 Hyundai Elantra

11236
$780
11-29-2022
2013 Hyundai Elantra

53209
$625
11-28-2022
2005 Hyundai Elantra

60803
$565
11-26-2022
2013 Hyundai Elantra

33064
$860
11-19-2022
2013 Hyundai Elantra

33064
$825
11-14-2022
2009 Hyundai Elantra

27518
$775
11-14-2022
2005 Hyundai Elantra

98664
$500
11-14-2022
2005 Hyundai Elantra

85295
$630
11-12-2022
2012 Hyundai Elantra

77502
$715
11-09-2022
2005 Hyundai Elantra

07407
$690
11-08-2022
2010 Hyundai Elantra

33545
$600
11-05-2022
2002 Hyundai Elantra

85017
$510
11-04-2022
2005 Hyundai Elantra

34743
$680
10-31-2022
2010 Hyundai Elantra

75062
$895
10-30-2022
Maybe your Hyundai Elantra is starting to cost you too much because of constant repairs, or maybe it was in an accident and the repair cost is greater than its actual value. If you're in this situation, your best move is to sell it as-is, and an auto recycler like us can help you with that.
Now's not the time to wait around. Car values almost always go one direction, and that's down. Selling your car right away ensures that you get the most money possible, which you can then put towards a new one.
JunkCarMedics.com has specialists available to offer you a quote. If you like what you hear, we'll come out, pick your car up, and pay you. Give us a call right away if you're ready to get instant junk car quote.
Call (855) 587-0227 or request a quote online to sell your Hyundai Elantra.