Sell My Junk Car For $500 Or More To The #1 Place That Buys Junk Cars for Cash Near Me
Sell your junk car for $500 cash or more to America's #1 cash for junk cars service.
Straightforward
Junk Car Medics honest, straightforward process makes it easy to junk cars in as little as hours.
Highest Payouts
We work with local auto junkyards, car auctions and other car buying services to get you top dollar.
Guranteed Payments
Have peace of mind whether you get $500 cash for junk cars or a check with our guaranteed payments.
Is My Junk Car Worth $500 Cash?
So it's time -- or even past time –- to sell your junk car. But you really need a good price for it, even if it's an old car you are still hoping to get $500 for it. Maybe you want to put that towards a new car. Or you've got another big purchase to make. Or bills to pay off. Or who couldn't use an extra bit of cash? So that's leads us to the question...
Can I sell my junk car for $500 cash and if so, how?
Due to the high demand for valuable parts that can be resued reusable parts and the higher scrap metal prices the chances are currently pretty good to sell a junk car for $500.
The going rate to sell a junk car for cash in 2021 is $358 on average and common prices range from $125 - $625 according to the data by Junk Car Medics.
But it's no guarantee.
If your car is somewhat newer, has working parts, and weighs more, then you may be able to get $500 cash for it.
You can sell your car to one of the few nearby junkyards OR you can use Junk Car Medics and get top dollar.
Why It May Be Hard To Get $500 Cash For Junk Cars
The Reasons
Your car is a junk car - Let's face it.  If you're reading this article and your car is 10+ years old you probably already know that. Junk cars don't have much value beyond their weight in metal.  It's the ones that have usable parts that can possibly get you up to $500 for junkers, we'll discuss those later in the article.
Imports and exports aren't what they used to be - The U.S used to export a lot of scrap metal overseas but that number has declined and continues to do so with the Coronavirus pandemic.
The Internet: Makes it easier for others to compete for cars and it's lead to a globalization of auto sales. There is now greater competition from countries all across the world, most of which have fewer regulations.
Depressed yet? Sorry, we didn't want to kill your buzz after you declared, "I want to sell my junk car for $500" Believe us; we'd like to. We'd love to. But right now, the market isn't there and we aren't sure when it will be exactly.
Here's How to Get The Most Money For Your Junk Car
How do you sell your junk car for $500 or close to it? This largely depends on the type of car that you have and how much reusable metal that it offers to a junkyard.
For instance, if your junk car is a GMC Sierra, the average price is about $800 if it's within 10 years. If you have a GMC Yukon, you might get about $900 for it. These are two of the vehicles that fetch the most for scrap metals, as they have a slew of reusable materials under their hood.
However, if your junk car is a Ford Contour or a Ford Escort, you'll be lucky to bank $290 for your scrap vehicle. As you can see, generally the larger your vehicle is (i.e., trucks, vans), you'll get more for it than if it were small (i.e., compact sedan).
1. Have A Somewhat Newer Vehicle To Sell
If your car is old and the parts or worn or there aren't similar vehicles on the road then there will be no demand for it's parts and it will fetch a much lower offer, it's basically an unwanted car to most, a scrap car.
Newer cars say 7 years old or less, that are in decent condition can sell for $500 or more because there is a good chance someone will want to buy it for a project car or for it's parts.
Currently in 2021 "junk cars" that are in good condition are selling for much more then usual because there is a lack of vehicles at the auto auctions.
More people are attempting to repair their cars due to the Covid-19 outbreak and the decrease of disposable funds in many peoples banks accounts.  Rather than junking a car and buying new people are attempting to get more value out of junk cars.
Therefore, there is a lack of vehicles at car auctions across the country.  And the demand for used parts is increasing.
Think about it, more old junk cars on the road then the more need for old car parts.
2. Have A Heavier Vehicle
Heavier vehicles will net more even if there isn't a demand for it's parts because there will be more metal.  This means even if the car is crushed and sold to the local scrap yard it may be able to get you $500.  It greatly depends on current scrap metal prices.
3. Have A Junk Car With Valuable Car Parts
If your car has reusable parts that can be pulled from the vehicle and resold at an auto salvage yard then you may be able to get $500 or even more for it.
But if you're car is old then there won't be any value in the parts beyond the metal.
Another option is to pull some of the parts yourself such as the wheels, engine, and catalytic converter to resell on your own.  This of course takes a bit of know-how but you could then scrap the vehicle for it's weight in metal to the local yard.
4. Familiarize Your Self With Local Scrap Metal Prices
Though you may have to pay a moderate fee to obtain a subscription to a research outlet for this data, it may be worth it if you want to ensure you get the most money for your vehicle.
This could behoove you for a few reasons: One, it allows you to track scrap metal pricing to the day, permitting you to sell when the getting is good and avoid selling when the value is too low. Additionally, familiarizing yourself with scrap metal pricing can help you pick the season to sell your vehicle.
Believe it or not, scrap metal's ebbs and flows are often by season, so while one season might not amount to much value-wise, the next season may paint a different picture. But if you don't know, you could be losing out on hundreds of dollars based on when you sell.
5. Shop Around
Just as how it's common to contact a few different dealers and weigh a few different models when you're shopping for a new vehicle, you should do the same if you're looking to score some cash for your junk car.  Check out this complete list of options of places that buy junk cars.
Pick up the phone and call a few different lots near you. Simply give them the model, make and year of your vehicle and see what they say about an estimated payout.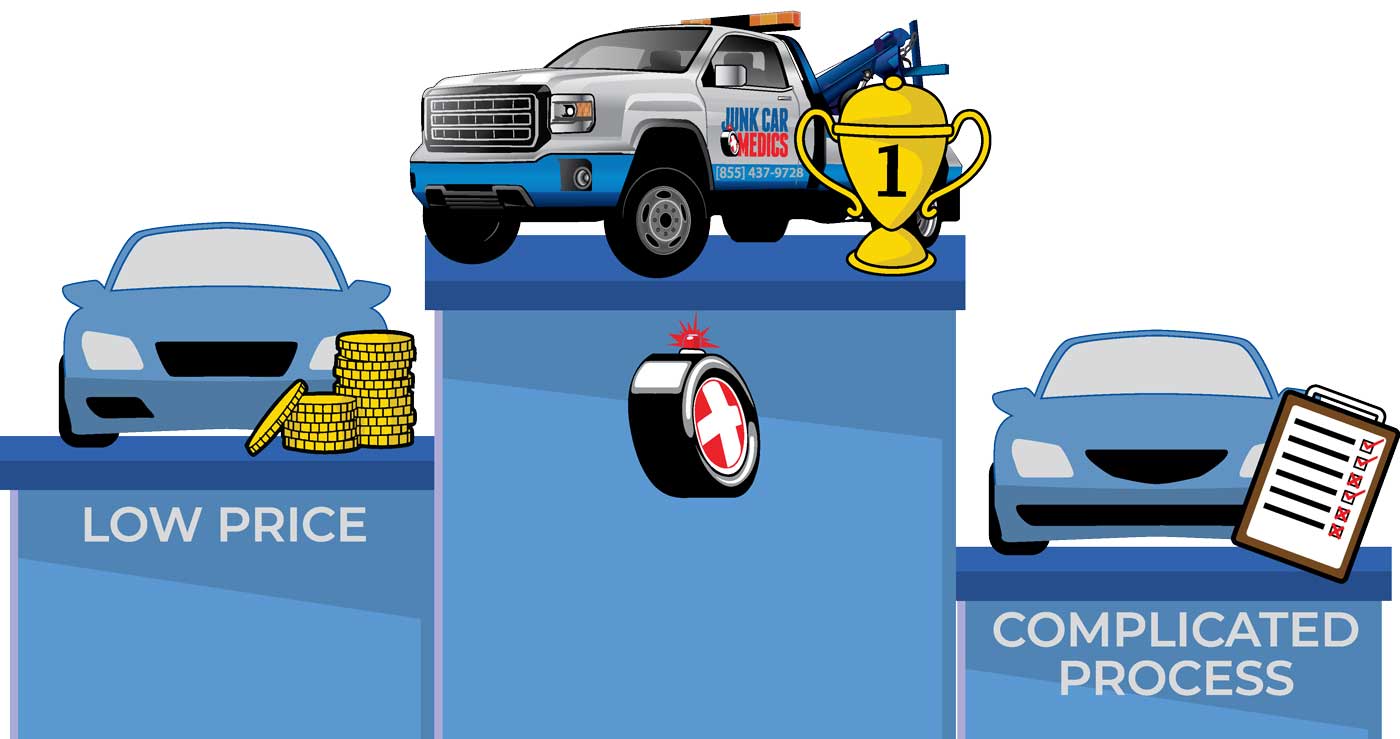 Sell Your Junk Car Now While Prices Are High!
You are looking to junk your car for cash - and get the most money possible.
If this is you, you are in luck!  Junk car prices are at a recent high due to the shift in the market.  Recycled car parts are at an all-time high in demand.  Scrap metal prices are higher than recent memory.  Now is the time to get cash for junk cars using our eco-friendly recycling program that gets you more money..
A lot of junk cars that sold for $100 or $200 are now selling for $400 or $500 plus because the metal and the parts are more valuable.
If you are searching for someone who buys junk cars nearby for $500, $1,000, even $1,500 your search has ended. Get the most rewarding offer in the industry to sell your junk car today! Call or get a free offer online now.
At JunkCarMedics.com we buy junk cars for cash.  But that's not all, we provide:
Industry-leading customer service
The best offer for your car due to our huge network
Free pickup and removal nationwide from your home or office
No obligation offers in 79 seconds.
And that's just the beginning!
Junk Car Medics makes 10's of thousands of offers to buy cars for cash (vans, trucks & SUV's too) all across America and has a hand in the purchase of 1,000's of cars every single month.
This lead to us being the nation's largest cash for junk cars service.