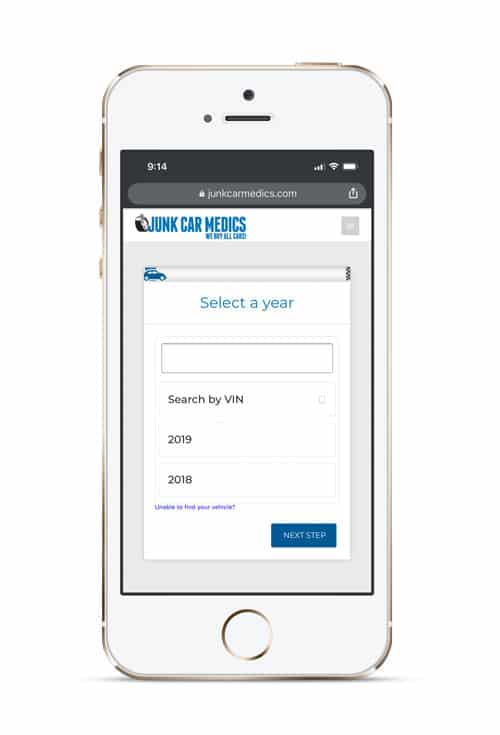 Step 1.
Provide some basic info on your vehicle and receive our highest offer instantly.
Step 2.
Accept the offer online in minutes and a representative will contact you to make arrangements.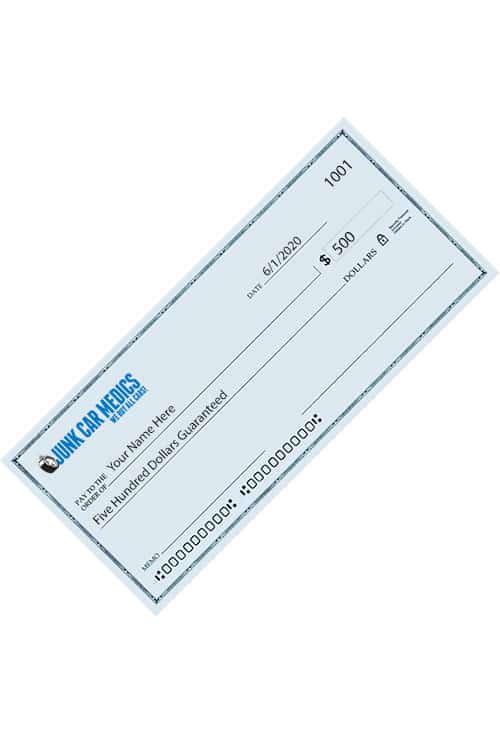 Step 3.
We'll come to you and remove your car for free and pay you with a guaranteed check!
Step 1: Enter your car's details and get your FREE, fast offer in 1 -2 minutes
We'll ask you a few basic questions about your junk car.
It's a quick process that'll take less than 2 minutes to complete, and you'll get a fair offer based on the car's make, model, and condition, and the current price of scrap metal in your area.
Here is a complete list of the information you'll need on your vehicle:
Make, model, and year (Ie, 2009 Toyota Camry)
Vehicle condition – include problems and damaged areas
Mileage, or odometer reading
Exterior, interior description
Mechanical condition
Title status – clean titles preferred
Does the car run?
Can the car be towed?
Are the tires flat?
Overall condition of all four tires and wheels
Damaged glass, mirrors or lights
Do you have the keys?
Zip code for the car's location
Step 2: Accept the offer by entering your VIN and scheduling the pickup
Offers to sell a junk car can range from $50 - $10,000 but generally fall between $50 and $250 currently and can change along with metal prices from day to day. But once you accept your offer, it's guaranteed.
Simply enter your VIN and a representative will contact you to make arrangements to remove your vehicle and get you paid.
Step 3: Get paid fair market value for your car within 2 - 48 hours from receiving your offer!
We'll send you a local representative to pick up your car for free.
The rep will walk you through the steps to sign over the title, get the keys, and pay you in cash or by check (which we guarantee!).
Selling your car can be a daunting task, there's so much to consider.  Junk Car Medics has simplified the process of how to sell a junk car and purchases 1,000's of cars every month across the United States.
Our car buying process is fast, fair, and painless.
How we determine your offer
Year Make Model
The age and type of the vehicle impact the price.
Current Scrap Prices
The scrap metal market impacts the price of end of life and older vehicles as they will be cleaned up and crushed for the metal.
Vehicle Weight
If a car is considered a scrap car and has reached the end of it's life it will mostly be bought for it's weight in scrap metal.
Vehicle Condition
The condition and mileage of your car matters if it's going to be bought for resale or it's parts.
Demand For Parts
If it's a popular car the offers will be higher because there will be a demand for the car parts.
Location
Scrap metal prices and vehicles on the road vary by market so your location will impact the offer.
What do you need to sell your car to Junk Car Medics?
Vehicle Title
In most cases we'll need the vehicle's title.
Keys
In most cases we'll need the keys to the vehicle.
Vehicle Registration
In most cases you'll need the vehicles registration.
Valid ID
Valid ID to match the title and for verification.