Get More Cash For Junk Cars in Gainesville, FL
Junk your car to Gainesville's #1 cash for cars service that gets you up to $500 more.
Get a fast offer with our best price now:
Earn Premium Prices For Junk Cars in
Gainesville
The Junk Car Medics can get you your money faster than other junk car buyers in the area because we are the top junk car buyers in Gainesville. Give us a call 24 hours a day, 7 days a week for a quote on your junk car. If the offer suits you, we'll schedule a junk car removal either the same day or within the next 24 hours. We buy junk cars in Gainesville and want to make sure we do the best possible job we can.
Wait! There's more. Junk Car Medics isn't going to make you wait weeks to get your money. Our drivers will have your payment on hand to give you the moment you transfer ownership of your junk car to us.
We have been in business for years and know the value of a junk car. We're not concerned with how it looks or how well it performs because even if it's had some flood damage and hasn't worked for years, we will still make you an offer on your junk car. Just give us a call today to find out how much we're willing to offer you.
Junk Car Medics Gainesville
Gainesville, FL 32602
(855) 587-0227
Calling Hours:
Call For Quote 24/7
Business Hours:
Mon-Fri: 8 am – 7 pm
Sat: 8 am – 2 pm
Sun: Closed
Top rated junk car buyers.
How to Sell Junk Cars in
Gainesville, FL
Junk Car Medics makes selling a junk car for cash in Gainesville, FL quick, easy, and painless. Get up to $1,500 to junk cars and up to $5,000 for used cars.
Here's how it works:
Step 1: Get an Instant Offer Online or by Phone
We'll ask you a few basic questions about your car's condition, mileage, and whether you have the title.  It's a quick process that'll take less than 2 minutes to complete, and you'll get a fair market offer to junk your car.
Step 2: Accept Your Offer and Make Arrangements
After you accept your offer a representative will contact you to make arrangements for the removal of your junk car.  Towing and removal are free of charge.
Step 3: Get Paid More For Using Junk Car Medics in
Gainesville
Upon pick up, sign over the title, hand over the keys, and you'll get paid on the spot with a check for your car.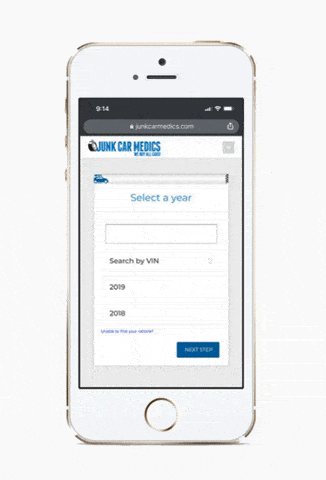 Why Junk Your Car to Junk Car Medics?
Jon S. - Junk Car Medics Customer
I was trying to get rid of my 2008 GMC 1500 that needed a new transmission. Out of 8 different company's not only was there online quote fast and simple but they offered the best and highest price. When accepting the offer they made it easy with no complications. I scheduled my appointment and the driver came by the next day to remove it and pay me. If you are trying to get rid of your junk car they are the ones I recommend!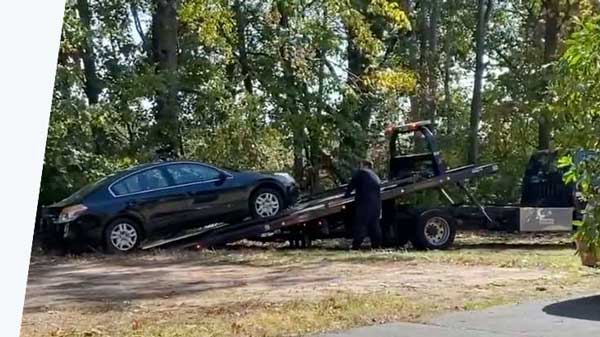 Recent Junk Car Offers in
Gainesville, FL
2007 Ford Crown Victoria

Zip: 32609
Offer Price: $690
Offer Date: 11-13-2021
2011 Nissan Versa

Zip: 32607
Offer Price: $520
Offer Date: 10-27-2021
2007 Dodge Charger

Zip: 32608
Offer Price: $580
Offer Date: 10-19-2021
2010 Ford Fusion

Zip: 32601
Offer Price: $760
Offer Date: 09-01-2021
2003 Toyota Corolla

Zip: 32607
Offer Price: $990
Offer Date: 08-09-2021
2009 Pontiac Torrent

Zip: 32607
Offer Price: $615
Offer Date: 07-28-2021
2006 Chrysler 300

Zip: 32608
Offer Price: $715
Offer Date: 07-22-2021
2007 Hyundai Entourage

Zip: 32608
Offer Price: $985
Offer Date: 07-22-2021
2003 Chevrolet TrailBlazer

Zip: 32606
Offer Price: $585
Offer Date: 07-18-2021
2003 Honda Accord

Zip: 32607
Offer Price: $705
Offer Date: 07-17-2021
1994 Ford Econoline

Zip: 32601
Offer Price: $720
Offer Date: 07-05-2021
2011 Nissan Versa

Zip: 32607
Offer Price: $755
Offer Date: 06-04-2021
2007 Nissan Versa

Zip: 32605
Offer Price: $65
Offer Date: 06-04-2021
2002 Lexus RX 300

Zip: 32607
Offer Price: $695
Offer Date: 05-24-2021
2003 Toyota Camry

Zip: 32606
Offer Price: $590
Offer Date: 05-10-2021
Gainesville, FL November 30, 2021
Junk Car Prices and Resources for
Gainesville, FL
Top 7 Used Cars in
Gainesville, FL
Coming soon
Top 7 Junk Cars in
Gainesville, FL
Coming soon
What?! Your car has broken down again. Except this time it's no easy fix. Your mechanic tells you that it's going to cost you an upwards of $500 for service. Do you pay the repair bill, or do you sell your junk car in Gainesville, FL? Most car owners will find themselves in this position if they keep their cars long enough. Sure, there are times when making the repair is the better option. However, if your car repairs start to cost more than your vehicle is worth, it's time to ditch the ride.
Though the idea of parting ways from "old reliable" might sting a bit, holding onto a car that is no longer a convenience is a waste of time and money. You could sell your junk car in Gainesville, FL and put it towards a more reliable car that you can create even more memories in. Junk Car Medics knows your car means a lot to you and that's why we do our best to give you a top offer for your junk car. Give us a call to see how much your junk car is worth. Chances are you'd be much happier with money going into your pockets than money going out for repairs.
We Buy Junk Cars All Over Gainesville
The birthplace of Gatorade, the city where Tom Petty and the Heartbreakers got their start, Gainesville is one of the most popular cities in Florida to live in. The tropical climate, great educational systems, and tons of things to do, it's no wonder it's home to more than 125,000 people. What really attracts people to Gainesville however, is its affordability. With a low cost of living average and financial perks like no state income tax, sticking to a budget is easier in this Florida city.
That is… unless you're dealing with a junk car in Gainesville. Transportation costs can quickly eat away at your affordable lifestyle. Just a few trips to the mechanic could cost you upwards of $1,000. As the car gets older and the repairs get steeper, there's really only one thing to do… sell your junk car to a junk car buyer near you.
What parts of Gainesville, FL do you service?
We will buy junk cars from all Gainesville, FL neighborhoods including College Park, Woodland Park, Pinebreeze, Porters Community, Hidden Lake, Creekwood, and more. Just let us know the address and we'll get someone out there to remove your junk car fast.
I need to retrieve a duplicate title for my junk car in Gainesville; how do I do this?
You will need to contact the Florida Division of Motor Vehicles to request a copy. You will be required to pay a small fee.
How much does the junk car removal in Gainesville, FL Cost?
It's free. Junk Car Medics does not charge their customers for removal services.
---
We buy cars in the following zip codes in Gainesville: 32601, 32602, 32603, 32604, 32605, 32606, 32607, 32608, 32609, 32610, 32611, 32612, 32614, 32627, 32641, 32653.
We service all surrounding cities including Ocala, Palatka, Lake City, Lakeside, Orange Park, Lady Lake, Jacksonville, Leesburg, Palm Valley, Eustis, Tavares, Jacksonville Beach, Mount Dora, Atlantic Beach, Apopka.