Sell My Junk Dodge Durango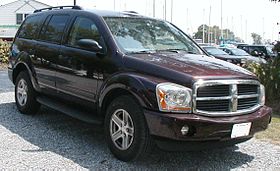 How Much Cash Will My Junk Dodge Durango Get Me?
JunkCarMedics.com is a reputable local car buyer that specializes in fast and fair sales. Sell your Dodge Durango to us and be sure that you will not be low-balled or lied to by anyone who wants to turn a profit off of your vehicle. We are in business to help car, truck, and van owners to get cash in their hands for whatever they need. We would like to offer you some money for your Durango today, but you'll have to make the first move. Here's how it works:
The Year Is not the Most Important Date
The process is not so cut and dry that the year is the most important date. Actually, the weight of the vehicle is the most important number that you need to have when it comes to selling your vehicle. A Durango is anywhere between 4,700 to 5,300 pounds and you could get a a pretty penny for it the way we calculate. We use a model that goes by the scrap metal prices. The metal content in your car is more important than the year or the mileage is in that case. They only play a small part in our price quote, and that is after we get the estimate for the weight.
We'll Still Love Your Busted Durango
Has your Durango been in an accident? Is it an unattractive vehicle? Do you have some chipped paint or rust on it? Does it run? It's okay even if the answer to all of those questions is a negative one. You see, we can find use for any model no matter what shape it is in. We will purchase any vehicle that you have to offer because we know that we can find a purpose for it. So don't worry about whether it's running or not, you can sell your car either way!
Better Than all the Rest
We're simply your best option, and we are not just saying that to toot our own horn. We're telling the truth. When you deal with us, you know exactly how much money our professional buyer is going to put in your hands when he or she comes to buy the vehicle from you. You know exactly how much. We will never stand you up, and you will never hear a ridiculous offer come from our lips. We are always honest.
Recent Offers Made for Dodge Durango Trucks:
2003 Dodge Durango

44266
$505
09-29-2022
2004 Dodge Durango

74012
$530
09-13-2022
2004 Dodge Durango

74012
$530
09-13-2022
2006 Dodge Durango

97114
$510
09-10-2022
2002 Dodge Durango

08857
$590
09-09-2022
2006 Dodge Durango

18706
$530
09-09-2022
2012 Dodge Durango

32219
$705
09-07-2022
2007 Dodge Durango

19013
$540
09-05-2022
2002 Dodge Durango

33056
$510
08-25-2022
1998 Dodge Durango

08902
$640
08-25-2022
2008 Dodge Durango

78223
$730
08-22-2022
2000 Dodge Durango

91906
$95
08-20-2022
2002 Dodge Durango

85251
$550
08-19-2022
2006 Dodge Durango

18706
$530
08-18-2022
2004 Dodge Durango

02740
$500
08-18-2022
Get Your Quote Now
Stop procrastinating and sell your Dodge Durango today. You can contact us by telephone or by short form. The phone number that you can call is 855-587-0227. We will get back to you shortly to let you know what we can offer you. Then you will need to let us know if you want us to bring it to you.
Call (855) 587-0227 or request a quote online to sell your Dodge Durango.