Sell My Junk Nissan Altima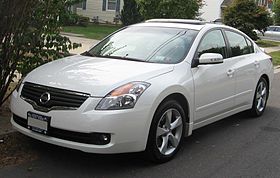 How Much Can I Get For Selling My Junk Nissan Altima?
Most car owners understandably ask us: "What's the ballpark amount I can expect if I sell my car?" For a general idea of how much you can earn by selling a junk Nissan Altima, we've seen these cars go for anywhere from $110 to $785. The mid-size sedan chassis gives the car a weight of 3,177 pounds. That weight is then affected by the local price of scrap metal and whether any other parts or components that can be recycled.
Junk car buyers usually look at five factors when offering cash for junk Nissan Altima cars:
• Condition;
• Age;
• Mileage;
• Weight;
• Location.
Missing parts or corrosion will also affect the price of your junk Nissan Altima. At Junk Car Medics, we're ready to pay up to $10,000 for junk vehicles in decent condition. If your car runs well enough and has useful components and features, you can get a healthy sum in cash paid for it on the spot by calling us.
History of the Nissan Altima and Why We Buy Them
The Nissan Altima is one of the best-selling cars in the United States, and remains an incredibly popular choice when it comes to mid-size sedans. We've seen our share of Altimas on the road and in the scrap yard, where junk car buyers like us benefit from the popularity of the vehicle, selling out parts, components and scrap metal to auto recyclers.
The Nissan Altima traces its roots all the way back to the 1957 Nissan Bluebird, giving it one of the longest histories of any Japanese car on the market. The modern Altima began production in 1992 as a larger, more luxurious version of the Nissan Sentra. The manufacturer has produced Altima coupes, hybrids and more since then.
Recent Offers Made for Nissan Altima Cars:
2010 Nissan Altima

07031
$620
09-25-2022
2002 Nissan Altima

08105
$550
09-24-2022
2012 Nissan Altima

35206
$540
09-23-2022
2006 Nissan Altima

77449
$640
09-22-2022
2001 Nissan Altima

32811
$560
09-22-2022
2008 Nissan Altima

19139
$550
09-22-2022
2003 Nissan Altima

37138
$720
09-20-2022
1996 Nissan Altima

08865
$550
09-20-2022
2005 Nissan Altima

32811
$560
09-20-2022
1996 Nissan altima

08865
$550
09-19-2022
2008 Nissan Altima

95120
$580
09-19-2022
2012 Nissan Altima

31088
$555
09-19-2022
2008 Nissan Altima

94589
$550
09-18-2022
2011 Nissan Altima

30044
$615
09-18-2022
2008 Nissan Altima

93308
$650
09-18-2022
Is It Time To Junk my Nissan Altima?
If you have a Nissan Altima that is damaged or in need of repairs, you may be interested in junking it for quick cash. This is often the case when the cost of repairing the car is more than the car's current value.
Some production years are more prone to mechanical failures than others. For instance, the 2002 Nissan Altima excessively consumes oil by design and is far more prone to catastrophic engine failure after 100,000 miles as a result. If you own such a car, you may get a better deal out of junking it than attempting to replace the engine.
If your Nissan Altima won't yield a profit on the used car market, give us a call a receive a no-obligation quote on selling it today!
Call (855) 587-0227 or request a quote online to sell your Nissan Altima.