Cash for Your Junk Car in Denver, CO
Junk your car to Denver's #1 cash for cars service that gets you up to $500 more.
Get a fast offer with our best price now:
We Buy Junk Cars for Cash in Denver
If you're sick and tired of dumping money into that old wreck, we've got the cure. We buy junk cars in Denver and we'll give you more for your car than any other salvage yard can offer in the city We make the process as easy as ordering a pizza. Contact us today!
If you've got a sore wrist from writing checks to your local garage mechanic in Fort Logan, the Medics have got the treatment for you. We'll apply our payment to your palm for your junk car and you'll feel better immediately.
Free Towing & Removal
It Gets Better. If you've got a car that barely runs, or even one that's rusting away in your driveway, we will do a lot more than offer you free removal in Denver. No matter what you've heard from other auto recycling yards, your old beater is worth money, and our junk car buyers in Denver will make sure you get the most for your car. Why not sell your junk car and use the proceeds to buy a brand new car?
We're the car experts in Denver, Colorado. From Regis to Hampden South, from Marston to Montebello, we cover the whole region. We'll pay you more for your vehicle than any other auto salvage yard in the area. Not only do we buy junk cars in Denver, Colorado, we also offer free removal that Denver scrap yards usually charge extra for. You'll spend nothing to get rid of your junk car, so all the money we pay you goes right in your pocket.
Junk Car Medics Denver
Denver, CO 80205
(855) 587-0227

Calling Hours:
Call For Quote 24/7
Business Hours:
Mon-Fri: 8 am – 7 pm
Sat: 8 am – 2 pm
Sun: Closed
Top rated junk car buyers.
How to Sell Junk Cars in Denver, CO
Sell junk cars in Denver, CO with our quick, easy, painless process. Get up to $300, $500, even $1,500 cash for junk cars, old cars, damaged cars, and used cars.
Here's how it works:
Step 1: Get an Instant Offer Online or by Phone
We'll ask you a few basic questions about your car's condition, mileage, and whether you have the title.  It's a quick process that'll take less than 2 minutes to complete, and you'll get a fair market offer to junk your car.
Step 2: Accept Your Offer and Make Arrangements
After you accept your offer a representative will contact you to make arrangements for the removal of your junk car.  Towing and removal are free of charge.
Step 3: Get Paid More For Using Junk Car Medics in Denver
Upon pick up, sign over the title, hand over the keys, and you'll get paid on the spot with a check for your car.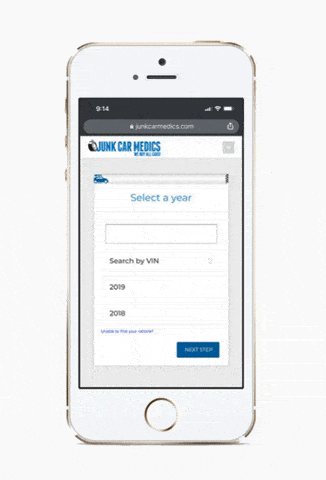 Why Junk My Car with Junk Car Medics in Denver?
Jon S. - Junk Car Medics Customer
I was trying to get rid of my 2008 GMC 1500 that needed a new transmission. Out of 8 different company's not only was there online quote fast and simple but they offered the best and highest price. When accepting the offer they made it easy with no complications. I scheduled my appointment and the driver came by the next day to remove it and pay me. If you are trying to get rid of your junk car they are the ones I recommend!
Denver Junk Car Prices
Over the last 12 months junk car prices in Denver, CO increased 3% on average for vehicle year models 1998-2008, the most commonly junked years! Let's take a look at some of the numbers:
Most Common Junk Cars in Denver
2012 Honda Civic - $1,957.50
2006 Buick Rendezvous - $428.33
2012 Nissan Versa - $778.33
2002 Honda Accord - $470.00
2005 BMW 5-Series - $430.00
2003 Ford Focus - $393.33
2012 Range Rover Evoque - $5,446.67
2003 Toyota Camry - $546.67
2005 Hyundai Tucson - $735.00
2004 Ford Explorer - $598.33
Junk Car Prices in Denver by Year
1999 - $538.70
2000 - $421.14
2002 - $515.44
2003 - $580.29
2004 - $593.18
2005 - $577.64
2006 - $571.71
2007 - $792.31
2008 - $1,018.53
2012 - $3,100.21
10 Junk Cars Worth Over $500 in Denver
1993 Toyota Pickup - $1,375.00
1999 Jeep Cherokee - $1,120.00
1999 Toyota 4Runner - $1,815.00
2001 Toyota Highlander - $1,300.00
2002 Lexus RX - $1,060.00
2003 Jeep Wrangler - $2,510.00
2004 Toyota 4Runner - $3,965.00
2005 Ford F-350 SD - $1,640.00
2005 Honda CR-V - $1,292.50
2006 Mercedes CLS-Class - $1,260.00
The #1 Junk Car Removal Service in Denver
There is absolutely no reason to dump any more money into that old wreck. Either sell it or donate it to a local charity. Asking your mechanic to diagnose what's wrong over and over will clean out your bank account. It costs nothing to talk to us, and we handle all the paperwork at the DMV. We even tow the car away for free if it needs it. Contact us today and you could be spending the money you earn from your junk car tomorrow!
How Can You Offer Money for Cars Nobody Wants?
Here's the thing: We want them! Just because your old car can't make it to work anymore, doesn't mean it's worthless. Every junk vehicle is worth something, and we know how to get the value out of it – even if it isn't running. If your car is on life support, call Junk Car Medics. Even if it's dead, call us for an autopsy.
What If a Scrap Yard Tells Me My Junk Car Is Worthless?
Here's the deal: If a scrap yard tells you that your clunker isn't worth anything, they're lying. Every junk car has at least some value. If you've called around and been told they'll take your car off your hands for nothing, you're being scammed. Some unscrupulous auto junk yards even charge you to tow your valuable clunker away. Don't get fooled. Call us and get on the road to recovery.
What Do I Need to Sell My Junk Cars?
Not much, really. We try to make it easy to do business with us. Just contact us with a few simple pieces of information handy. We'll just need to know the make, model year, condition, and a few other pieces of information to offer you the most for junk cars Denver scrap yards can give. In order to complete the deal, you just need the title to prove the car belongs to you. We take care of the rest, including free towing.
Do You Guarantee Your Quote for Junk Cars Denver Service?
Absolutely! We want you to be ecstatic about your deal, and we guarantee 100% satisfaction. Contact Junk Car Medics to see how easy, safe, and lucrative getting rid of that old clunker can be!
Call Junk Car Medics Cash for Junk Cars Service in Denver, CO Now!
---
We service all surrounding cities including: Arvada, Aurora, Boulder, Broomfield, Canon City, Castle Rock, Centennial, Colorado Springs, Durango, Fort Collins, Fort Morgan, Fountain, Grand Junction, Greeley, Greenwood Village, Lafayette, Lakewood, Littleton, Longmont, Loveland, Montrose, Parker, Pueblo, Thornton, Westminster.
We buy cars in Aurora and Commerce City plus the following zip codes in Denver: 80123, 80201, 80202, 80203, 80204, 80205, 80206, 80207, 80208, 80209, 80210, 80211, 80212, 80214, 80215, 80216, 80217, 80218, 80219, 80220.
Recent Purchases By Our Junk Car Buyers in Denver, CO
2007 Hyundai Elantra

80226
$535
08-05-2022
2006 KIA Sorento

80221
$525
07-29-2022
2002 Chevrolet Silverado 1500

80222
$500
07-14-2022
2005 Dodge Magnum

80223
$595
07-13-2022
2004 Toyota Camry

80223
$765
07-13-2022
2006 Volvo S-40

80221
$545
07-10-2022
2009 BMW 3-Series

80210
$660
07-08-2022
2005 Ford F-150

80226
$935
07-02-2022
2009 Bmw 328

80210
$975
06-28-2022
2006 Honda Civic

80209
$520
06-24-2022
2008 Hyundai Elantra

80223
$610
06-16-2022
2010 Nissan Rogue

80203
$780
06-16-2022
2006 Jeep Liberty

80212
$590
06-12-2022
2009 Volkswagen Routan

80216
$720
06-12-2022
2012 Hyundai Elantra

80216
$610
06-07-2022