We Pay More Cash for Cars in Orlando, FL
Junk your car to Orlando's #1 cash for cars service that gets you up to $500 more.
Get a fast offer with our best price now:
We Buy Junk Cars for Cash in Orlando
I think we can both agree that selling your junk car can be a hassle in Orlando, no? From having to find the right paperwork to going with scrap yards you can trust, getting paid for your car can be a time consuming and frustrating endeavor. Well, Junk Car Medics is here to cure a terrible system by providing a straightforward and simple process that rips apart the red tape and provides you with the most money for your junk car. We buy junk cars in Orlando and provide 100% satisfaction guarantee, contact us right now!
Our business model is centered on providing the best service to our clients, getting them the money they deserve in a professional and respectful manner. Don't waste your time trying to call other scrap yards only to get conflicting estimates and no help in the process. Whether you need a car removed from your property or you are broken down in front of one of the most magical places on earth, we are the best junk car buyers in Orlando.
Junk Car Medics is here to help you with all your clunker car ills. Providing support to make the process simpler, free towing for your vehicle, and the best prices around, Junk Car Medics is Orlando, Florida's answer to professional junk car services.
Junk Car Medics Orlando
Orlando, FL 32811
(407) 955-9875

Calling Hours:
Call For Quote 24/7
Business Hours:
Mon-Fri: 8 am – 7 pm
Sat: 8 am – 2 pm
Sun: Closed
Top rated junk car buyers.
How to Sell Junk Cars in
Orlando, FL
Sell junk cars in Orlando, FL with our quick, easy, painless process. Get up to $300, $500, even $1,500 cash for junk cars, old cars, damaged cars, and used cars.
Here's how it works:
Step 1: Get an Instant Offer Online or by Phone
We'll ask you a few basic questions about your car's condition, mileage, and whether you have the title.  It's a quick process that'll take less than 2 minutes to complete, and you'll get a fair market offer to junk your car.
Step 2: Accept Your Offer and Make Arrangements
After you accept your offer a representative will contact you to make arrangements for the removal of your junk car.  Towing and removal are free of charge.
Step 3: Get Paid More For Using Junk Car Medics in
Orlando
Upon pick up, sign over the title, hand over the keys, and you'll get paid on the spot with a check for your car.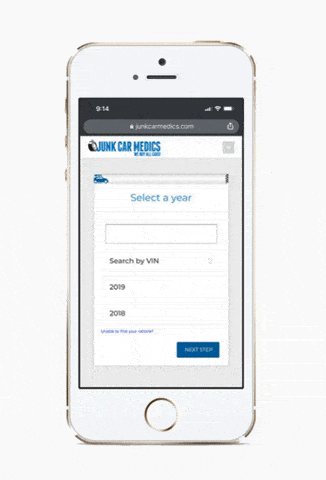 Why Junk My Car with Junk Car Medics in Orlando?
Jon S. - Junk Car Medics Customer
I was trying to get rid of my 2008 GMC 1500 that needed a new transmission. Out of 8 different company's not only was there online quote fast and simple but they offered the best and highest price. When accepting the offer they made it easy with no complications. I scheduled my appointment and the driver came by the next day to remove it and pay me. If you are trying to get rid of your junk car they are the ones I recommend!
Orlando Junk Car Prices
Over the last 12 months junk car prices in Orlando, FL increased 48% on average for vehicle year models 1998-2008, the most commonly junked years! Let's take a look at some of the numbers:
Most Common Junk Cars in Orlando
2002 Honda Accord - $568.75
2007 Chevrolet Cobalt - $593.33
2006 Chevrolet Impala - $473.33
2011 Chevrolet Cruze - $1,640.00
2003 Chevrolet Cavalier - $590.00
2006 Nissan Altima - $505.00
2009 Nissan Altima - $800.00
2006 Cadillac CTS - $517.50
2013 Chevrolet Sonic - $1,407.50
2003 Chevrolet Suburban - $1,092.50
Junk Car Prices in Orlando by Year
2001 - $559.06
2002 - $565.53
2003 - $631.50
2004 - $618.57
2005 - $638.04
2006 - $658.82
2007 - $837.14
2008 - $617.35
2009 - $874.62
2011 - $1,081.82
10 Junk Cars Worth Over $500 in O-Town
2001 GMC Sierra 1500 - $1,170.00
2002 Toyota Prius - $1,075.00
2007 Lexus LS - $1,972.50
2004 Nissan Titan - $1,425.00
2005 Chevrolet Colorado - $1,295.00
2006 BMW 7-Series - $1,350.00
2006 Toyota Corolla - $1,345.00
2007 Audi A4 - $840.00
2007 BMW 3-Series - $1,075.00
2007 Ford Edge - $1,730.00
The #1 Junk Car Removal Service in Orlando
Here's the deal, owning a clunker and doing nothing about it will cost you money. Every day you leave your junk car in the Orlando heat and humidly is another day where it will rust away, reducing the overall amount of money you can get for it and taking up space to boot. In addition, certain parts of Orlando as well as the surrounding towns have special ordinances in place to make owning a junk car a finable offense if it is not licensed and registered. As a result, you are risking losing money to fines.
Thankfully it gets better. Whether you need to have your car removed from the Disney World parking lot or are stranded in downtown Orlando along the Central Blvd, we can provide you with free towing services. The last thing you want is for your vacation to be ruined by your car finally dying, and we will work with you to expedite the process and save you time. Helping you to get the title and registration, we will walk you through what you need to do at the local DMV.
Where Can I Sell My Junk Car In Orlando, FL?
Here's the truth, you can find junk car buyers all over the city. These auto junk yards in Orlando however can be shifty, providing estimates for how much they are willing to pay that can be too good to be true. That is where we come in. Our junk car buyers are standing by to help you through the process, continuing the legacy of service residents and tourists of Orlando have come to expect.
Who Pays The Most For Junk Cars In Orlando?
Simply put, we do. We screen other local junk yards to ensure that what we pay beats the competition. In this way, you can always be sure that the price we provide is not only competitive, but the best in the greater Orlando area.
Does Junk Yard Medics Provide A Guarantee?
We do! Every transaction is covered by out 100% satisfaction guarantee. Along with helping you with any questions you have during the process, we provide this satisfaction guarantee as a thank you to the community we serve.
Call Junk Car Medics Cash for Junk Cars Service in Orlando, FL Now!
---
We buy cars in the following zip codes in Orlando: 32801, 32802, 32803, 32804, 32805, 32806, 32807, 32808, 32809, 32810, 32811, 32812, 32814, 32815, 32816, 32817, 32818, 32819, 32820, 32821
We purchase cars to all surrounding areas including Fairview Shores, Conway, Pine Castle, Pine Hills, Azalea Park, Winter Park, Oak Ridge, Maitland, Lockhart, Goldenrod, Fern Park, Altamonte Springs, Forest City, Doctor Phillips, Casselberry.
Recent Purchases By Our Junk Car Buyers in
Orlando, FL
2005 Hyundai Elantra

32806
$735
05-14-2022
2009 Honda Accord

32811
$725
05-12-2022
2000 Chevrolet S-10 Pickup

32811
$760
05-09-2022
2011 Dodge Nitro

32809
$895
05-03-2022
2011 Subaru Legacy

32810
$600
05-02-2022
2014 Chevrolet Captiva

32810
$735
05-01-2022
2008 KIA Magentis

32809
$840
04-30-2022
2008 Audi A6

32811
$600
04-28-2022
2004 Honda Accord

32810
$755
04-25-2022
2011 Mazda Tribute

32805
$715
04-20-2022
2006 Nissan Altima

32808
$715
04-19-2022
2006 Hyundai Sonata

32807
$960
04-16-2022
2006 Ford Econoline

32806
$680
04-15-2022
2005 Chrysler Town & Country

32810
$590
03-17-2022
2001 Lincoln LS

32811
$620
03-16-2022