Sell My Junk Chrysler Town & Country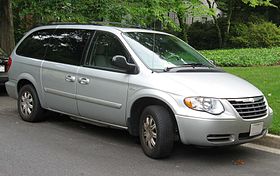 How Much is My Junk Chrysler Town and Country Worth?
Your Chrysler Town and Country has a curb weight of 4,652 pounds, making it a good contender for a capable auto scrap dealer like Junk Car Medics. You can expect to get anywhere from $400 to $4000 for your minivan, although this price can change depending on the demand for certain parts and accessories that may earn you a higher return.
In general, junk car dealers like us look to a certain set of characteristics when appraising vehicle value. Some of the factors we pay close attention to are:
• The car's weight;
• The age of the car;
• The vehicle's condition;
• Its mileage;
• Local scrap metal prices.
Our team of auto recycling experts is ready to offer up to $10,000 for used cars in running condition, but we also purchase junk cars and damaged vehicles of all kinds. No matter what condition your car is in, you can rely on us to buy it and come tow it away for free. Chrysler Town and Country transmissions tend to fail at high mileage, so if your car has a working transmission you could earn more by junking it with us.
Some History On the Chrysler Town and Country
Chrysler released the Town and Country in 1990, capitalizing on a fresh interest in luxury family minivans. This model remained Chrysler's most luxurious minivan model throughout its lifetime, and generally came standard with almost every favailable feature available on Plymouth and Dodge minivans.
Only a year after its introduction, the Chrysler Town and Country was updated and built upon a new platform. The third generation of the vehicle, introduced in 1996, introduced a number of industry firsts, including a driver-side sliding door and easy out roller seats. Car and Driver called included this model on its Ten Best list for 1996 and 1997.
Recent Offers Made for Chrysler Town and Country Vans:
2003 Chrysler Town and Country

32725
$570
07-16-2021
2002 Chrysler Town and Country

60564
$530
06-16-2021
2003 Chrysler Town and country

92703
$525
06-03-2021
2003 Chrysler Town and Country

30066
$510
05-01-2021
2014 Chrysler Town and Country

43230
$980
03-02-2021
2003 Chrysler Town and Country

53221
$590
01-31-2021
Is it Time to Junk My Chrysler Town and Country?
If you have a junk Chrysler Town and Country, you might say, "Maybe it isn't such a good idea to sell my car for cash." You might feel like you can get a better deal if you repair the car and sell it on the used market. But the cost of repairs may make that unfeasible.
The best way to find out whether your car belongs on the scrap market or not is by comparing a complete repair estimate from an authorized mechanic with the immediate cash payment quote we offer. If the cost of repairs is greater than the car's actual value, you're better off selling it to us as-is. Call now for a quote!
Call (855) 587-0227 or request a quote online to sell your Chrysler Town & Country.