Sell My Junk Chrysler Sebring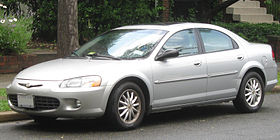 How Much Cash Will My Junk Chrysler Sebring Get Me?
Have you ever speculated on exactly how hard it would be to sell your Chrysler Sebring? Did you ever think, "I wish I could just sell my car online"?
Well, the speculation is over. Sell your Chrysler Sebring. Junk Car Medics wants to buy your junk Chrysler Sebring today in cash.
That's right. Junk Car Medics wants to buy your car in cash.
What is my car worth?
To determine the scrap price of your vehicle, we analyze the weight of your Chrysler Sebring in conjunction with its current condition. All models of the Chrysler Sebring weigh in at roughly 3,000-3,500 pounds. Depending on the condition of your vehicle, you could expect to receive anywhere from $250 to $3,500 for your Sebring.
My car no longer runs. Would you still be interested in buying it?
Absolutely. Junk Car Medics will purchase your Sebring, and without regard to its condition. If the car is mechanically faulty to the point that it no longer runs properly, we will remove the vehicle from the property, and free of charge.
So . . . how do you determine the buying price?
JunkCarMedics.com uses a wide array of guidelines in our determination of our buying price. Generally speaking, our price is purely set based on the weight of the vehicle. However, in some circumstances-if the vehicle is in exceptionally good condition-we will offer you more for it.
Besides the weight of the vehicle in question, other detailed factors that influence our estimate on your vehicle also include the year, make, model, and style of the vehicle, along with the mileage as read on the odometer.
I want to give it a shot, but I'm not sure where to start.
Sure, well that's no problem for Junk Car Medics. Here, we'll inform you about a few primary ways that people choose to sell their used vehicles.
You could trade in your vehicle to a dealership. However, be warned. If the vehicle is officially considered "junk", you will receive minimal to no money for the vehicle. Albeit perfectly plausible, the process will likely be lengthy, and daunting in the unforeseen complexities that may arise.
Besides trading your car in to a dealer, you could also try to sell the vehicle on Craigslist. This is a perfectly viable option. Cons include a small buyers market-especially on a junk car-and hagglers who will only take your car for bottom dollar.
If those options fail, try placing a newspaper ad for your car. There are always individuals looking for junk cars for parts, or to race with. Again, the buyers market is small, and advertising can cost a surprisingly hefty sum of money if you are to do it anywhere with an audience.
Last but not least, there's Junk Car Medics. We will come buy your car from you today, and at a fair market price. What's there to lose?
Recent Offers Made for Chrysler Sebring Cars:
2007 Chrysler Sebring

92115
$600
11-03-2022
2009 Chrysler Sebring

33009
$540
10-27-2022
2005 Chrysler Sebring

46229
$550
10-12-2022
2008 Chrysler Sebring

07735
$575
10-07-2022
2005 Chrysler Sebring

33404
$540
10-07-2022
2008 Chrysler Sebring

77020
$640
09-16-2022
1998 Chrysler Sebring

32826
$560
09-14-2022
2004 Chrysler Sebring

18037
$530
09-10-2022
2002 Chrysler Sebring

35010
$70
09-07-2022
2004 Chrysler Sebring

32835
$565
09-07-2022
2004 Chrysler Sebring

18037
$530
09-05-2022
2008 Chrysler Sebring

33025
$540
08-23-2022
2004 Chrysler Sebring

37204
$805
08-15-2022
2008 Chrysler Sebring

33028
$515
08-12-2022
2007 Chrysler Sebring

85041
$610
08-08-2022
The concept that we cannot stress enough is this: we will pay you cash right away! Looking to get sell your Sebring and use the funds toward a down payment on a new vehicle? We'll give you fair market price today. Let your finances come together as we take away the hardships associated with selling a used junk Chrysler Sebring.
Sell your Chrysler Sebring today. We are only one call away. The process generally takes less than a day, and is hassle free.
Reach out to us today for a free quote on your Chrysler Sebring.
Call (855) 587-0227 or request a quote online to sell your Chrysler Sebring.