We Buy Junk Cars for Cash in Austin, TX
Sell Your Car for Cash in Austin, TX
We pay the most cash for junk cars in Austin, TX.
Get an offer in 1-2 minutes
to sell your car now.
We Pay Cash for Cars in Austin, TX
View Recent Junk Car Prices in Austin
If your reading this then you probably have a junk vehicle that you intend to do away with in Austin, TX.
If so, your in luck since we buy cars for cash all across Austin. I can hear you now, why should I trust the JunkCarMedics.com. The truth is we are the most reliable source out there for your needs. But what you must do is call us at (855)-437-9728 so we can earn your trust and prove that we're your leading stop for selling your vehicle for money in Austin.
Our Austin Junk Car Buyers Are Standing By Ready to Pay You Cash
When you call to ditch your cars or trucks for cash you will talk with one of our specialist junk car buyers in Austin, TX who is in tune with the regional market as well as what the going rate for junk cars is. You simply have to call and offer the year, make, and model in addition to the basic condition of the vehicle. We will then promptly provide you with a quote. It's quick and easy!
Free Towing & Removal
Typically speaking, when somebody has a clunker available it's not in the most effective of shape. Consequently, we provide top dollar junk car removal solutions in Austin, TX.
If you can not drive the vehicle to us we'll come and tow it for free with our tow trucks.
Recycle Your Car or Donate it in Austin? Call Us Now.
If you would rather donate your car to a local charity than have it recycled, give us a call and we'll also help you with that whole process. If you submit an itemized tax obligation return you can get a tax write-off for donating your junk car, however it's not about the cash it's that you are helping others.
Some Frequently Asked Questions:
Do you pay cash for junk cars in Austin, TX?
Yes, we pay cash for our junk cars in Austin, TX.
I wish to sell my junk car in Austin, when will you pick it up?
We attempt to provide same day service, but if we cannot we will pick up as soon as possible.
Do I have to be with my car when you pick it up?
Yes, we cannot grab the vehicle without you. We need you to give us the title as well as registration to make sure that it's your vehicle. We'll pay you for your junk car when we pick it up, so it's essential that you're there to receive your cash, wherever you are located in Austin, TX!
Call us Now: (855) 437-9728.
JunkCarMedics.com
Austin, TX 73301
(855) 437-9728
Calling Hours:
Call For Quote 24/7
Business Hours:
Mon-Fri: 8 am – 7 pm
Sat: 8 am – 2 pm
Sun: Closed
Recent Junk Car Offers in Austin, TX
| | | | |
| --- | --- | --- | --- |
| Vehicle | ZipCode | Offer Date | Offer Price |
| 2005 Jeep Liberty | 78704 | 03-26-2021 | $545 |
Reasons People Junk Cars for Cash in Ausitn, TX
We asked William Schweigert from Austin, TX about his 2002 Ford Explorer:
I'm junking my 2002 Ford Explorer because I bought a new car and do not need this one anymore.
Our Price For The 2002 Ford Explorer: $305.00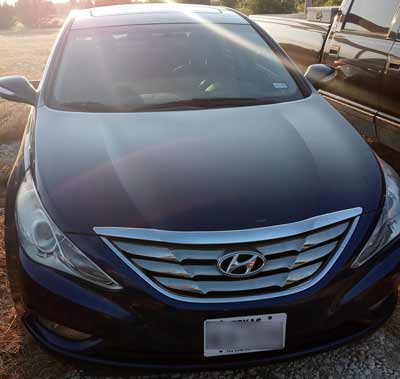 We asked Holly Gonzales from Temple, TX about her 2013 Hyundai Sonata:
I'm not 100% sure what's wrong with this 2013 Hyundai Sonata but I have had enough issues with it and done wasting time and money on it.
Our Price For The 2013 Hyundai Sonata: $988.00
Call or Text for your FREE offer! 1-855-437-9728
We Service Austin & Surrounding
We buy junk cars in the following zip codes in Austin: 73301, 73344, 78701, 78702, 78703, 78704, 78705, 78708, 78709, 78710, 78711, 78712, 78713, 78714, 78715, 78716, 78717, 78718, 78719, 78720.