Sell My Junk Honda Accord
What Can You Get For Selling Your Junk Honda Accord?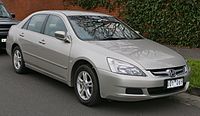 If you have a damaged Honda Accord you're looking to sell to a junk car buyer, you can expect to make anywhere from $100 to $800 for it, although this depends on a few factors listed below. Older Honda Accords have a curb weight of about 2,000 pounds, though by the 1990s this number had inched upwards to 2,700, and modern Accords weigh about 3,000 pounds.
At Junk Car Medics, we buy all Honda Accord vehicles from any year, in any condition. A few significant factors influence how much money we pay out for these vehicles:
• The car's mileage;
• The condition of the car;
• How old the vehicle is;
• Its curb weight
• Local scrap metal prices
The price you get when selling your Junk Honda Accord for cash can increase if you have functional parts and components that are in high demand, as well. Many of these vehicles have faulty transmissions installed, completely failing after a certain number of miles. If you own an old Honda Accord with a working transmission, you might be able to earn more for it since this part is in higher demand in the used parts market.
Honda Accord
Average Offer Price: $238.95

About the Honda Accord and Its History
The Honda Accord one of the most recognizable nameplates in automotive history, and for good reason. It bridges the gap between the mid-size and full-size sedan and is praised as one of the most reliable vehicles on the market. Car and Driver has placed it on its Ten Best list over thirty times—the most of any vehicle nameplate.
Originally manufactured in 1976, the best-known Honda Accord is the four-door sedan variant which remains one of the best selling cars in the United States. This is why junk car buyers like us are interested in these cars; their massive popularity and presence gives value to their parts and components on the secondhand market.
Recent Offers Made to Purchase Honda Accord's:
2000 Honda Accord
Zip: 93534
Offer Price: $55
Offer Date: 01-17-2019
2008 Honda Accord
Zip: 30349
Offer Price: $475
Offer Date: 01-17-2019
2007 Honda Accord
Zip: 07450
Offer Price: $690
Offer Date: 01-17-2019
2002 Honda Accord
Zip: 95336
Offer Price: $210
Offer Date: 01-17-2019
1993 Honda Accord
Zip: 91762
Offer Price: $85
Offer Date: 01-17-2019
1998 Honda Accord
Zip: 60108
Offer Price: $200
Offer Date: 01-17-2019
2004 Honda Accord
Zip: 92009
Offer Price: $215
Offer Date: 01-17-2019
2002 Honda Accord
Zip: 32205
Offer Price: $190
Offer Date: 01-17-2019
1997 Honda Accord
Zip: 02780
Offer Price: $165
Offer Date: 01-17-2019
1995 Honda Accord
Zip: 95240
Offer Price: $50
Offer Date: 01-17-2019
1991 Honda Accord
Zip: 90059
Offer Price: $85
Offer Date: 01-17-2019
1999 Honda Accord
Zip: 07112
Offer Price: $125
Offer Date: 01-17-2019
2003 Honda Accord
Zip: 46038
Offer Price: $340
Offer Date: 01-17-2019
1994 Honda Accord
Zip: 29640
Offer Price: $150
Offer Date: 01-17-2019
2002 Honda Accord
Zip: 18102
Offer Price: $185
Offer Date: 01-17-2019
Should I Sell My Junk Honda Accord for Cash?
The Honda Accord is an excellent, reliable car, but if yours is damaged or thoroughly worn out, your best option may be to sell your car to auto recyclers for cash. This makes sense, from a financial perspective, if the cost of repairing the vehicle is greater than what it would yield on the used car market.
To get an appraisal for your junk Honda Accord, just call us and let us know that you're looking for a quote. We'll give you an estimate on its value and even come pick it up the same day.
Call (855) 437-9728 or request a quote online to sell your Jeep Honda Accord.