We Pay More Cash For Cars in Fontana, CA
Junk your car to Fontana's #1 cash for cars service that gets you up to $500 more.
Get a fast offer with our best price now:
Highest Prices Paid For Junk Cars in
Fontana
Why should you keep holding onto a car that is of no real use to you anymore? If it's costing you too much or preventing you from doing certain things, you need to get rid of it - and fast. The Junk Car Medics have an easy solution that comes with a quick payout. We buy junk cars in Fontana so all you have to do is sell your junk car to us and we'll pay you on the spot.
We're not here to scam you like other buyers might be, we are the best junk car buyers in Fontana. When we give you a quoted amount, we stick to this amount upon arrival. We will give you your payment and remove your junk car free of charge. Within the next 24 hours, you could essentially be on your way to investing in a car that best suits your new lifestyle.
We buy cars, trucks, SUVs, minivans, and crossovers any make, model, or year. We don't mind if the aesthetic appeal is gone. Whether it's still functioning and just taking up space or it is barely running at all, we'll make an offer and have a towing expert come and remove the junk car for you. We do all the hard work for you, all you have to do is give us a call.
Junk Car Medics Fontana
Fontana, CA 92337
(855) 587-0227
Calling Hours:
Call For Quote 24/7
Business Hours:
Mon-Fri: 8 am – 7 pm
Sat: 8 am – 2 pm
Sun: Closed
Top rated junk car buyers.
How to Sell Junk Cars in
Fontana, CA
Sell junk cars in Fontana, CA with our quick, easy, painless process. Get up to $300, $500, even $1,500 cash for junk cars, old cars, damaged cars, and used cars.
Here's how it works:
Step 1: Get an Instant Offer Online or by Phone
We'll ask you a few basic questions about your car's condition, mileage, and whether you have the title.  It's a quick process that'll take less than 2 minutes to complete, and you'll get a fair market offer to junk your car.
Step 2: Accept Your Offer and Make Arrangements
After you accept your offer a representative will contact you to make arrangements for the removal of your junk car.  Towing and removal are free of charge.
Step 3: Get Paid More For Using Junk Car Medics in
Fontana
Upon pick up, sign over the title, hand over the keys, and you'll get paid on the spot with a check for your car.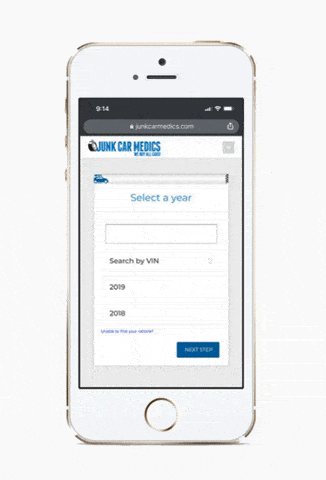 Why Junk Your Car to Junk Car Medics?
Jon S. - Junk Car Medics Customer
I was trying to get rid of my 2008 GMC 1500 that needed a new transmission. Out of 8 different company's not only was there online quote fast and simple but they offered the best and highest price. When accepting the offer they made it easy with no complications. I scheduled my appointment and the driver came by the next day to remove it and pay me. If you are trying to get rid of your junk car they are the ones I recommend!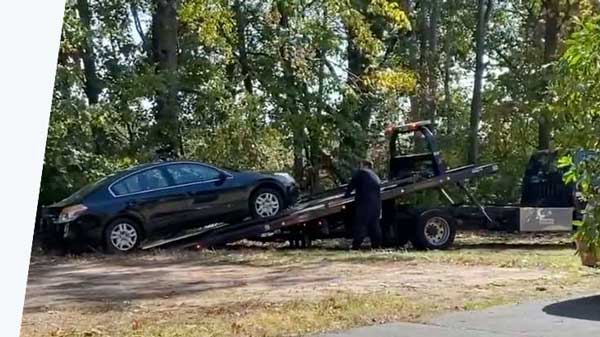 Recent Junk Car Offers in
Fontana, CA
2003 Toyota Corolla

92335
$910
05-20-2022
2012 Ford Fusion

92335
$985
05-16-2022
2012 Ford Fusion

92335
$835
05-14-2022
2008 Bmw 750

92336
$590
03-10-2022
2008 BMW 5-Series

92336
$590
03-10-2022
2007 Honda Civic

92335
$700
02-15-2022
2014 Chevrolet Cruze

92335
$685
02-12-2022
2003 Bmw 330

92335
$585
12-06-2021
2005 Toyota Camry

92335
$775
11-16-2021
2008 Ford Focus

92337
$570
11-09-2021
2006 Audi A3

92336
$600
11-08-2021
2002 Toyota 4Runner

92335
$885
10-14-2021
2001 Audi TT

92335
$760
10-07-2021
2003 Chevrolet S-10

92335
$685
09-28-2021
2009 Honda Accord

92337
$965
08-23-2021
Fontana, CA May 28, 2022
Junk Car Prices and Resources for
Fontana, CA
Top 7 Used Cars in
Fontana, CA
Coming soon
Top 7 Junk Cars in
Fontana, CA
Coming soon
Does your car no longer meet the needs of your lifestyle? Maybe you have an old sports car you used to love, but you're willing to get rid of it to buy an SUV for your growing family. Or perhaps the car is a gas guzzler and you'd like to buy something more eco and budget-friendly. Your car should accommodate your lifestyle. When you find that you have to take two cars because your family can't fit into one, or you stop driving as much because the car is just too expensive, it's time to consider your options. One of which would be to sell your junk car in Fontana, CA.
JunkCarMedics.com feels your pain. Buying a new car isn't cheap, but keeping the one you have either makes it harder for you to enjoy life or afford it. Selling your junk car is the best option in this case. Although, we've heard there are uphill battles to selling your junk car traditionally – nobody really wants them. The Junk Car Medics are a junk car buyer servicing the San Bernardino County for years. We have offered our customers the best possible rate for some of the most damaged, old, junk cars, and we'd be happy to do the same for you.
What information do I need to sell my junk car in Fontana, CA?
You'll need to provide us with basic contact information as well as show proof of ownership in the form of a title or registration. Should you need duplicates of either, contact your local DMV office for assistance.
Do I need to be there for the junk car removal?
Yes. It is important to set up a junk car removal service in Fontana, CA at a time that you'll be home and available to provide any documents or answer any questions the tow truck driver might have. Not to mention, you'll want to get that payout.
How long does it take to sell my junk car in Fontana, CA?
If you decide to sell your junk car to JunkCarMedics.com, we can assure you that the process does not take long. The phone call is usually 10 minutes or less and removals are scheduled within a short timeframe.
---
We buy cars in the areas of San Bernardino, Riverside, Anaheim, Santa Ana, Los Angeles, Glendale, Long Beach, San Diego.
And zip codes of: 92316, 92331, 92334, 92335, 92336, 92337, 92377.