Get More Cash for Cars and Junk Cars in San Diego, CA
Junk your car to San Diego's #1 cash for cars service that gets you up to $500 more.
Get a fast offer with our best price now:
We Buy Junk Cars for Cash in
San Diego
No matter what your junk car looks like, we want to buy it. Your car can be in pristine condition, or it can be a crumpled mess of metal. We buy junk cars in San Diego whether functioning or non-functioning. As long as you're interested in selling it, we're interested in purchasing it!
Our junk car buyers in San Diego will purchase a vehicle anywhere in or around the area. We'll come and get your car if you're at home, or if you're parked outside Petco Park. It's important to keep in mind that our tow trucks offer free pickup, so you don't have to worry about any hidden expenses. We give you money for your car, no matter where you are in San Diego.
After we pick up your car, you won't have to worry about it again. We'll take your car to one of our many participating auto junk yards in San Diego, CA. It couldn't be simpler. If you're sick of your old car, Junk Car Medics has the only cure: A tow truck and a big, fat stack of money for you!
Junk Car Medics San Diego
San Diego, CA 92105
(855) 437-9728
Calling Hours:
Call For Quote 24/7
Business Hours:
Mon-Fri: 8 am – 7 pm
Sat: 8 am – 2 pm
Sun: Closed
How to Junk a Car in
San Diego, CA
Junk Car Medics makes selling a junk car for cash in San Diego, CA quick, easy, and painless. Get up to $1,500 to junk cars and up to $5,000 for used cars.
Here's how it works:
Step 1: Get an Instant Offer Online or by Phone
We'll ask you a few basic questions about your car's condition, mileage, and whether you have the title.  It's a quick process that'll take less than 2 minutes to complete, and you'll get a fair market offer to junk your car.
Step 2: Accept Your Offer and Make Arrangements
After you accept your offer a representative will contact you to make arrangements for the removal of your junk car.  Towing and removal are free of charge.
Step 3: Get Paid More For Using Junk Car Medics in
San Diego
Upon pick up, sign over the title, hand over the keys, and you'll get paid on the spot with a check for your car.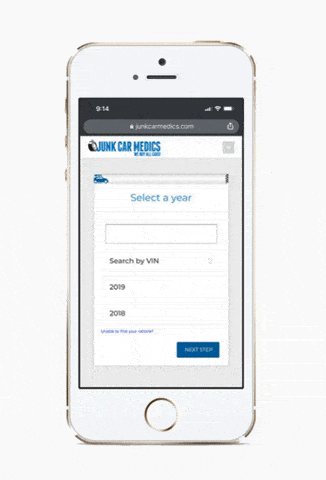 Why Junk Your Car to Junk Car Medics Cash for Junk Car Service in San Diego?
Jon S. - Junk Car Medics Customer
I was trying to get rid of my 2008 GMC 1500 that needed a new transmission. Out of 8 different company's not only was there online quote fast and simple but they offered the best and highest price. When accepting the offer they made it easy with no complications. I scheduled my appointment and the driver came by the next day to remove it and pay me. If you are trying to get rid of your junk car they are the ones I recommend!
Recent Purchases By Our Junk Car Buyers in
San Diego, CA
2005 Honda Odyssey

Zip: 92115
Offer Price: $720
Offer Date: 10-14-2021
2002 Bmw 330

Zip: 92113
Offer Price: $635
Offer Date: 10-14-2021
2001 Mercury Mountaineer

Zip: 92105
Offer Price: $680
Offer Date: 10-11-2021
2011 Chevrolet Malibu

Zip: 92101
Offer Price: $670
Offer Date: 10-08-2021
2006 Mazda MAZDA3

Zip: 92129
Offer Price: $940
Offer Date: 10-07-2021
2002 Ford Taurus

Zip: 92105
Offer Price: $550
Offer Date: 10-06-2021
2004 Jeep Grand Cherokee

Zip: 92108
Offer Price: $570
Offer Date: 09-29-2021
2003 Ford Explorer

Zip: 92114
Offer Price: $665
Offer Date: 09-17-2021
2003 Honda Accord

Zip: 92126
Offer Price: $750
Offer Date: 09-11-2021
2005 KIA Sportage

Zip: 92118
Offer Price: $755
Offer Date: 08-31-2021
2002 Buick Park Avenue

Zip: 92104
Offer Price: $500
Offer Date: 08-30-2021
2002 Ford F-150

Zip: 92107
Offer Price: $700
Offer Date: 08-21-2021
2016 Hyundai Tucson

Zip: 92154
Offer Price: $8280
Offer Date: 08-15-2021
2012 Chevrolet Sonic

Zip: 92123
Offer Price: $705
Offer Date: 08-12-2021
2004 Saab 9-3

Zip: 92126
Offer Price: $565
Offer Date: 08-12-2021
San Diego, CA October 16, 2021
San Diego Junk Car Prices
Top 7 Used Cars in
San Diego, CA
Coming soon
Top 7 Junk Cars in
San Diego, CA
Coming soon
The #1 Junk Car Removal Service in San Diego
Do you own a junk car in San Diego, CA? Are you sick and tired of getting disappointing quotes from scrap yards in your area? Junk Car Medics has the cure for low prices and we are the best auto recyclers around. We'll provide quick and painless service and pay you top dollar. We always offer free junk car removal in San Diego. Contact us now for more information!
We Buy Junk Cars in San Diego, California
If you've ever tried to sell a clunker, you know that it can take a long time to get a reasonable deal from salvage yards or other buyers. We've streamlined the process of selling, towing, and processing vehicles, so you won't have to worry.
Selling junk cars in San Diego, CA can be a difficult and frustrating process if you live there. Many junk yards that offer top dollar for cars will try to give you significantly less than what your car is worth. We'll pay more for your car than any other company in California because our experts know the true value of your scrap vehicle.
When you are selling your vehicle make sure to have all of your paperwork in order. Fill out a standard Damage Disclosure Statement and submit it to your local DMV. They'll give you any additional paperwork that you need to finish your transaction. If you have all the legal documents ready, we'll come pick up your car at no extra cost. That's right, we offer free removal in San Diego, CA. Why not give us a call right now!
What Do I Need To Do To Prepare My Junk Car?
Other than completing the necessary paperwork, there are very few things that you need to do. Make sure that you can provide proof of ownership, and be sure to remove all your personal belongings and the license plates when the truck comes to tow your junk car. The driver will help you with the plates if you want. We always offer service with a smile!
How Do You Determine The Value Of My Car?
The main value of your car is based on its scrap value. If you have a very heavy car with a lot of metal, we can make more money selling it to a scrap yard. Your tires and other specialized parts of your car can be very valuable as well. Our junk car buyer experts are always standing by to give you a firm, generous quote. Not only do we provide fair pricing but we provide the best pricing.
Do You Offer Any Guarantees?
We guarantee that you'll be 100% satisfied with our service, and we'll do everything we can to make things right if you're not happy. We try to make the process of car buying as easy as possible. If you would like more information about our services, be sure to contact us.
How Do You Get The Best Deals Selling Junk Cars?
We have a team of auto experts who've been buying and selling scrap cars for years. We know how much money can be made from a scrap car, and we want to offer you our services. You can't do better than the prices offered by us, and our service is always superior. Remember, we also offer free junk car removal in San Diego!
Do You Pay For Junk Cars With No Titles?
In certain cases we can buy cars without titles, but we recommend you call Junk Car Medics Cash for Junk Cars Service in San Diego, CA.
---
We buy cars in La Mesa and La Jolla along with the following zip codes in San Diego: 92093, 92101, 92102, 92103, 92104, 92105, 92106, 92107, 92108, 92109, 92110, 92111, 92112, 92113, 92114, 92115, 92116, 92117, 92119, 92120
We also purchase cars within up to 100 miles including in cities such as northern San Diego, Poway, Chula Vista, Spring Valley, National City, Ocean Beach, University City, Mirimar, Mira Mesa, City Heights, North Park, Hillcrest, El Cajon & all surrounding areas.