We Pay More Cash for Cars in San Francisco, CA
Junk your car to San Francisco's #1 cash for cars service that gets you up to $500 more.
Get a fast offer with our best price now:
We Buy Junk Cars for Cash in San Francisco
If you're reading this then you possibly have a junk car that you intend to get rid of. If so, you are in luck because we buy junk cars in San Francisco. I could hear you now, why should I trust the Junk Car Medics. The fact is it's okay to be cautious and have questions. What you need to do is call us at (855) 587-0227 so we could earn your trust and prove that we're your leading stop for junk car buyers in San Francisco.
When you call you will consult with a skilled junk car buyer that knows the neighborhood market and also what the going price is.
We proudly present top ratings we obtain across the web on our internet site, and it is primarily because of our junk car buyers in San Francisco. Don't believe us? Give us a call now and find out for yourself.
Junk Car Medics San Francisco
San Francisco, CA 94109
(855) 587-0227
Calling Hours:
Call For Quote 24/7
Business Hours:
Mon-Fri: 8 am – 7 pm
Sat: 8 am – 2 pm
Sun: Closed
Top rated junk car buyers.
How to Sell Junk Cars in
San Francisco, CA
Sell junk cars in San Francisco, CA with our quick, easy, painless process. Get up to $300, $500, even $1,500 cash for junk cars, old cars, damaged cars, and used cars.
Here's how it works:
Step 1: Get an Instant Offer Online or by Phone
We'll ask you a few basic questions about your car's condition, mileage, and whether you have the title.  It's a quick process that'll take less than 2 minutes to complete, and you'll get a fair market offer to junk your car.
Step 2: Accept Your Offer and Make Arrangements
After you accept your offer a representative will contact you to make arrangements for the removal of your junk car.  Towing and removal are free of charge.
Step 3: Get Paid More For Using Junk Car Medics in
San Francisco
Upon pick up, sign over the title, hand over the keys, and you'll get paid on the spot with a check for your car.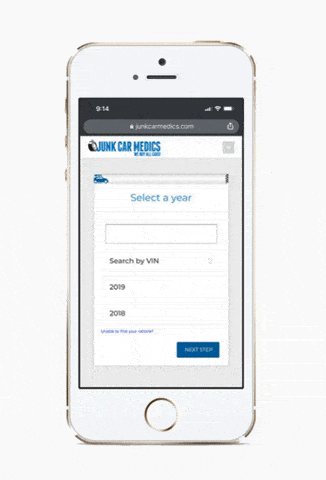 Why Junk My Car with Junk Car Medics in San Francisco?
Jon S. - Junk Car Medics Customer
I was trying to get rid of my 2008 GMC 1500 that needed a new transmission. Out of 8 different company's not only was there online quote fast and simple but they offered the best and highest price. When accepting the offer they made it easy with no complications. I scheduled my appointment and the driver came by the next day to remove it and pay me. If you are trying to get rid of your junk car they are the ones I recommend!
San Francisco Junk Car Prices
Over the last 12 months junk car prices in San Francisco, CA increased 12% on average for vehicle year models 1998-2008, the most commonly junked years! Let's take a look at some of the numbers:
Most Common Junkers in San Francisco
2018 Ford Transit Connect - $1,900.00
2003 Audi TT - $736.67
2007 Toyota Prius - $1,140.00
2006 Toyota Prius - $1,280.00
1998 Toyota Sienna - $492.50
2011 Audi A3 - $1,550.00
2001 Toyota Corolla - $362.50
2016 Ford C-Max Energi - $2,267.50
2004 Volvo S-60 - $320.00
2013 Volkswagen Jetta Hybrid - $2,105.00
Junk Car Prices in San Francisco by Year
1998 - $502.50
1999 - $218.57
2000 - $180.00
2001 - $355.45
2003 - $554.17
2004 - $342.73
2005 - $857.50
2006 - $622.86
2007 - $1,142.50
2008 - $821.25
10 Cars Worth Over $500 in Golden City
1993 Toyota Pickup - $2,860.00
2003 Honda CR-V - $1,395.00
2005 Infiniti G35 - $1,000.00
2005 Lexus LS - $2,205.00
2005 Toyota Corolla - $1,900.00
2013 Honda Accord - $3,785.00
2007 BMW X5 - $1,585.00
2012 Hyundai Accent - $1,070.00
2008 Toyota Prius - $1,400.00
2009 Toyota Rav4 - $2,545.00
The #1 Junk Car Removal Service in San Francisco
Normally speaking, when an individual has a clunker available for sale it's not in the very best of shape. Therefore, we provide removal solutions in San Francisco, CA. If you can not drive the vehicle to us we'll come and tow it free of charge.
Recycle Your Car or Donate it in San Francisco? Call Us Now.
There are a great deal of fantastic local charities and we would happily take your junk car and provide one of them with the repayment in your place. You could also obtain a tax write-off for it.
I wish to sell my junk car in San Francisco, when will you pick it up?
We attempt to give same day service however on some occasions that doesn't always work out. If that was to happen we would let you know and schedule a pickup as soon as possible.
Do I require to be with my car when you pick it up?
Yes, we can't grab the vehicle without you. We need you to give us the title as well as registration to make certain that it's your vehicle. We'll pay you for your junk car when we pick it up, so it's important that you're there to obtain your payment.
For how long is your junk car quote valid for?
The market has been changing of late so we will certainly guarantee our quote for 1 day, however once it's approved it will certainly stay valid up until we pick it up. There are no bait and switch methods here. Merely pleasant junk car buyers in San Francisco.
Call Junk Car Medics Cash for Junk Cars Service in San Francisco, CA Now!
---
We buy junk cars in the following zip codes in San Francisco: 94101, 94102, 94103, 94104, 94105, 94107, 94108, 94109, 94110, 94111, 94112, 94114, 94115, 94116, 94117, 94118, 94119, 94120, 94121, 94122
We service all surrounding areas including Daly City, Tiburon, South San Francisco, Oakland, Alameda, San Bruno, Albany, Berkeley, Piedmont, Mill Valley, Pacifica, Richmond, Corte Madera, Millbrae, Larkspur.
Recent Purchases By Our Junk Car Buyers in
San Francisco, CA
2004 Honda Accord

94134
$610
06-30-2022
2008 Subaru Impreza

94107
$985
06-04-2022
2008 Subaru Impreza

94107
$970
05-27-2022
2015 Chevrolet Cruze

94131
$745
05-25-2022
2010 Mazda MAZDA3

94121
$645
03-09-2022
2000 Lexus RX 300

94103
$640
03-03-2022
2008 BMW 1-Series

94127
$680
02-28-2022
1998 Mercedes-Benz SLK

94123
$505
02-27-2022
2009 Mini Clubman

94103
$635
02-04-2022
2005 Honda Accord

94105
$845
01-28-2022
2012 Hyundai Accent

94122
$965
01-24-2022
2012 Hyundai Accent

94122
$640
01-21-2022
2012 Hyundai Accent

94122
$740
01-18-2022
2007 Honda Accord

94109
$660
01-10-2022
2006 Ford Mustang

94116
$515
01-06-2022