We Pay More Cash for Cars in San Jose, CA
Junk your car to San Jose's #1 cash for cars service that gets you up to $500 more.
Get a fast offer with our best price now:
We Buy Junk Cars for Cash in
San Jose
With more and more people flocking to the area, San Jose has been booming for quite some time. What it lacks however is dedicated and trustworthy scrapyards. Simply put, some salvage yards in San Jose can be shifty, providing estimations that sometimes come in well below the mark once they have your junk car. In addition, holding onto your car risks losing money as it rusts away, as well as losing money through San Jose ordinances that can fine you based on your junk car not having a license plate.
Thankfully, this situation can get better. We buy junk cars in San Jose and will help you during every step of this process, telling you what you need, how you can go about getting it, and setting up a time to tow your vehicle for free. Whether you are driving to San Jose on business and your car dies or you are a native of the bay area, we've got your back. From Morgan Hills to the Don Edwards San Francisco Bay National Wildlife Refuge, Junk Car Medics will have the solutions you need.
The Junk Car Medics are the best junk car buyers in San Jose and are here to solve all of your car related ailments. Prescribing simple and straightforward service, we will help you every step of the way, providing you with the money you deserve for your vehicle. If you want a service that is centered around you, then contact us and you can learn more about our 100% satisfaction guarantee, free towing for your clunky car, and assistance every step of the way through the process. With your car and our assistance, you can get the money you deserve.
Junk Car Medics San Jose
San Jose, CA 95112
(855) 587-0227
Calling Hours:
Call For Quote 24/7
Business Hours:
Mon-Fri: 8 am – 7 pm
Sat: 8 am – 2 pm
Sun: Closed
Top rated junk car buyers.
How to Sell Junk Cars in
San Jose, CA
Junk Car Medics makes selling a junk car for cash in San Jose, CA quick, easy, and painless. Get up to $1,500 to junk cars and up to $5,000 for used cars.
Here's how it works:
Step 1: Get an Instant Offer Online or by Phone
We'll ask you a few basic questions about your car's condition, mileage, and whether you have the title.  It's a quick process that'll take less than 2 minutes to complete, and you'll get a fair market offer to junk your car.
Step 2: Accept Your Offer and Make Arrangements
After you accept your offer a representative will contact you to make arrangements for the removal of your junk car.  Towing and removal are free of charge.
Step 3: Get Paid More For Using Junk Car Medics in
San Jose
Upon pick up, sign over the title, hand over the keys, and you'll get paid on the spot with a check for your car.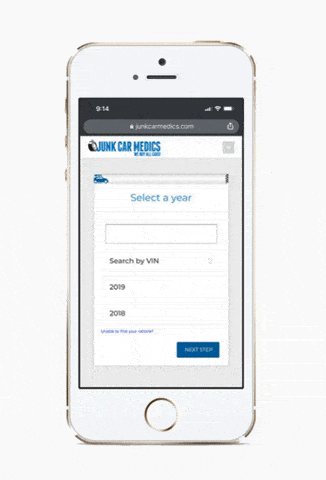 Why Junk My Car with Junk Car Medics in San Jose?
Jon S. - Junk Car Medics Customer
I was trying to get rid of my 2008 GMC 1500 that needed a new transmission. Out of 8 different company's not only was there online quote fast and simple but they offered the best and highest price. When accepting the offer they made it easy with no complications. I scheduled my appointment and the driver came by the next day to remove it and pay me. If you are trying to get rid of your junk car they are the ones I recommend!
Recent Purchases By Our Junk Car Buyers in
San Jose, CA
2009 Volkswagen CC

Zip: 95134
Offer Price: $590
Offer Date: 01-22-2022
2009 Ford Escape

Zip: 95128
Offer Price: $710
Offer Date: 01-22-2022
2011 Volkswagen Jetta

Zip: 95138
Offer Price: $830
Offer Date: 01-22-2022
2007 Volkswagen Rabbit

Zip: 95139
Offer Price: $670
Offer Date: 01-21-2022
2005 Honda Civic

Zip: 95127
Offer Price: $505
Offer Date: 01-18-2022
2008 Toyota Corolla

Zip: 95135
Offer Price: $535
Offer Date: 01-18-2022
2015 Kia Optima

Zip: 95116
Offer Price: $580
Offer Date: 01-13-2022
2003 Audi A4

Zip: 95124
Offer Price: $600
Offer Date: 01-12-2022
2010 Mini Cooper

Zip: 95112
Offer Price: $745
Offer Date: 12-28-2021
2012 Nissan Cube

Zip: 95110
Offer Price: $560
Offer Date: 12-11-2021
1993 Cadillac Allante

Zip: 95123
Offer Price: $905
Offer Date: 12-04-2021
2007 Volkswagen GTI

Zip: 95127
Offer Price: $965
Offer Date: 12-01-2021
2007 Chevrolet Equinox

Zip: 95111
Offer Price: $625
Offer Date: 11-30-2021
2010 Mazda MAZDA5

Zip: 95126
Offer Price: $815
Offer Date: 11-27-2021
2003 BMW 7-Series

Zip: 95129
Offer Price: $535
Offer Date: 11-22-2021
San Jose, CA January 25, 2022
San Jose Junk Car Prices
Top 7 Used Cars in
San Jose, CA
Coming soon
Top 7 Junk Cars in
San Jose, CA
Coming soon
The #1 Junk Car Removal Service in San Jose
Turning your junk cars for top dollar can be frustrating, right? Any person who has tried to do it in the Capital of Silicon Valley can attest to how long and intensive the process can be. Requiring the correct paperwork and auto recyclers in San Jose that you can trust, many people just don't bother, putting it off for years. Thankfully, there is a better way.
Is there a catch? With such an incredible service only a click or call away, Junk Car Medics can seem too good to be true. However, simply by building a company around enhancing the customer experience of our clients, we hope to make the process simpler and more rewarding for you. Unlike shady auto wrecking yards in San Jose California, we will be there with you every step of the way.
There has never been a better time than right now to get the ball rolling. Don't let the this excellent opportunity to make money from your automobile go to waste.
How Do You Determine The Value Of My Junk Car?
The value of your car is determined by three criteria. The first is the overall weight of your vehicle. The second is the going rate for the scrap components of your vehicle. The third is the current price that competitors are paying. Junk Car Medics seeks to stand above the competition by continuously providing the best possible price for your vehicle.
What Is Required To Sell My Junk Car?
With our help, selling your junk car will be simple. We will help you get the necessary title and registration required, in some areas we may need no title, as well as provides assistance for what to do when you go to the DMV. After that, we will tow your vehicle for free and provide you your payment.
Do You Provide a Guarantee?
Every client is covered under our 100% satisfaction guarantee.
Call Junk Car Medics Cash for Junk Cars Service in San Jose, CA Now!
---
We buy cars in all zip codes such as the following in San Jose: 95101, 95103, 95106, 95108, 95109, 95110, 95111, 95112, 95113, 95115, 95116, 95117, 95118, 95119, 95120, 95121, 95122, 95123, 95124, 95125.
We also purchase cars within up to 100 miles including in cities such as Evergreen, Robertsville, Alviso, Cambrian Park, Alamitos, Willowglen, Japantown, Santa Clara, Campbell, & all surrounding areas.