We Buy Junk Cars for Cash in Cleveland, OH
The Quick, Easy, Painless Way to
Sell Your Car for Cash in Cleveland, OH
Get top dollar when you sell your car for cash in Cleveland with Junk Car Medics' trusted network
of auto salvage yards, car auction, and car buyers.
Get a free quote in 1-2 minutes online or over the phone to junk a car.
We Pay Cash for Cars in Cleveland, OH
View Recent Junk Car Prices in Cleveland
I think we can all agree that cash for junk cars in Cleveland can be an incredibly frustrating, right? The truth is that the process is very complicated, often requiring the right identification, trips to the DMV, finding trustworthy scrap yards, and much more.
But here's the kicker, what if there was a better way? What if the process was simple, straightforward, and provided you with the most amount of money for your vehicle? Junk Car Medics is here to show you how junk cars for cash in Cleveland should be done. Feel free to contact us to learn more about this and our 100% satisfaction guarantee!
Junk Car Medics In Cleveland, Ohio
Every year, thousands of motorists across Cleveland and beyond deal with a similar problem, getting rid of their junk cars. The truth is that every moment you wait loses you money and puts you at risk of fines and city ordinances. With the snow and salt during the winter and the hot temperatures in the summer, cars that are not driven can quickly rust and lose a lot of their scrap value.
You might be wondering, what can Junk Car Medics do about this? Simply put, we will make every part of this transaction easier for you. We will start by helping you acquire the necessary paperwork as well as instruct you on how to go through the DMV with a minimum of hassle. Then, we will tow your vehicle for free, strip in, and provide you with the most competitive deal in the greater
Cleveland area. Whether you are stuck along the shores of lake Erie or are stalled out in the parking lot of Progressive Field, we will be able to help.
So Where Does That Leave Us?
Our buyers are standing by to cure your junk car woes and provide you with the best cash for cars deal in Ohio. Helping you with assistance provided every step of the way, we will ensure that you leave this process 100% satisfied and richer for your effort. Instead of wasting your time calling different auto junk yards in Cleveland, come to the business that is making a name for itself by being better than the rest.
Now is your time to act. Every moment that passes means money out of your pocket. Don't let the Forest City claim another rust bucket and instead get the money you deserve.
Having served the greater Cleveland area for some time, Junk Car Medics is the preeminent cash for cars service. With a 100% satisfaction guarantee that has left many Ohio residents happy, we will help you through the process of turning junk cars for cash. We will also provide free transportation of your clunker, and will make sure you are completely satisfied with the experience.
Frequently Asked Questions When Selling a Junk Car in Cleveland, OH
Who Pays The Most For Junk Cars In Cleveland?
We at Junk Car Medics strive to pay you the most amount of money for your automobile. We do this by checking out our competition to see what their prices are like and then offering more than them to bring in business. With a great deal of our services centered around providing you the client with the best possible experience, you can be sure that not just our prices will make us the best options
out there.
Does Junk Car Medics Provide Any Form Of Guarantee?
Junk Car Medics provides a 100% satisfaction guarantee. We understand that our reputation in the Cleveland business community is only as good as the service we provide for you. That is why we will strive to ensure that our services meet your level of expectation every step of the way.
What Places In And Around Cleveland Do You Cover?
Along with providing service in downtown Cleveland, we also provide services in Willoughby, Cleveland Heights, Beachwood, Warrensville Heights, Valley View, Independence, Seven Hills, Parma, Brooklyn, Middleburgh Heights, Olmsted Falls, North Olmstead, and Rocky River. Our services also cover the zip codes of 44102, 44113, 44114, 44115, 44103, 44104, 44127, 44109, 44102, 44144, 44106, and 44108. If your area is not included above and you would like service, please contact us and we can see what we can do for you.
What Do I Need To Sell My Junk Car?
In order to sell your junk car, you will need the title as well as the registration. To legally go through the process, you will have to have these handy before we can scrap your car for cash. We can help you through this process as well as inform you on the best ways to acquire this information as well as how to navigate the DMV and expedite the process.
Call us now: (855) 437-9728.
Junk Car Medics
Cleveland, OH 44109
(855) 437-9728
Calling Hours:
Call For Quote 24/7
Business Hours:
Mon-Fri: 8 am – 7 pm
Sat: 8 am – 2 pm
Sun: Closed
Recent Junk Car Offers in Cleveland, OH
| | | | |
| --- | --- | --- | --- |
| Vehicle | ZipCode | Offer Date | Offer Price |
| 2009 Dodge Caliber | 44109 | 02-17-2021 | $665 |
| 2004 Toyota Camry | 44111 | 02-16-2021 | $620 |
| 2004 Toyota Camry | 44111 | 02-16-2021 | $510 |
| 2004 Toyota Camry | 44111 | 02-15-2021 | $510 |
| 2003 Ford Crown Victoria | 44102 | 02-14-2021 | $510 |
| 2008 Mercury Mountaineer | 44105 | 02-05-2021 | $630 |
| 2010 Kia Soul | 44104 | 02-03-2021 | $510 |
| 2005 Mercury Mountaineer | 44102 | 01-26-2021 | $570 |
| 2005 Chrysler Pacifica | 44105 | 01-25-2021 | $585 |
| 2008 Ford Fusion | 44109 | 01-15-2021 | $510 |
| 2005 Jeep Grand Cherokee | 44115 | 01-11-2021 | $515 |
| 2005 Mercury Monterey | 44109 | 01-09-2021 | $525 |
| 2019 Acura ILX | 44108 | 12-21-2020 | $6140 |
| 2001 Toyota RAV4 | 44113 | 02-21-2019 | $855 |
| 2008 Nissan Sentra | 44105 | 02-14-2019 | $525 |
Reasons People Junk Cars for Cash in Cleveland, OH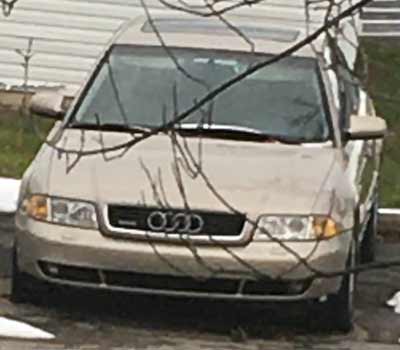 We asked Jakelyn Garced from Lorain, OH about her 2001 Audi A4:
I'm junking my 2001 Audi A4 because it does not start and I got a better car now and I just need this car gone.
Our Price For The 2001 Audi A4: $400
Call or Text for your FREE offer! 1-855-437-9728
We Service Cleveland & Surrounding
We buy cars in the following zip codes in Cleveland: 44101, 44102, 44103, 44104, 44105, 44106, 44108, 44109, 44110, 44111, 44112, 44113, 44114, 44115, 44118, 44119, 44120, 44121, 44124, 44125.