We Buy Junk Cars for Cash in Grand Rapids, MI
The Quick, Easy, Painless Way to
Sell Your Car for Cash in Grand Rapids, MI
Get top dollar when you sell your car for cash in Grand Rapids with JunkCarMedics.com' trusted network
of auto salvage yards, car auction, and car buyers.
Get a free quote in 1-2 minutes online or over the phone to junk a car.
We Pay Cash for Cars in Grand Rapids, MI
View Recent Junk Car Prices in Grand Rapids
So, you've come to terms with the fact that it's time to say good-bye to your old car. It's breaking down more often, and the expenses are starting to get out of hand. The car is less efficient and often unreliable, and you're ready to cut your losses. The only problem is, that you're having a hard time trying to find someone who wants to buy your junk car for cash in Grand Rapids, Michigan.
For the most part, private buyers are interested in one thing – a functioning vehicle. They don't want to buy a car that's been in a serious accident, that has a salvage title, has more than 200,000 miles on it, or has a lot of mechanical trouble. For them, there is no return on the investment. Therefore, your ad for a junk car for sale in Grand Rapids might not get you that cash you're looking for.
There is a solution, however. JunkCarMedics.com, a junk car buyer servicing Grand Rapids, MI, and surrounding areas. We will pay you cash for your junk car, even if it hasn't started in years. We don't care about the make, model, or retail demand. We are only concerned with the recyclable materials of the vehicle, which is why we're likely the only solution that will offer you top dollar for your junk car.
We Buy Junk Cars All Over Grand Rapids
Don't believe us? Just ask our customers. We've bought cars that have been in pretty bad shape. From cars that don't run at all to cars with hail damage and transmission trouble, we have made great offers. Our junk car removal experts will come directly to your home and safely get rid of your junk car, leaving you with a cash payment on the spot.
Junk cars can be a pain to own. They become expensive to repair and more difficult to get rid of as time goes on. Rather than hold onto the car any longer, JunkCarMedics.com offer a stress-free solution to get your junk car sold and out of your life for good. We're not talking peanuts either. We're willing to buy your junk car for a decent amount of cash.
JunkCarMedics.com buys cars all over Grand Rapids. We have bought junk cars in neighborhoods including Heritage Hill, Heartside, Alger Heights, Midtown, Madison, East Hills, Garfield Park, and Westside Connection just to name a few. So, don't hesitate to contact us and find out if we service your Grand Rapids neighborhood.
JunkCarMedics.com Makes Selling Your Junk Car in Grand Rapids Easy
Why make you jump through hoops or go through a long, drawn-out process to sell your junk car in Grand Rapids, MI? We know you have better things to do with your time than to sit and wait weeks for junk car removal or for a check payment. That's why we offer a fast and simple solution to getting your junk car sold fast.
Once you give us a call, the process is pretty quick. We'll require proof of ownership such as a title along with some basic information on your car like the make, model, and year. We make you an offer. Upon acceptance, we schedule a junk car removal in Grand Rapids, MI that suits you. We pick up the junk car and leave you with the exact amount we quoted over the phone.
Commonly Asked Questions About Selling a Junk Car in Grand Rapids, MI
Where can I go to get a copy of my car title to sell my junk car in Grand Rapids?
If you own your car outright and have simply lost your car title, you can go to your local DMV office to obtain a copy for a small fee. If you don't own your car, however, and the title is with the loan provider, you will need to pay the balance in full before we can purchase the car.
How long does it take to sell my junk car in Grand Rapids, MI?
If you sell your junk car to JunkCarMedics.com, the process doesn't take long. The phone call takes approximately ten minutes and we can schedule a pick up within 24 hours.
Do I need to be there for the junk car removal in Grand Rapids, Michigan?
Yes, we need you to be there during the junk car removal. If you can't let us know and we'll be glad to make other arrangements.
For more on selling your junk car in Grand Rapids, MI, give JunkCarMedics.com a call today.
Call us now: (855) 437-9728.
JunkCarMedics.com
Grand Rapids, MI 49501
(855) 437-9728
Calling Hours:
Call For Quote 24/7
Business Hours:
Mon-Fri: 8 am – 7 pm
Sat: 8 am – 2 pm
Sun: Closed
Recent Junk Car Offers in Grand Rapids, MI
| | | | |
| --- | --- | --- | --- |
| Vehicle | ZipCode | Offer Date | Offer Price |
| 2009 Jeep Patriot | 49507 | 02-28-2021 | $735 |
| 2007 Chrysler Aspen | 49504 | 02-05-2021 | $540 |
| 2010 Chevrolet Malibu | 49503 | 01-19-2021 | $595 |
| 2009 Toyota Matrix | 49504 | 11-20-2020 | $570 |
| 2009 Saturn Outlook | 49508 | 03-01-2019 | $500 |
| 2004 Toyota Corolla | 49505 | 01-14-2019 | $530 |
| 2004 Honda Pilot | 49503 | 11-12-2018 | $530 |
| 2005 Mercedes-benz ML | 49506 | 11-09-2018 | $855 |
| 2008 Honda Civic | 49508 | 10-25-2018 | $815 |
| 2008 Honda Civic | 49508 | 10-25-2018 | $615 |
| 2005 Kia Optima | 49504 | 10-06-2018 | $95 |
| 2006 Ford econoline | 49504 | 10-03-2018 | $665 |
| 2006 Ford econoline sta-wagon | 49504 | 09-30-2018 | $690 |
| 2006 Toyota Matrix | 49503 | 09-21-2018 | $690 |
| 1999 Lexus RX | 49507 | 09-01-2018 | $540 |
Reasons People Junk Cars for Cash in Grand Rapids, MI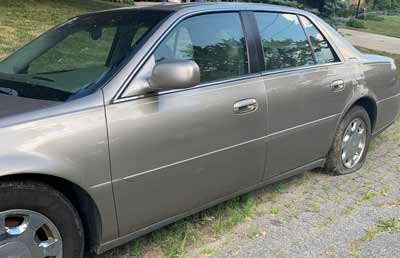 We asked Deanna Huizinga from Grand Rapids, MI about her 2000 Cadillac Deville:
I purchased this 2000 Cadillac Deville for my 17 yr. old daughters first car! The front brake line blew on her way home from school and we didn't have the time or money to fix it. She had another car to drive so we just decided to junk this one.
Our Price For The 2000 Cadillac Deville: $280.00
Call or Text for your FREE offer! 1-855-437-9728
We Service Grand Rapids & Surrounding
We buy cars in the following zip codes in Grand Rapids: 49501, 49502, 49503, 49504, 49505, 49506, 49507, 49508, 49510, 49514, 49515, 49516, 49518, 49523, 49525, 49534, 49546, 49548, 49555, 49560, 49588, 49599.