Get More Cash for Junk Cars in Chicago, IL
Junk your car to Chicago's #1 cash for cars service that gets you up to $500 more.
Get a fast offer with our best price now:
We Buy Junk Cars for Cash in Chicago
At Junk Car Medics, we buy junk cars in Chicago and we don't think that the process needs to be that hard. We believe it should be quick, easy, and painless. 
You'll be able to get a quote in just minutes and sell your car in hours. 
We always offer fair prices on the cars that we buy.  That means you can be sure you'll get what your car is worth. 
Junk Car Medics helps people junk their old cars around the country. We are members of the Automotive Recyclers Association and the local state automotive recycling association. 
Why does that matter? It means that we know all the ins and outs of recycling vehicles, including how to do it quickly and set a reasonable price. 
Junk Car Medics Chicago
Chicago, IL 60623
(773) 232-5067

Calling Hours:
Call For Quote 24/7
Business Hours:
Mon-Fri: 8 am – 7 pm
Sat: 8 am – 2 pm
Sun: Closed
How to Junk a Car in Chicago, IL
Junk Car Medics makes selling a junk car for cash in Chicago, IL quick, easy, and painless. Get up to $1,500 to junk cars and up to $5,000 for used cars.
Here's how it works:
Step 1: Get an Instant Offer Online or by Phone
We'll ask you a few basic questions about your car's condition, mileage, and whether you have the title.  It's a quick process that'll take less than 2 minutes to complete, and you'll get a fair market offer to junk your car.
Step 2: Accept Your Offer and Make Arrangements
After you accept your offer a representative will contact you to make arrangements for the removal of your junk car.  Towing and removal are free of charge.
Step 3: Get Paid More For Using Junk Car Medics in Chicago
Upon pick up, sign over the title, hand over the keys, and you'll get paid on the spot with a check for your car.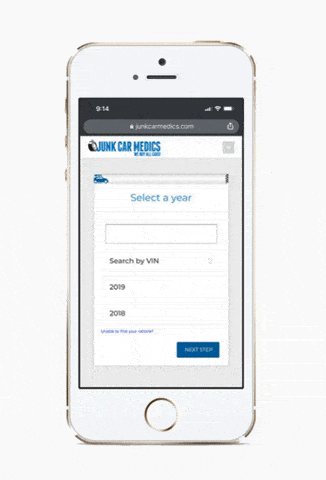 Why Junk Your Car to Junk Car Medics Cash for junk Car Service in Chicago?
Jon S. - Junk Car Medics Customer
I was trying to get rid of my 2008 GMC 1500 that needed a new transmission. Out of 8 different company's not only was there online quote fast and simple but they offered the best and highest price. When accepting the offer they made it easy with no complications. I scheduled my appointment and the driver came by the next day to remove it and pay me. If you are trying to get rid of your junk car they are the ones I recommend!
Recent Purchases By Our Junk Car Buyers in Detroit, MI
2007 Ford Freestyle

Zip: 60435
Offer Price: $510
Offer Date: 10-26-2021
2005 Dodge Durango

Zip: 60453
Offer Price: $540
Offer Date: 10-22-2021
2000 Honda Odyssey

Zip: 60148
Offer Price: $535
Offer Date: 10-22-2021
1999 Volkswagen New Beetle

Zip: 60546
Offer Price: $500
Offer Date: 10-21-2021
2005 Honda Civic

Zip: 60607
Offer Price: $975
Offer Date: 10-20-2021
2000 Mercedes-Benz M-Class

Zip: 60435
Offer Price: $640
Offer Date: 10-19-2021
2007 Jeep Compass

Zip: 60620
Offer Price: $585
Offer Date: 10-19-2021
2001 Honda Accord

Zip: 60626
Offer Price: $645
Offer Date: 10-18-2021
2000 Mercedes-Benz M-Class

Zip: 60435
Offer Price: $640
Offer Date: 10-17-2021
2000 Mercedes-Benz M-Class

Zip: 60435
Offer Price: $640
Offer Date: 10-16-2021
2007 Pontiac Torrent

Zip: 60586
Offer Price: $970
Offer Date: 10-14-2021
2002 Toyota RAV4

Zip: 60403
Offer Price: $655
Offer Date: 10-14-2021
2009 Chevrolet Impala

Zip: 60628
Offer Price: $570
Offer Date: 10-14-2021
2006 Gmc Envoy

Zip: 60403
Offer Price: $520
Offer Date: 10-11-2021
2004 Acura TL

Zip: 60435
Offer Price: $630
Offer Date: 10-08-2021
Chicago, IL October 27, 2021
Chicago Junk Car Prices
The #1 Junk Car Removal Service in Chicago
If you live in Chicago and have been thinking about junking your car, you're not alone. Driving in the city can be expensive, dangerous, and heavy on emissions. 
Plenty of people decide that they're ready to make the switch to using public transportation. Why spend the gas money if you don't need to? 
You're in good company. More than 1.6 million people ride public transport in Chicago every day, between buses and trains. 
But if you do that, then you'll have to get rid of your old car. If your vehicle is ready to be junked, you've probably been looking for places in Chicago to junk your car. 
Junking a car sometimes seems like it's more trouble than it's worth. Why do people think this?
First off, junking a car can be a long and painful process. You have to hunt to find a service that will take your car as is. You might even find yourself driving from place to place to get quotes at each one. 
Secondly, you might get disappointed by your offers. Junking a car won't bring you a fortune, but you deserve what it is worth. Lots of people feel like it's not worth the time if they are going to be lowballed! 
Thirdly, most junk car services require you to complete the whole process in person. 
If you've been looking for the best place to junk a car in Chicago you are in the right place! Junk Car Medics Cash for Junk Cars Service in Chicago, IL is the most reputable and honest service around. Call Now!
---
We also purchase cars for cash in all surrounding areas including Cicero, Oak Park, Berwyn, Forest Park, River Forest, Elmwood Park, Lincolnwood, Lyons, Maywood, River Grove, Summit, Evergreen Park, Evanston, Norridge, Melrose Park.