Cash for Junk Cars in Lexington, KY: $100-$5,000+
Get your best offer to sell your junk car for cash in Lexington, KY to top-rated junk car buyers nearby.
Get a fast offer with our best price now:
We Buy Junk Cars for Cash in Lexington
As experts in the auto recycling industry, we buy junk cars in Lexington all the time and sell their materials and components for profit. In order to maximize the incentive we offer to owners of junk cars in our service region, we offer completely free towing and removal services. You can enjoy free junk car towing in Lexington, KY by contacting us!
Many of our local competitors use towing and car removal as an excuse to assess hidden charges and fees. This is a sneaky way to drag down what appears to be a high junk car price while preying on the fact that you probably won't refuse them when the tow truck is already there. Junk Car Medics never does this, however—as the best junk car buyers in Lexington we always pay the promised sum up front and never charge hidden fees for towing or any other service we offer.
We guarantee that you've never enjoyed a smoother transaction. We go to great lengths to ensure that people like you get the best possible service when providing us with junk cars and trucks. We'll even travel to Nicholasville, Georgetown, or Winchester to tow away cars for free.
While we specialize in recycling junk cars, our extensive network of resellers and component buyers are willing to pay top prices for car parts in good condition. As a result, we are prepared to purchase used cars in decent condition and can pay up to $7,500 for a single one. This is much faster and easier than trying to sell the car yourself—give us a call and get paid for your car in Lexington, KY today!
Junk Car Medics Lexington
Lexington, KY 40361
(855) 587-0227

Calling Hours:
Call For Quote 24/7
Business Hours:
Mon-Fri: 8 am – 7 pm
Sat: 8 am – 2 pm
Sun: Closed
Top rated junk car buyers.
How to Sell Junk Cars in
Lexington, KY
Sell junk cars in Lexington, KY with our quick, easy, painless process. Get up to $300, $500, even $1,500 cash for junk cars, old cars, damaged cars, and used cars.
Here's how it works:
Step 1: Get an Instant Offer Online or by Phone
We'll ask you a few basic questions about your car's condition, mileage, and whether you have the title.  It's a quick process that'll take less than 2 minutes to complete, and you'll get a fair market offer to junk your car.
Step 2: Accept Your Offer and Make Arrangements
After you accept your offer a representative will contact you to make arrangements for the removal of your junk car.  Towing and removal are free of charge.
Step 3: Get Paid More For Using Junk Car Medics in
Lexington
Upon pick up, sign over the title, hand over the keys, and you'll get paid on the spot with a check for your car.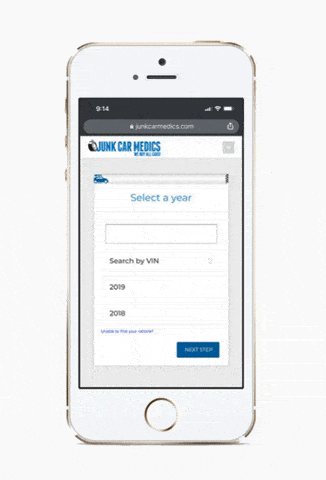 Why Junk My Car with Junk Car Medics in Lexington?
Jon S. - Junk Car Medics Customer
I was trying to get rid of my 2008 GMC 1500 that needed a new transmission. Out of 8 different company's not only was there online quote fast and simple but they offered the best and highest price. When accepting the offer they made it easy with no complications. I scheduled my appointment and the driver came by the next day to remove it and pay me. If you are trying to get rid of your junk car they are the ones I recommend!
Lexington Junk Car Prices
Over the last 12 months junk car prices in Lexington, KY increased 50% on average for vehicle year models 1998-2008, the most commonly junked years! Let's take a look at some of the numbers:
Most Common Junk Cars in Lexington
2006 Mini Cooper - $982.50
2002 Chevrolet Cavalier - $170.00
2004 Honda CR-V - $1,026.67
1995 Toyota Corolla - $400.00
2002 Chevrolet Impala - $290.00
2007 Chrysler Pacifica - $375.00
2003 Kia Magentis - $315.00
2006 Chrysler 300 - $300.00
2003 Subaru Forester - $417.50
2007 Chevrolet Uplander - $325.00
Junk Car Prices in Lexington by Year
1995 - $325.00
1999 - $315.71
2000 - $306.54
2002 - $295.45
2003 - $336.15
2004 - $463.00
2005 - $451.15
2006 - $498.95
2007 - $416.43
2008 - $341.00
10 Junkers Worth Over $500 in Lexington
1987 Buick Regal - $2,130.00
2006 Nissan Xterra - $1,045.00
2007 GMC Sierra - $1,480.00
2011 Ford Explorer - $3,580.00
2013 Chevrolet Captiva Sport - $1,982.50
2013 Ford Fusion - $1,270.00
2014 Volkswagen Passat - $1,030.00
2015 Chrysler 200 - $1,055.00
2012 Chevrolet Cruze - $925.00
2010 Nissan Altima - $880.00
The #1 Junk Car Removal Service in Lexington
Is there an abandoned vehicle on your property? An eyesore taking up valuable space? Perhaps it's an auto wreck or a totaled truck you don't know what to do with? How would you like to have that car towed away for free and get paid for it? At Junk Car Medics, you can get paid for junk cars in Lexington, KY just by calling us!
We are highly reputable junk car buyers in Lexington, KY who use our expertise and honest appraisal methods to provide junk car owners like yourself with top-dollar rates for unwanted vehicles of all kinds. We purchase junk cars, auto wrecks, totaled trucks and more. You can sell us any car, in any condition, and we will pay you the highest going rate on the spot.
Things to Know About Us
We will buy any car, in any condition, running or not
We offer same-day service when buying junk cars in Lexington, KY
You can get the most up-to-date scrap prices in Lexington, KY from us
You can sell us your car even if you don't have the title handy
We offer free junk car removal in Lexington, KY
There are only two documents you need to show us in order to get paid for your junk car today:
Your driver's license or state ID
The vehicle's title document
If you have these two items, you can get paid for your junk car today. Our phone lines are open 24 hours a day, so just give us a call and ask for a quote on your junk car. We will come to wherever you are and pay you the full amount.
At Junk Car Medics Cash for Junk Cars Service in Lexington, KY, we know very well that sometimes titles get misplaced, damaged, or stolen. If this is the case with your car, you may think that it can't legally be sold. However, our legal compliance team has the experience and resources necessary to guide you through the process of establishing and proving ownership without a title so you can sell us your junk car. All you need to do is call us and let us know—we'll take care of the rest.
---
We also buy junk cars in nearby cities such as: Georgetown, Nicholasville, Winchester, Paris, Versailles, Wilmore, Midway, Millersburg, Stamping Ground, North Middletown, Sadieville, and Corinth.
We buy cars in the following zip codes in Lexington: 40361, 40502, 40503, 40504, 40505, 40506, 40507, 40508, 40509, 40510, 40511, 40513, 40514, 40515, 40516, 40517.
Recent Purchases By Our Junk Car Buyers in
Lexington, KY
2006 Buick LaCrosse

40508
$305
06-03-2023
40517
$480
06-02-2023
1997 Lexus LS 400

40504
$305
06-02-2023
2008 KIA Magentis

40514
$385
05-26-2023