Get More Cash for Cars and Junk Cars in Louisville, KY
Junk your car to Louisville's #1 cash for cars service that gets you up to $500 more.
Get a fast offer with our best price now:
We Buy Junk Cars for Cash in Louisville
When you want to get your junk car sold as quickly and efficiently as possible, the best way to go is through us. We buy junk cars in Louisville and offer same day service along with a check as soon as we come to tow your vehicle. Whether you have a totaled car sitting on your property or you just purchased a lot with an abandoned car on it, calling us is the best way to get rid any car you may own.
Not only do we buy junk cars from our neighbors throughout all of Jefferson County, but we also purchase and recycle used cars. With us, you can skip the long, costly process of posting online advertisements and scheduling meetings with potential buyers to get your used car sold. We are the best junk car buyers in Louisville and will pay up to $7,500 for a used vehicle in decent condition. Simply call us and let us make you an offer.
As a reputable auto recycler, our experts have the experience necessary to accurately appraise junk vehicles and give you the best possible price when you want to sell. We take every part into consideration and use our extensive knowledge and our network of auto recycling partners to offer the highest payments in our industry.
Junk Car Medics Louisville
Louisville, KY 40018
(502) 610-5251

Calling Hours:
Call For Quote 24/7
Business Hours:
Mon-Fri: 8 am – 7 pm
Sat: 8 am – 2 pm
Sun: Closed
How to Junk a Car in
Louisville, KY
Junk Car Medics makes selling a junk car for cash in Louisville, KY quick, easy, and painless. Get up to $1,500 to junk cars and up to $5,000 for used cars.
Here's how it works:
Step 1: Get an Instant Offer Online or by Phone
We'll ask you a few basic questions about your car's condition, mileage, and whether you have the title.  It's a quick process that'll take less than 2 minutes to complete, and you'll get a fair market offer to junk your car.
Step 2: Accept Your Offer and Make Arrangements
After you accept your offer a representative will contact you to make arrangements for the removal of your junk car.  Towing and removal are free of charge.
Step 3: Get Paid More For Using Junk Car Medics in
Louisville
Upon pick up, sign over the title, hand over the keys, and you'll get paid on the spot with a check for your car.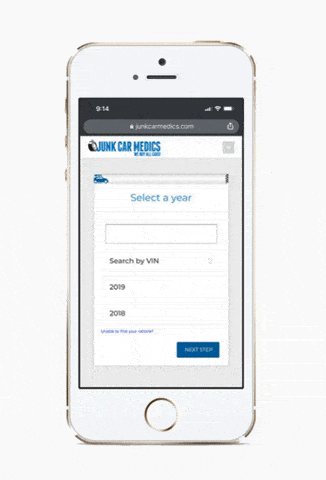 Why Junk Your Car to Junk Car Medics Cash for Junk Car Service in Louisville?
Jon S. - Junk Car Medics Customer
I was trying to get rid of my 2008 GMC 1500 that needed a new transmission. Out of 8 different company's not only was there online quote fast and simple but they offered the best and highest price. When accepting the offer they made it easy with no complications. I scheduled my appointment and the driver came by the next day to remove it and pay me. If you are trying to get rid of your junk car they are the ones I recommend!
Recent Purchases By Our Junk Car Buyers in
Louisville, KY
2006 Chevrolet Silverado 1500

Zip: 40204
Offer Price: $805
Offer Date: 10-06-2021
1999 Ford F-150

Zip: 40216
Offer Price: $560
Offer Date: 09-08-2021
2011 Dodge Nitro

Zip: 40215
Offer Price: $585
Offer Date: 09-06-2021
2003 Ford Ranger

Zip: 40214
Offer Price: $650
Offer Date: 09-02-2021
2009 Hyundai Accent

Zip: 40219
Offer Price: $580
Offer Date: 08-15-2021
2006 Ford Escape

Zip: 40218
Offer Price: $770
Offer Date: 08-12-2021
2005 Honda Accord

Zip: 40214
Offer Price: $565
Offer Date: 08-02-2021
2006 Bmw 325

Zip: 40219
Offer Price: $715
Offer Date: 07-27-2021
2009 Infiniti G37

Zip: 40223
Offer Price: $875
Offer Date: 07-25-2021
2006 Chrysler 300

Zip: 40212
Offer Price: $545
Offer Date: 07-18-2021
2006 Jeep Commander

Zip: 40215
Offer Price: $510
Offer Date: 07-11-2021
2004 Honda Pilot

Zip: 40216
Offer Price: $750
Offer Date: 06-11-2021
2002 Honda Accord

Zip: 40219
Offer Price: $65
Offer Date: 06-11-2021
2001 Ford F-150

Zip: 40212
Offer Price: $65
Offer Date: 06-11-2021
2004 KIA Sedona

Zip: 40218
Offer Price: $65
Offer Date: 06-05-2021
Louisville, KY October 17, 2021
Louisville Junk Car Prices
Top 7 Used Cars in
Louisville, KY
Coming soon
Top 7 Junk Cars in
Louisville, KY
Coming soon
The #1 Junk Car Removal Service in Louisville
Does your property have a junk vehicle sitting on it? A wrecked car that no longer runs? Did you know you can turn that car into money today? At JunkCarMedics.com, we pay top-dollar for ruined and abandoned vehicles of all kinds. We will purchase any car or truck in any condition whatsoever, paying the highest rates and even offering free towing in the process.
Quick Facts about JunkCarMedics.com:
1. We offer the highest prices for junk cars, used trucks, and wrecks
2. We will buy any car, in any condition, guaranteed
3. You get immediate payment when you sell your junk car in Louisville, KY to us
4. We tow and remove cars for free
5. You will never be charged any hidden fee when selling a used car to us
6. You can sell your junker to us even if you do not have the title
7. We can provide you with up-to-the-minute scrap prices in Louisville, KY
Free Towing & Removal
Whether removing abandoned trucks, wrecked cars, or totaled vehicles we offer complete towing services free of charge. That is part of our promise of no hidden fees or extra charges for our services. This way, you can be sure that the sum we promise in our quote is the sum you get in your pocket when we tow away your junk car.
What You Need to Sell Your Junk Car in Louisville, KY
Other than the car itself, you only need two things to get a sizable sum of money in your hands today:
1. A valid state ID or driver's license
2. The vehicle's title
If you do not have the vehicle's title on hand, we can still buy your car. In most cases, this requires some extra paperwork but our regulatory specialists will take care of all the details for you.
Sell Your Junk Car Today: We Come to You!
We serve every district and neighborhood in Louisville and its surrounding suburbs. We'll come and pickup junk cars in Shively, Prairie Village, St. Matthews, Jeffersontown or even as far out as Thixton.
No matter where you are, you can rely on us to offer quick, reliable same-day service for removal and fast, on-the-spot payment for used cars and trucks of all kinds. Just give us a call and ask one of our specialists to offer you a quote for your car today.
Do you provide a guarantee?
We guarantee top notch service for all of our customers.
How do I sell my car in Louisville?
All you have to do is give us a call. We'll then come up with a custom quote for your car. Once you agree to the quote, we come to you! You get payment for your car, and we tow it away for free.
Call Junk Car Medics Cash for Junk Cars Service in Louisville, KY Now!
---
We Buy Cars in all zip codes in Louisville including these popular ones: 40018, 40023, 40025, 40027, 40041, 40056, 40059, 40118, 40177, 40201, 40202, 40203, 40204, 40205, 40206, 40207, 40208, 40209, 40210, 40211, 40212, 40213, 40214, 40215, 40216, 40217, 40218, 40219, 40220, 40221, 40222, 40223, 40225, 40228, 40229, 40231, 40232, 40233, 40241, 40242, 40243, 40245, 40250, 40251, 40255, 40258, 40259, 40261, 40266, 40268, 40270, 40272, 40280, 40281, 40282, 40283, 40285, 40287, 40289, 40290, 40291, 40292, 40293, 40294, 40295, 40296, 40297, 40298, 40299, 47140.
We also purchase cars within up to 100 miles including in cities such as Prospect, Creekside, Indian Hills, Anchorage, Lyndon, Middletown, St. Matthews, Hopewell, Spring Mill, Lynnview, Penile, Prairie Village, Greenwood, Thixton, Seatonville & all surrounding areas.