Get More Cash for Cars and Junk Cars in Baltimore, MD
Junk your car to Baltimore's #1 cash for cars service that gets you up to $500 more.
Get your best offer with no hassles now:
We Buy Junk Cars for Cash in Baltimore
We are experts in the junk car removal process. Our junk car buyers in Baltimore draw on years of experience to price out individual parts and determine the highest possible amount that we can pay for any cars or trucks. We then purchase the car —hand you a check, no questions asked— and tow it away for free.
We buy junk cars in Baltimore. All you need to do is call us up and schedule an appointment with one of our appraisers. We've got a check with your name on it and if the vehicle matches your description we are ready to pay the full amount as promised. You only need to present us with two things:
1. A valid state ID/driver's license
2. The title of the vehicle
If no title is present, don't worry—we can still purchase your car at top dollar rates. Just let us know and one of our compliance specialists will work through the paperwork for you.
In some cases, we may find that you do not even need a title. For instance, the state of Maryland does not require the transfer of title for cars that are more than 10 years old. If you find an abandoned vehicle on your property, we are happy to take that off your hands, too; our team will help you get all the documents in order to make that happen.
Junk Car Medics Baltimore
Baltimore, MD 21201
(410) 609-5415

Calling Hours:
Call For Quote 24/7
Business Hours:
Mon-Fri: 8 am – 7 pm
Sat: 8 am – 2 pm
Sun: Closed
How to Junk a Car in Baltimore, MD
Junk Car Medics makes selling a junk car for cash in Baltimore, MD quick, easy, and painless. Get up to $1,500 to junk cars and up to $5,000 for used cars.
Here's how it works:
Step 1: Get an Instant Offer Online or by Phone
We'll ask you a few basic questions about your car's condition, mileage, and whether you have the title.  It's a quick process that'll take less than 2 minutes to complete, and you'll get a fair market offer to junk your car.
Step 2: Accept Your Offer and Make Arrangements
After you accept your offer a representative will contact you to make arrangements for the removal of your junk car.  Towing and removal are free of charge.
Step 3: Get Paid More For Using Junk Car Medics in Baltimore
Upon pick up, sign over the title, hand over the keys, and you'll get paid on the spot with a check for your car.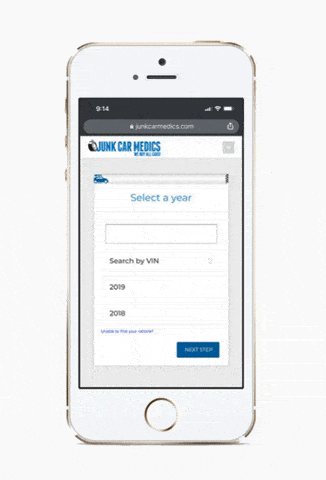 Why Junk Your Car to Junk Car Medics Cash for Junk Car Service in Baltimore?
Jon S. - Junk Car Medics Customer
I was trying to get rid of my 2008 GMC 1500 that needed a new transmission. Out of 8 different company's not only was there online quote fast and simple but they offered the best and highest price. When accepting the offer they made it easy with no complications. I scheduled my appointment and the driver came by the next day to remove it and pay me. If you are trying to get rid of your junk car they are the ones I recommend!
Recent Purchases By Our Junk Car Buyers in Baltimore, MD
2007 Nissan Altima

Zip: 21202
Offer Price: $670
Offer Date: 10-15-2021
2011 Ford Fusion

Zip: 21239
Offer Price: $680
Offer Date: 10-11-2021
2004 Bmw X3

Zip: 21224
Offer Price: $600
Offer Date: 10-11-2021
2012 Chevrolet Sonic

Zip: 21217
Offer Price: $990
Offer Date: 10-08-2021
2006 BMW 3-Series

Zip: 21201
Offer Price: $555
Offer Date: 10-06-2021
2006 Chevrolet TrailBlazer

Zip: 21236
Offer Price: $525
Offer Date: 10-01-2021
2006 Nissan Xterra

Zip: 21206
Offer Price: $965
Offer Date: 10-01-2021
2007 Volvo V70

Zip: 21213
Offer Price: $525
Offer Date: 10-01-2021
2006 Volvo S-80

Zip: 21215
Offer Price: $525
Offer Date: 09-29-2021
1999 Dodge Ram Pickup 1500

Zip: 21234
Offer Price: $530
Offer Date: 09-29-2021
2003 Lexus ES

Zip: 21213
Offer Price: $970
Offer Date: 09-28-2021
2005 Acura TL

Zip: 21229
Offer Price: $550
Offer Date: 09-26-2021
2004 Dodge Dakota

Zip: 21222
Offer Price: $925
Offer Date: 09-26-2021
2004 Dodge Stratus

Zip: 21222
Offer Price: $525
Offer Date: 09-24-2021
2003 Kia Sedona

Zip: 21218
Offer Price: $610
Offer Date: 09-22-2021
Baltimore, MD October 17, 2021
Baltimore Junk Car Prices
Top 7 Used Cars in Baltimore, MD
Coming soon
Top 7 Junk Cars in Baltimore, MD
Coming soon
The #1 Junk Car Removal Service in Baltimore
When it comes to abandoned trucks, wrecked cars, and other auto salvage vehicles, towing is usually the primary concern owners have. This is why we offer completely free towing and removal services. At JunkCarMedics.com, you get the complete value of your junk vehicle and we even tow it away without charging an extra dime.
This is in deep contrast with many other auto salvage yards near me in Baltimore, Maryland. Many will offer high sums of money for junk cars and then whittle down the actual sum paid using hidden fees and towing charges. This always leads to unmet expectations and frustration, which is why we always deliver the exact sum offered in our quote.
What You Need to Know About JunkCarMedics.com:
1. We buy all cars, in all conditions, even wrecked and totaled cars
2. You are guaranteed the best possible price working with us
3. We pay the very moment we come to tow your junk car
4. You will never be charged hidden fees
5. We can provide you the most up to date scrap prices in Baltimore, MD
6. You can sell us your junker even if you don't have the title
Sell Your Used Car in Baltimore, MD
We don't just purchase junk cars; we also buy used cars of all kinds and offer excellent prices for them. If you own a used car in decent condition, you can get up to $10,000 for it by calling us today. Auto recycling often means more than simply using cars for scrap metal—we can price out individual parts and determine the true value of your car so that you get the best price possible.
Compare this to selling your car online by yourself. You'll spend weeks or even months trying to find a buyer, showing the car to countless people before hopefully making a sale. Cut out the hassle and make the sale today by calling us. It's quick and easy!
Where can I get the most money for my junk car in Baltimore, MD?
At Junk Car Medics we don't believe in low-balling prices. We know how much your car meant to you and it's hard to put a price on something that's been so reliable for you. But every car has its time and we want to give you the money for your junk car in Baltimore, MD you deserve.
Call Junk Car Medics Cash for Junk Cars Service in Baltimore, MD Now!
---
We Buy Cars in all zip codes in Baltimore including these popular ones: 21201, 21202, 21203, 21205, 21206, 21207, 21208, 21209, 21210, 21211, 21212, 21213, 21214, 21215, 21216, 21217, 21218, 21222, 21223, 21224, 21225, 21226, 21227, 21229, 21230, 21231, 21233, 21234, 21236, 21237, 21239, 21251, 21263, 21264, 21270, 21273, 21275, 21278, 21279, 21280, 21281, 21287, 21288, 21289, 21290, 21297, 21298.
We also purchase cars within up to 100 miles including in cities such as Roland Park, Hampden, Woodberry, Central Park Heights, Charles Village, Inner Harbor, Canton, Highlandtown, Hopkins Bayview, Cherry Hill & all surrounding areas.