Sell Junk Cars for Cash in Detroit
Get cash for junk cars in Detroit, MI with free removal from top-rated junk car buyers that pay the most cash for cars.
Get your best offer to sell your car for cash in Detroit now.
We Buy Junk Cars in Detroit for Cash
Junk Car Medics buys junk cars in Detroit of all vehicle types and conditions for cash.
Junk Car Medics is one of the most reliable junk car buyers in Detroit, Michigan. Junk Car Medics partners with top junk car buyers in Detroit. These include junkyards, car auctions, and individuals. This is what enables Junk Car Medics to get an individual the best price for their car as the local buyers compete for the vehicle.
Junk Car Medics has over 1000 solid positive reviews online which is a testament to their work. They have purchased over 200,000 junk cars in the United States and spent over $55 million in payouts. Selling your car with Junk Car Medics is a quick, easy and smooth process that leaves the junk car seller satisfied.
Go to the Junk Car Medics Website online or call them and get an instant quote quickly after giving your junk car details in Detroit. One chooses to accept the offer instantly or  take a few days to think about it. Once you accept the offer, give the title and fill in the paperwork after which your car will be removed to Detroit at no charge. Sell your junk car on the spot while dealing with friendly agents. An easy, painless process.
The biggest advantage of selling your junk car through Junk car Medics is the fact that the quote generation is instant and the price offered is one of the best as Junk Car Medics has a large network of junk car dealers. Junk car removal is always free with Junk Car medics in Detroit.
The average junk car in Detroit:
is 16 years old (2006)
has 143,000 miles
has a value of $492.50
Here are some more stats on junk cars in Detroit:
46% do not drive
31% do not start
60% have body damage
6.56% have no title
At Junk Car Medics we pay cash for cars in Detroit in all conditions. We buy junk cars for cash - damaged, wrecked, totaled, old, scrap, clunkers and non-running cars in Detroit.
The junk cars that we buy for cash in Detroit include damaged cars, wrecked cars, totaled cars, old cars with high mileage, non-running cars, scrap cars, and clunker junkers.
Junk Car Medics
Phone Number: +1-855-587-0227
---
Hours
Monday - Friday: 8am - 5pm et.
Saturday: 8am - 3pm et.
Sunday: Closed
---
24/7 Junk Car Quotes Available Online
Add a header to begin generating the table of contents
How to Sell Your Junk Car in Detroit in 4 Simple Steps
Steps to scrap a car in Detroit in 4 easy steps:
Step 1: Call us at 1-855-585-0777 or get offer online
Step 2: Accept the best junk car offer in Detroit
Step 3: Schedule junk car removal in Detroit
Step 4: Get paid cash upon pickup of the junk car.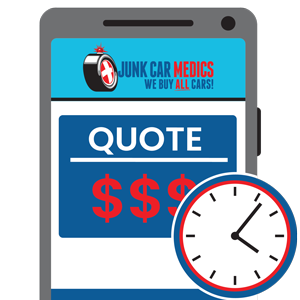 Why Junk Car Medics in

Detroit
Here's 6 reasons to choose Junk Car Medics as your top choice to get cash for cars and junk cars in Detroit.
Your Best Junk Car Offer

Get your best offer to junk a car for cash in Detroit from the best junk car buyers.

Step by Step Process to Junk Cars

Get an offer, accept it, and be walked through the entire process to junk cars in Detroit.

Free Towing and Removal

Junk Car Medics has no additional charge for junk car removal in Detroit. 
Helpful Concierge Service

Junking a car in Detroit should be fast, easy, and pain-free. Our team helps assure it.

100% Free to You

Selling a junk car in Detroit with Junk Car Medics is a completely free process for you.

100's of Raving Fans

We've earned the reputation as the best junk car buyer in Detroit for good reason.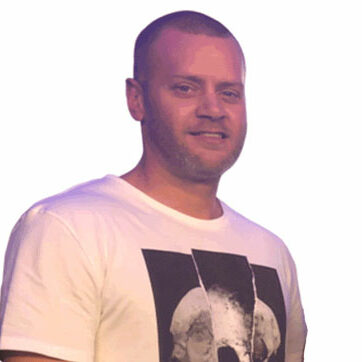 Why Choose Junk Car Medics in Detroit?
Junk Car Medics is a fast, simple, and painless way to junk cars for cash in Detroit. I invite you to get an offer to junk your car in Detroit and put our service against anyone!
Todd Bialaszewski - Junk Car Medics
Sell Your Junk Car for Cash in Detroit
What do I need to sell my junk car in Detroit?
To sell your junk car in Detroit you need the following things. First, find a reliable junk car buyer. Secondly, have the state ID and the car title and if not get a duplicate title at the Secretary of State's office. Last but not least, transfer the car title to the junk car buyer and then fill in the necessary paperwork given by the junk car buyers.
How does Detroit define a junk vehicle?
Junk car definition according to Detroit is any vehicle incapable of operation or use on the highway, has no resale value except as a source for parts or scrap, and has a sixty percent loss in fair market value. Junk cars are known as decrepit cars, scrap cars, junkers, and jalopies. These cars are usually 15 years old unless wrecked. Cars that are damaged, totaled, abandoned, wrecked, old, or have serious mechanical problems are considered junk vehicles in Detroit.
Junk cars are usually damaged to the point of immobility, they may be missing one or several outer parts like the seats, wheels, window, and steering wheel, or they miss internal parts such as the engine. Detroit junk car definition includes cars that may be old or have been abandoned.
What are the laws around junking a car in Detroit?
The Michigan code of Ordinances is the law that deals with junk dealers, junk vehicles, and junk collectors in Detroit.
The Michigan Vehicle code deals with junk cars. Section 248b of the Michigan Vehicle code states that a person who is a licensed junk car dealer in another state and wishes to start carrying out their business in Michigan has to obtain a scrap car certificate of title under the Michigan Vehicle Code.
The code defines a junk car vehicle, salvage vehicle, junk collector, junk dealer, and automotive recycler in Detroit.
Section 49 of the Code of Ordinance requires that a junk car dealer's business shall be conducted on a premise that is entirely enclosed with a proper fence. If the junkyard is located along a public highway or street, any fence facing the highway or street shall be constructed of solid wood, metal, or masonry.
The code of Ordinance prohibits a junk dealer from receiving junk as security for a loan in exchange for any sum of money. It states that every junk car dealer shall keep proper records of his purchases and exchanges and shall provide them for examination when requested by the Detroit Police Department.
The Michigan Code of Ordinance provides for the details and documents a junk car buyer is supposed to obtain from a seller for the sake of record keeping.
These documents and details are listed below.
The state license plate
A photocopy of the driver's license
State Identification card of the junk car seller
A statement from the Junk car seller which provides is listed below.
A declaration that the junk car was not obtained by theft or unlawfully.
A declaration that the information given is true to the best of the persons knowledge and belief.
The signature of the junk car seller.
The Detroit Code of Ordinance provides for the approval of premises used by junk car dealers to store and recycle scrap cars and the structural and fire safety requirements needed to maintain such premises in line with the Detroit Property Maintenance Code, the Detroit Fire Prevention Code and the Michigan Building Code.
The following three laws a person looking to buy and sell junk cars in Detroit must abide by are listed below.
The Detroit Code of Ordinances.
The Michigan Second hand and Junk Dealers Act.
The Michigan Vehicle Code.
What is the penalty for breaking the Detroit laws regarding Scrap Metal Vehicles?
Section 49, 7-12 of the Detroit Code of Ordinance lays out some of the penalties incurred by a person who does not follow its rules in relation to the buying and selling of Junk Cars in Detroit.
It states that a person who violated any sections of Article VII Division 1 which deals with junk dealers, junk vehicles and collectors in general and Division 2 which deals with Junk dealer licensing, Division 3 which deals with junk vehicle licensing and Division 4 which deals with a junk collector license and shall be guilty of a misdemeanor for each violation and may be fined up to five hundred dollars, serve a 90 day jail sentence or both depending on the court's discretion.
Can I get cash for junk cars with no title in Detroit?
No. One cannot junk their car with no title in Detroit. There are some exceptions concerning cars that have been abandoned on a person's property for many years where you can get the necessary paperwork to prove that this is the case with your junk car from the local authorities. As a general rule in Detroit, one must have proof of ownership to show that they have a right to sell the car.
| | | |
| --- | --- | --- |
| Vehicle Titles | Percent | Value |
| Cash for Junk Cars With Title in Detroit | 88% | $524.35 |
| Cash for Junk Cars With Rebuilt Title in Detroit | 5.74% | $524.29 |
| Cash for Junk Cars With No Title in Detroit | 6.56% | $38.75 |
How to get a replacement title in Detroit?
A vehicle owner in Detroit who wishes to replace their title must first have the following seven documents when going to replace their car title.
Application
Vehicle Identification Number (VIN)
Current Registration Decal Number
Proof of Ownership
Current registration papers
Valid ID or driver's license
A replacement fee.
After one has ensured they have all the relevant documents, if replacement is being done online one has to follow these five steps listed below in Detroit.
Visit the Michigan state website, Michigan.gov/SOS
Click on Online services
Go to the Vehicle Transactions Section.
If you do not already have a Secretary of State account, create one but if you already do, log in.
On your account click on the Vehicle Title duplicate section and then follow the online prompts.
Pay the $15 application fee.
Wait for 14 days to receive your duplicate car title.
If the replacement is being done in person, one is to follow these five steps below.
Walk into any Secretary of State office in Detroit.
Fill in your details on the application form.
Present the identification documents mentioned above.
Pay the $15 dollar fee for the application.
Wait for your duplicate title to arrive in 14 days.
Is it a requirement to notify the DMV when you junk a car in Detroit?
Yes, the Department of Motor Vehicles in Detroit has to know when one decides to sell, junk, donate, or trade a junk car because it has to keep a record of the transfer of ownership of all cars in the state. One has to have a genuine title transfer so that the DMV can change the registration of the junked vehicle.
Can I store junk cars on my property in Detroit?
State law in the city of Michigan is what applies in Detroit. The Michigan State Law states that one must cover a junk car from public view, one hide junk cars in Detroit by hiding them on abandoned grounds that are remote and not in public view or even dismantling the car to store it in parts. One stores their junk vehicle in an enclosed structure to shield it from public view in Detroit. Inoperable motor vehicles in Detroit cannot be stored in the yard, street, or driveway. They must be stored in a fully enclosed structure and out of public view.
Can I sell my car for parts in Detroit?
Yes. One can sell their car for parts in Detroit especially if they are knowledgeable on how to remove the prized car parts that are usually in demand. In Detroit, one is allowed to remove these parts and make more money off them separately.
There are five steps listed below one has to take in the selling of car parts in Detroit.
First, find where to sell car parts near you in Detroit. There is no need to spend huge amounts of time removing valuable car parts if you do not have a ready buyer.
Remove the car parts and clean them.
Make sure you have compared the different prices from car parts dealers in Detroit
Receive payment in cash for selling your car for parts.
Once you're done selling all the valuable car parts, proceed to sell the remaining shell to a junk car buyer in Detroit.
Read about whether to sell a car for parts or not.
Do junkyards in Detroit buy junk cars for cash?
Certainly, many junkyards in Detroit buy junk cars. Yet, it's important to note that their payouts may not always be as lucrative as the highest market rates. To ensure you get the best value for your junk car, it's advisable to obtain quotes from multiple junk car buyers in the city. This way, you increase your chances of securing the most competitive financial compensation for your vehicle.
Is it possible to junk a car with a lien in Detroit?
No, it is not possible to junk a car with a lien in Detroit. The Code of Ordinance of Detroit is very strict on this. A vehicle must be paid off for the title to be in your name. If one still owes money on it, the financial institution owns your car. You must pay off the remaining balance before junking a car for cash in Detroit.
Common Questions When Selling Junk Cars in Detroit with
JUNK CAR
MEDICS
Yes, Junk Car Medics pay cash for cars in Detroit. Junk Car Medics is known to pay more cash for cars and junk cars in Detroit compared to other junk car buyers.  Sellers of junk cars are paid with a guaranteed check at the time of vehicle removal.
You will be paid for your junk car upon vehicle removal in Detroit.
Yes. Junk Car Medics offer free junk car removal and junk car pickup in Detroit and all surrounding areas. Junk Car Medics coverage area includes all suburbs/ neighborhoods of Detroit including Downtown, Greektown, Corktown, Mexicantown, Midtown and Cass Corridor to name a few.
Yes, they do. Junk Car Medics can however make exceptions for junk cars in Detroit that have been on a person's property for many years. One still has to get the necessary documents from the Secretary of State office to sell the scrap car.Junk Car Medics, however, do not recommend junking a car in Detroit without a title. One gets a duplicate replacement title for their junk car within 14 days by going to any Detroit Secretary of State Office.
Listed below are the five steps on how Junk Car Medics calculate junk car prices in Detroit.
1. They look at the type of vehicle.
2. They look at the value of the car parts although most junk cars do not have viable parts, for those that do that increases the value of the scrap car.
3. The weight of the car shell and its value in scrap metal. This is the biggest factor that determines a scrap car's value especially if it does not have any serviceable car parts in Detroit.
4. Fit for use car parts that are on demand in Detroit. A scrap car can have car parts that are in demand and can be resold on used car parts. This automatically increases the scrap car's value.
5. The actual value of the metals in one's car's shell. Once the car parts have been removed, the car crushed, and put through a shredding machine, the metals are further separated into metals that may be more valuable than others in Detroit.
Junk Car Medics appraises junk cars based on the above values in Detroit. Junk Car Medics uses a proprietary system to generate appraisals for junk cars in Detroit both online and over the phone. What you need to do is give the vehicle's details and condition and the best offer is returned to you instantly. Our quote system takes into account the factors affecting junk car value in Detroit.
Yes, Junk Car Medics salvage cars in Detroit. Junk Car Medics buy salvage cars for cash and properly recycle them. They have the best prices, pay upfront in cash, and always remove and tow the car for free. Get the best price for your salvaging car at Junk Car Medics.
Everything to Know About The Junk Car Industry in Detroit?
According to the United States Census Bureau, there were 3.6 million cars in the Southeast part of Michigan which mainly comprises Detroit. It is estimated that 1 to 2 percent of registered vehicles make up junk cars in Michigan which is roughly about 40,000 to 60,000 cars. Detroit has at least 20 companies all offering junk car removal services. The average age of a junk car in Detroit is 11 years while the average mileage is about 200,000 miles.
When to junk a car in Detroit?
When a car becomes inoperable or is damaged to a point that repairing it is 60% or more than its total value you should junk it in Detroit. One junks their car when they no longer feel safe driving it and it is damaged beyond repair. A car that is old and has reached its lifespan is junked.
Information about City of Detroit and Junk Vehicles
Detroit is the largest city in the state of Michigan. It is the largest city on the United States and Canada border. Detroit is the 27th most populous city in the United States. Detroit is the seat of the government of Wayne County with its metropolitan area having a population of 4.3 million people. This means that it is the second largest metropolitan area in the Midwest and the 14th largest in the whole of the United States. Detroit is a city that is well known for its music, art, design, and architecture.
One of Detroit's most outstanding characteristics is its history with the automotive industry. This is what has propelled Detroit to being the second largest regional economy in the Midwest. Detroit has been home to many Automobile companies and factories and can be described as the center of the automobile industry in the United States. It is home to what is known as the big three car manufacturing companies such as General Motors and Chrysler.
The six most common occupations in Detroit are listed below.
Customer service and sales representatives.
Waiters and Waitress
Office Clerk.
Certified Nurses and Nursing Assistants.
Delivery service and truck drivers
Fast food workers.
Detroit's local Income tax rate is at 2.45% for residents, 1.225% for people who are not residents, and 2.00% for corporations. Detroit's flat tax rate is at 4.25% and has one of the highest and most effective property tax rates of 4.1ge annual income is $46,474. 6%. The average median income of a Detroit Resident is $32, 498 while the annual per capita income in 2020 was $19, 569. Detroit's unemployment rate has been steadily decreasing. It stood at 14.70% in 2021, it then went down to 8.10% in July 2022 and then down to 7.90% by August 2022. The long-term average unemployment rate in Detroit is 13.72%.
Detroit is the automotive capital of the United States and according to the Product Complexity Index, the most common exports by Detroit are Trailers, Asphalt, Iron Radiators, and Spark Ignition Engines. Detroit's imports are automotive-related and include car parts, Medicine, and Mid-sized cars. Some of Detroit's neighborhoods include Hamtramck, Grandmont/Rosedale, Ferndale, Downtown, Eastern Market, and Corktown.
It is estimated that almost 63% percent of Detroit residents own or share a car. There are approximately 3.6 million cars registered around the area of Southeast Michigan in which Detroit is situated.
There is no record of the percentage of Detroit's junk car industry to its economic mass, however, at least 30 car junk removal services exist in Detroit.
How many junk cars are recycled a year in Detroit?
It is unknown exactly how many junk cars are recycled a year in Detroit but the estimated number is 1.5 million. The exact number is larger than that because all vehicles in Detroit reach the end of their lives at some point. When you take into account Detroit's population which is growing at a rapid rate and the huge amount of cars bought and sold in Detroit every year, that number could be way higher.
Does cash for clunkers exist in Detroit?
The cash for clunkers program does not exist in Detroit anymore. The program was an old program to remove junk cars and clunkers from the road. The goal was to replace old vehicles with newer vehicles that have fewer emissions and are better for the environment.
How does Detroit vehicle recycling and disposal help the environment?
The automobile recycling industry saves a lot of oil which is used in making new car parts and manufacturing other car-related things. In Detroit, this is crucial as it has been and still is and has been home to many car manufacturing companies in the United States such as General Motors, Rim Custom Racks, and Chevrolet to name a few. Junk cars are a hazard to the environment especially when parked in the open. They may leak fluids such as mercury which pollute the soil, and environment and harm humans once in contact with them. Junk cars give a city like Detroit an old, cluttered look when left in the open haphazardly.
Can I junk my RV, motorcycle, or bicycle in Detroit?
No, in Detroit other vehicles or transportation without a motor is not included in junk vehicle removal. Junk car buyers do not buy motorcycles, boats, campers, or bicycles because it does not fit into their process.
Where can you buy junk cars in Detroit?
To buy junk cars in Detroit, check Craigslist and local classified ads. Normal car dealerships and car buyers do not sell junk cars. Junk car buyers do not usually sell junk cars either unless they are operational.  If you are looking for a part car the best place to start looking is Craigslist, classifieds, or local forums. Collect information from all these forums taking into account the various prices and the quality of the car parts.
What is the Detroit cash-for-cars program?
The cash for cars program is a program in Detroit that salvages unusable cars that are old or damaged beyond repair. Cash for cars program is found in most neighborhoods in Detroit including 13 listed below.
Downtown Detroit
Dearborn
Mexicantown
Indian Village
Warren
Midtown
West Village
Corktown
East English Village
Jefferson Chalmers
West Side Industrial
Palmer woods
New Center
Detroit has car recycling programs that keep its environment clean and safe. These programs make profits from recycling junk cars which keep recycling constantly. Detroit is home to the Motor City Makeover known as the MCM365. This is an annual event where residents of the city of Detroit volunteer to clean and beautify their city.