Get More Cash for Junk Cars in Minneapolis, MN
Junk your car to Minneapolis's #1 cash for cars service that gets you up to $500 more.
Get a fast offer with our best price now:
We Buy Junk Cars for Cash in
Minneapolis
We are highly reputable junk car buyers in Minneapolis, MN who purchase cars of all kinds, in all conditions. We will buy any car in any condition, consistently paying out the highest rates among auto recyclers in the area. Sell us any vehicle you no longer have need for, from auto wrecks to junk cars and more. We buy junk cars in Minneapolis and you can rest assured you're getting paid top dollar from us each and every time.
Selling junk cars in Minneapolis, MN to us is easy to do. As the most trusted removal service in the area, we come to you with immediate payment for towing away your junk car. From there on out, we sell each component through our extensive network of auto recyclers and buyers, ensuring the highest possible price for each—this is how we always manage to pay top-dollar for our clients' cars.
You can get up to $7,500 for a used car or truck in decent condition, so feel free to ask for a quote at any time—our lines are open 24 hours a day. We also offer attractive sums for wrecks and scrap cars, giving car owners like yourself a real incentive to call today.
Junk Car Medics Minneapolis
Minneapolis, MN 55401
(612) 712-6748

Calling Hours:
Call For Quote 24/7
Business Hours:
Mon-Fri: 8 am – 7 pm
Sat: 8 am – 2 pm
Sun: Closed
How to Junk a Car in
Minneapolis, MN
Junk Car Medics makes selling a junk car for cash in Minneapolis, MN quick, easy, and painless. Get up to $1,500 to junk cars and up to $5,000 for used cars.
Here's how it works:
Step 1: Get an Instant Offer Online or by Phone
We'll ask you a few basic questions about your car's condition, mileage, and whether you have the title.  It's a quick process that'll take less than 2 minutes to complete, and you'll get a fair market offer to junk your car.
Step 2: Accept Your Offer and Make Arrangements
After you accept your offer a representative will contact you to make arrangements for the removal of your junk car.  Towing and removal are free of charge.
Step 3: Get Paid More For Using Junk Car Medics in
Minneapolis
Upon pick up, sign over the title, hand over the keys, and you'll get paid on the spot with a check for your car.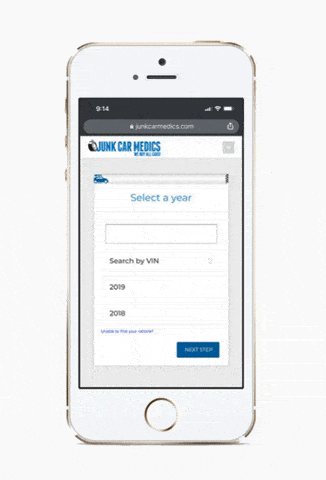 Why Junk Your Car to Junk Car Medics Cash for Junk Car Service in Minneapolis?
Jon S. - Junk Car Medics Customer
I was trying to get rid of my 2008 GMC 1500 that needed a new transmission. Out of 8 different company's not only was there online quote fast and simple but they offered the best and highest price. When accepting the offer they made it easy with no complications. I scheduled my appointment and the driver came by the next day to remove it and pay me. If you are trying to get rid of your junk car they are the ones I recommend!
Recent Purchases By Our Junk Car Buyers in
Minneapolis, MN
2005 Acura RSX

Zip: 55412
Offer Price: $630
Offer Date: 10-21-2021
2004 BMW 3-Series

Zip: 55406
Offer Price: $635
Offer Date: 09-30-2021
2007 Honda Civic

Zip: 55417
Offer Price: $520
Offer Date: 09-23-2021
2006 Toyota Corolla

Zip: 55405
Offer Price: $665
Offer Date: 09-15-2021
2002 Toyota 4Runner

Zip: 55419
Offer Price: $550
Offer Date: 09-11-2021
2008 Buick Enclave

Zip: 55417
Offer Price: $990
Offer Date: 09-09-2021
2008 Ford Escape

Zip: 55409
Offer Price: $520
Offer Date: 08-30-2021
2005 Lexus ES 330

Zip: 55406
Offer Price: $990
Offer Date: 08-25-2021
2009 Subaru Impreza

Zip: 55414
Offer Price: $835
Offer Date: 08-20-2021
2008 Ford Escape

Zip: 55409
Offer Price: $715
Offer Date: 07-29-2021
2007 Dodge Charger

Zip: 55412
Offer Price: $605
Offer Date: 07-16-2021
2008 Chevrolet Malibu

Zip: 55414
Offer Price: $530
Offer Date: 07-15-2021
2011 Hyundai Elantra

Zip: 55412
Offer Price: $625
Offer Date: 07-05-2021
2009 Ford Flex

Zip: 55418
Offer Price: $745
Offer Date: 06-22-2021
2008 Volkswagen Passat

Zip: 55418
Offer Price: $525
Offer Date: 06-21-2021
Minneapolis, MN October 27, 2021
Minneapolis Junk Car Prices
Top 7 Used Cars in
Minneapolis, MN
Coming soon
Top 7 Junk Cars in
Minneapolis, MN
Coming soon
The #1 Junk Car Removal Service in Minneapolis
Is there an unwanted vehicle sitting in your lot right now? Perhaps you own a wrecked truck that neither you or anyone else has use for? Would you like to have that car towed away? You could enjoy free junk car removal in Minneapolis, MN by calling our company for the job. We buy vehicles of all types and offer top rates to car owners in the area.
Free Towing & Removal 
If you have abandoned cars or trucks on your property, we can remove them for free and pay you for their weight in scrap metal. Our specialists offer full-service solutions for car removal, especially ones that are stuck in difficult areas. With JunkCarMedics.com, you don't need to worry about a thing; let our towing experts handle the removal process.
You can trust us when it comes to offering removal services because we are reputable auto scrap dealers. Many of our competitors will charge fees for the removal process. This lets them offer scrap metal fees that seem higher, but that get dragged down by hidden charges in reality. At JunkCarMedics.com, you never have to worry about this happening—our quote is guaranteed accurate so long as your car is as-described.
How Can I Sell My Junk Car in Minneapolis, MN?
Selling your junk car is simple. All you need is two documents:
A valid driver's license or state ID;
The vehicle's title —or— its registration documents made out in your name
If you have lost the title but still have the registration documents, you can still sell your junk car to us. Our compliance specialists have the tools and documents you need ready; we can walk you through the process and help you sell your car even if you don't have a title. If you are missing the car's registration documents as well, just give us a call and find out how we can help. We will do everything possible to ensure the sale of your junk car.
Things to Know About JunkCarMedics.com:
We will buy any junk cars, used cars, and abandoned vehicles in Minneapolis, MN
We pay you and remove your vehicle for free
We always pay you the moment we show up
You can learn the latest scrap prices in Minneapolis, MN from us
Our compliance experts can help you sell your junk car even without a title
Call today and find out what makes Junk Car Medics the most trusted auto scrapyard and car recycler in our region. We serve the entirety of Hennepin county and Saint Paul, making us the local junk car buyers with the largest service area in the Twin Cities area. We serve Eden Prairie, Chanhassen, Edina, Lakeville, Plymouth and Golden Valley, offering fast same-day service in each area, so contact us today!
How do I sell my car in Minneapolis?
All you have to do is give us a call. We'll then come up with a custom quote for your car. Once you agree to the quote, we come to you! You get paid on the spot for your junk car and we tow it away for free.
How long does the process take?
The initial call can take up to 10 minutes for us to get the information needed for your quote. We typically come that day to pick up your junker and provide free towing and removal.
Do you provide a guarantee?
We guarantee top notch service and instant payment for all of our customers.
Call Junk Car Medics Cash for Junk Cars Service in Minneapolis, MN Now!
---
We Buy Cars in Spring Lake, Eden Prairie, Norwood Young America, Apple Valley, White Bear Lake, Arden Hills, Belle Plaine, Prior Lake, Maple Grove, Cottage Grove, Circle Pines, Elk River and all zip codes in Minneapolis including these popular ones: 55111, 55401, 55402, 55403, 55404, 55405, 55406, 55407, 55408, 55409, 55410, 55411, 55412, 55413, 55414, 55415, 55416, 55417, 55418, 55419, 55421, 55423, 55430, 55440, 55450, 55454, 55455, 55458, 55459, 55460, 55467, 55470, 55472, 55474, 55478, 55479, 55480, 55483, 55484, 55485, 55486, 55487, 55488.
We also purchase cars within up to 100 miles including in cities such as Nokomis, Lynnhurst, Tangletown, Linden Hills, Southwest Minneapolis, Carag, Powderhorn, Uptown, Longfellow, Seward, Prospect Park, Elliot Park, Downtown West, Calhoun Isles, Bryn Mawr, North Loop, Dinkytown, Near North, Northeast Park & all surrounding areas.