We Buy Junk Cars For Cash in St. Paul, Minnesota: Sell Any Condition
Get your best offer to sell your junk car for cash in St. Paul, MN to top-rated junk car buyers nearby.
Get a fast offer with our best price now:
We Pay Cash for Cars in St. Paul
We buy junk cars in St. Paul in any condition: junk cars, clunkers, damaged vehicles, unwanted trucks, abandoned cars and more. We will make you an excellent offer on the value of any car you show us—so feel free to call our 24-hour hotline at (855) 587-0227 and speak to an appraiser today.
We are a highly reputable team of junk car buyers in St, Paul, MN. By offering top dollar for unwanted cars that our expert appraisers can then part out to the highest bidder, we are able to outmatch the prices that our competitors offer for the same vehicles. We have an extensive network of buyers, auto recyclers, and resellers with whom we do business; their need for parts and materials turns into money for your junk car in St. Paul, MN!
What We Do:
We offer top dollar for junk cars in St. Paul, MN
We remove junk cars for free in St. Paul, MN
We buy cars without titles
We purchase cars in all conditions, including damaged cars and wrecks
We offer the most up-to-date scrap prices in St. Paul, MN
Junk Car Medics St. Paul
St. Paul, MN 55101
(855) 587-0227
Calling Hours:
Call For Quote 24/7
Business Hours:
Mon-Fri: 8 am – 7 pm
Sat: 8 am – 2 pm
Sun: Closed
Top rated junk car buyers.
How to Sell Junk Cars in
St. Paul, MN
Sell junk cars in St. Paul, MN with our quick, easy, painless process. Get up to $300, $500, even $1,500 cash for junk cars, old cars, damaged cars, and used cars.
Here's how it works:
Step 1: Get an Instant Offer Online or by Phone
We'll ask you a few basic questions about your car's condition, mileage, and whether you have the title.  It's a quick process that'll take less than 2 minutes to complete, and you'll get a fair market offer to junk your car.
Step 2: Accept Your Offer and Make Arrangements
After you accept your offer a representative will contact you to make arrangements for the removal of your junk car.  Towing and removal are free of charge.
Step 3: Get Paid More For Using Junk Car Medics in
St. Paul
Upon pick up, sign over the title, hand over the keys, and you'll get paid on the spot with a check for your car.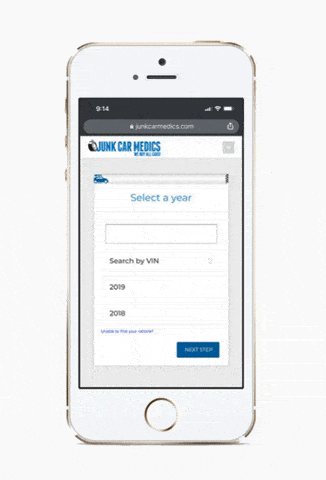 Why Junk My Car with Junk Car Medics in St. Paul?
Jon S. - Junk Car Medics Customer
I was trying to get rid of my 2008 GMC 1500 that needed a new transmission. Out of 8 different company's not only was there online quote fast and simple but they offered the best and highest price. When accepting the offer they made it easy with no complications. I scheduled my appointment and the driver came by the next day to remove it and pay me. If you are trying to get rid of your junk car they are the ones I recommend!
St. Paul Junk Car Prices
Over the last 12 months junk car prices in St. Paul, MN increased 68% on average for vehicle year models 1998-2008, the most commonly junked years! Let's take a look at some of the numbers:
[visualizer id="33617" lazy="no" class=""]
Most Common Junk Cars in St. Paul
2004 Chevrolet Malibu - $365.56
2011 Chevrolet Malibu - $998.57
1997 Ford Explorer - $321.25
2005 Jeep Grand Cherokee - $451.25
2008 Ford Taurus - $363.75
2006 Volvo S-40 - $420.00
2001 Toyota Avalon - $395.00
2002 Chevrolet Malibu - $398.33
2000 Jeep Grand Cherokee - $375.00
2006 Ford Fusion - $293.33
Junk Car Prices in St. Paul by Year
2000 - $345.81
2001 - $387.83
2002 - $413.13
2003 - $462.93
2004 - $390.31
2005 - $435.22
2006 - $465.00
2007 - $470.69
2008 - $530.17
2010 - $473.82
10 Junk Cars Worth Over $500 in St. Paul
1999 Toyota Tacoma - $1,905.00
2001 Nissan Frontier - $1,125.00
2002 Toyota Sienna - $1,085.00
2003 Mitsubishi Montero - $1,155.00
2003 Toyota Tundra - $1,475.00
2004 Honda CR-V - $1,355.00
2006 Lexus ES 330 - $1,255.00
2007 Honda Pilot - $1,330.00
2008 Honda Accord - $1,325.00
2008 Honda Pilot - $1,235.00
The #1 Junk Car Removal Service in St. Paul
Do you have a clunker that you'd like to sell? Is there an abandoned car or truck sitting on our property that you can't wait to get rid of? If someone gave you money up-front for that car and offered to tow it off your property for free, would you take them up on it? You should, because Junk Car Medics is ready to offer you top-dollar rates, buying junk cars in St. Paul, MN.
How Can I Sell My Junk Car?
As the top junk car buyers in St. Paul, MN, we do everything we can to make sure your transaction with us is a smooth one. That includes free quotes over the phone, free towing for the vehicle in question, and a guarantee of up-front payment.
With Junk Car Medics, it's truly that simple. If you don't have the title, we are more than happy to help you sell your car—we just need to complete some paperwork on your behalf in order to establish ownership of the vehicle. This isn't hard to do, and we have years of experience helping people who have lost the titles to their cars get them sold, so give us a call and let us help you the same way.
Free Towing & Removal
When you are trying to sell a junk car, one of the most important questions you need to ask is how you plan on moving it. Many auto recyclers in St. Paul, MN will charge for towing junk vehicles, dragging down whatever price they were willing to pay for it. In many cases, they do this deliberately in order to offer higher prices than they will ever actually pay.
At Junk Car Medics, we recognize these shady business practices for what they are and refuse to take part in them. With us, you will get the exact sum promised so long as the vehicle matches your original description. We charge no hidden fees of any kind for our services. Give us a call today and ask for a quote to learn more.
What You Need to Sell Your Car 
We are dedicated to making life easy for you, which is why we only ask for two documents when buying junk cars:
Your state ID
The vehicle's title
State regulations require us to establish ownership of the vehicle using these documents, but if you're missing the title we can work with you on obtaining proof of ownership.
Do junkyards in Saint Paul buy junk cars for cash?
Certainly, there are numerous junkyards in Saint Paul that buy junk cars. However, it's important to note that the amount they are willing to pay might not be the highest available. To ensure you get the best value for your junk car, it's advisable to obtain quotes from several junk car buyers in the vicinity. By doing so, you increase your chances of securing the highest possible monetary offer for your vehicle.
We Buy Used Cars in St. Paul, MN
While we are expert auto scrap dealers, our network of auto recyclers is also interested in used cars that still run. Junk Car Medics Cash for Junk Cars Service in St. Paul, MN are prepared to offer up to $7,500 for used vehicles in decent condition, so give us a call and get a quote today. We serve the entire Twin Cities Metropolitan Area, from Roseville to Maplewood, across the 94 highway and even north along the 36 into Little Canada. Trust us to pay you for your junk cars and call today!
---
We also buy junk cars in St. Paul neighborhoods such as: Eastview, Conway, Battle Creek, Highwood Hills, Greater East Side, West Side, Dayton's Bluff, Payne-Phalen, North End, Frogtown, Summit-University, West Seventh/Fort Road, Como Park, Hamline Midway, Saint Anthony Park, Union Park, Macalester-Groveland, Highland Park, Summit Hill, and Downton.
We buy cars in the following zip codes in St. Paul: 55101, 55102, 55103, 55104, 55105, 55106, 55107, 55108, 55113, 55114, 55116, 55117, 55118, 55119, 55130, 55155.
Recent Purchases By Our Junk Car Buyers in
St. Paul, MN
2007 Toyota Camry Hybrid

Zip: 55108
Sale Price: $565
Date: 09-08-2023
2016 Land Rover Range Rover Sport
Zip: 55106
Sale Price: $8055
Date: 08-11-2023
2014 Ram Cargo Van
Zip: 55106
Sale Price: $535
Date: 08-01-2023
2014 Audi RS 5

Zip: 55105
Sale Price: $6320
Date: 07-31-2023
2003 Toyota Highlander

Zip: 55102
Sale Price: $550
Date: 07-31-2023
2013 Dodge Journey

Zip: 55107
Sale Price: $545
Date: 07-30-2023
2011 Chevrolet Aveo5

Zip: 55103
Sale Price: $550
Date: 06-07-2023
2008 Chrysler Town & Country

Zip: 55106
Sale Price: $550
Date: 05-31-2023
2008 Toyota Prius

Zip: 55101
Sale Price: $660
Date: 05-26-2023
2005 Toyota Sienna

Zip: 55104
Sale Price: $530
Date: 05-15-2023
2012 Toyota Prius

Zip: 55106
Sale Price: $890
Date: 04-29-2023
2011 Volkswagen Jetta

Zip: 55104
Sale Price: $510
Date: 04-13-2023
2008 Subaru Impreza

Zip: 55102
Sale Price: $660
Date: 04-12-2023
2010 Subaru Forester

Zip: 55104
Sale Price: $755
Date: 04-03-2023
2010 Dodge Charger

Zip: 55105
Sale Price: $545
Date: 03-30-2023
2006 Toyota Camry

Zip: 55108
Sale Price: $655
Date: 03-22-2023
2006 Toyota Camry

Zip: 55108
Sale Price: $700
Date: 03-21-2023
2006 Toyota Camry

Zip: 55107
Sale Price: $650
Date: 03-21-2023
2014 Ford Focus

Zip: 55106
Sale Price: $590
Date: 03-14-2023
2005 Toyota Sienna

Zip: 55104
Sale Price: $515
Date: 03-13-2023
2007 Chevrolet Silverado

Zip: 55102
Sale Price: $655
Date: 03-01-2023