Get More Cash for Junk Cars in Kansas City, MO
Junk your car to Kansas City's #1 cash for cars service that gets you up to $500 more.
Get a fast offer with our best price now:
We Buy Junk Cars for Cash in
Kansas City
This is crazy. A free junk car removal in Kansas City that also reports paying top dollar for vehicles anywhere in the area? Not only do we buy junk cars in Kansas City but we also provide you with this invaluable service, we also help remove a potential hazard from your property. Along with rusting and depreciating in value, your car may be subject to tickets and fines depending on your local ordinance. There has never been a process as easy as this for selling your vehicle.
It get worse. A junk car is like a tumor that sits on your property, decreasing the value of everything around it as it just sits there. Instead of letting this happen, contact our junk car buyers in Kansas City and allow us to help you restore your property back to good health by removing the automobile. Regardless of what side of the Kansas and Missouri Rivers you are on, let Junk Car Medics turn your problem into money. It's quick and easy!
You might be wondering if there is some kind of catch. Given what other auto junk yards in Kansas city are like, we don't blame you. However, at Junk Car Medics we set ourselves apart by not only buying and transporting your clunker, but also helping you deal with the DMV and go about getting the title and registration. We will even help you donate your junk car to a charity in town if that is what you prefer.
Junk Car Medics Kansas City
Kansas City, MO 64108
(816) 608-8631

Calling Hours:
Call For Quote 24/7
Business Hours:
Mon-Fri: 8 am – 7 pm
Sat: 8 am – 2 pm
Sun: Closed
How to Junk a Car in
Kansas City, MO
Junk Car Medics makes selling a junk car for cash in Kansas City, MO quick, easy, and painless. Get up to $1,500 to junk cars and up to $5,000 for used cars.
Here's how it works:
Step 1: Get an Instant Offer Online or by Phone
We'll ask you a few basic questions about your car's condition, mileage, and whether you have the title.  It's a quick process that'll take less than 2 minutes to complete, and you'll get a fair market offer to junk your car.
Step 2: Accept Your Offer and Make Arrangements
After you accept your offer a representative will contact you to make arrangements for the removal of your junk car.  Towing and removal are free of charge.
Step 3: Get Paid More For Using Junk Car Medics in
Kansas City
Upon pick up, sign over the title, hand over the keys, and you'll get paid on the spot with a check for your car.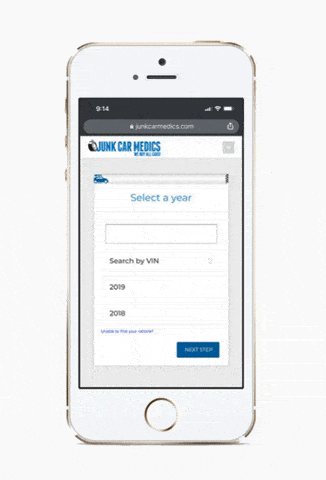 Why Junk Your Car to Junk Car Medics Cash for Junk Car Service in Kansas City?
Jon S. - Junk Car Medics Customer
I was trying to get rid of my 2008 GMC 1500 that needed a new transmission. Out of 8 different company's not only was there online quote fast and simple but they offered the best and highest price. When accepting the offer they made it easy with no complications. I scheduled my appointment and the driver came by the next day to remove it and pay me. If you are trying to get rid of your junk car they are the ones I recommend!
Recent Purchases By Our Junk Car Buyers in
Kansas City, MO
2003 Ford Explorer Sport Trac

Zip: 64111
Offer Price: $935
Offer Date: 10-16-2021
2007 KIA Rondo

Zip: 64110
Offer Price: $710
Offer Date: 10-14-2021
2006 Hyundai Tucson

Zip: 64111
Offer Price: $620
Offer Date: 09-02-2021
2007 Ford Escape

Zip: 64113
Offer Price: $660
Offer Date: 04-30-2021
2012 FORD Focus

Zip: 64108
Offer Price: $825
Offer Date: 04-29-2021
2002 Honda Civic

Zip: 64112
Offer Price: $640
Offer Date: 04-12-2021
2004 Ford Mustang

Zip: 64110
Offer Price: $645
Offer Date: 04-03-2021
2003 Toyota Camry

Zip: 64112
Offer Price: $530
Offer Date: 01-28-2021
2011 Dodge Avenger

Zip: 64110
Offer Price: $625
Offer Date: 01-19-2021
2008 Toyota Camry

Zip: 64112
Offer Price: $690
Offer Date: 01-04-2021
2008 Toyota Camry

Zip: 64112
Offer Price: $790
Offer Date: 01-03-2021
Kansas City, MO October 27, 2021
Kansas City Junk Car Prices
Top 7 Used Cars in
Kansas City, MO
Coming soon
Top 7 Junk Cars in
Kansas City, MO
Coming soon
The #1 Junk Car Removal Service in Kansas City
Selling your junk car in Kansas City, MO has never been a straightforward process, right? Considered by some in the greater metropolitan area to be akin to having a tooth yanked out, many hope that there is a better way. This is where we at Junk Car Medics come in. We buy clunkers and give money in Kansas City, providing you with a simple and straightforward process that is also the best deal in either Missouri or Kansas. Contact us now for more information regarding our superior service and 100% satisfaction guarantee!
Here's the Kicker
Everyday we help hundreds of Kansas City residents sell their junk cars. We make the process simple, straightforward, and a minimum of hassle for you our client. Don't bother wasting your time calling other junk yards and getting back estimated quotes that will change when you get there. Instead, go with the dynamic group that will be there for your regardless of your needs.
Whether you car finally died outside Arrowhead Stadium or you and the family car is stranded along your favorite spot on the Missouri River, we will be there with the services you require. Our junk car buyers are standing by to help you solve this problem and provide you with the payment you deserve as a result.
At Junk Car Medics we buy your vehicles and provide the very best rate out there. With free towing in and around the greater Kansas City area, we will help you get a better price for your vehicle while removing hassle from the experience.
Where Can I Sell My Junk Cars In Kansas City, Missouri?
While there may be a lot of options out there, going with the best option means getting less hassle and saving more time. Junk Car Medics is a refreshing change with upfront practices, the best prices around, and a professional staff. Having screened through the local auto salvage yards in Kansas City, we know what they are paying and how we can beat that.
What Do I Need To Sell My Junk Car In Kansas City?
The two primary things you will require is the car title as well as the registration information. Working on your behalf, we will help you through how you can acquire this information as well as what to do when at the Department of Motor Vehicles. We will then provide free towing services in and around Kansas City Missouri to help get your junk car off your property. The value of your vehicle will be determined by the overall weight of the vehicle and it will be scrapped once you are paid and fully satisfied.
Does Junk Car Medics Provide A Guarantee?
Yes! Here at Junk Car Medics, we provide a 100% satisfaction guarantee. This process can be shady with some auto junk yards in Kansas City. That is why we buy your junk cars in Kansas City as a way to provide a valuable service to the community that we believe matches the respect and professionalism we feel our community deserves.
Call Junk Car Medics Cash for Junk Cars Service in Kansas City, MO Now!
---
We buy cars in the following zip codes in Kansas City: 64101, 64102, 64105, 64106, 64108, 64109, 64110, 64111, 64112, 64113, 64114, 64116, 64117, 64118, 64119, 64120, 64121, 64123, 64124, 64125.