Get More Cash for Junk Cars in Lincoln, NE
Junk your car to Lincoln's #1 cash for cars service that gets you up to $500 more.
Get a fast offer with our best price now:
We Buy Junk Cars for Cash in
Lincoln
We are the top junk car buyers in Lincoln, NE, and we do everything we can do make sure every transaction we complete is a smooth one. You can get free quotes over the phone with us, free towing for your junk car, and you can always rely on us to pay up-front when we buy your car.
When you work with us, it really is that simple. Even if you don't have the title, our compliance experts can help you sell your junk car in Lincoln, NE. There are specific steps that need to be taken in order to establish proof of ownership and we can guide you through the process, taking care of the paperwork on the way.
We buy junk cars in Lincoln along with clunkers, damaged vehicles, abandoned trucks, and auto wrecks. Our appraisal team is ready to offer up to $7,500 for used cars, and always offers top-dollar rates for junk vehicles in all states and conditions. Call our 24-hour hotline at (855) 587-0227 and ask for a quote to find out how much you can make today.
Junk Car Medics Lincoln
Lincoln, NE 68336
(402) 243-6225

Calling Hours:
Call For Quote 24/7
Business Hours:
Mon-Fri: 8 am – 7 pm
Sat: 8 am – 2 pm
Sun: Closed
How to Junk a Car in
Lincoln, NE
Junk Car Medics makes selling a junk car for cash in Lincoln, NE quick, easy, and painless. Get up to $1,500 to junk cars and up to $5,000 for used cars.
Here's how it works:
Step 1: Get an Instant Offer Online or by Phone
We'll ask you a few basic questions about your car's condition, mileage, and whether you have the title.  It's a quick process that'll take less than 2 minutes to complete, and you'll get a fair market offer to junk your car.
Step 2: Accept Your Offer and Make Arrangements
After you accept your offer a representative will contact you to make arrangements for the removal of your junk car.  Towing and removal are free of charge.
Step 3: Get Paid More For Using Junk Car Medics in
Lincoln
Upon pick up, sign over the title, hand over the keys, and you'll get paid on the spot with a check for your car.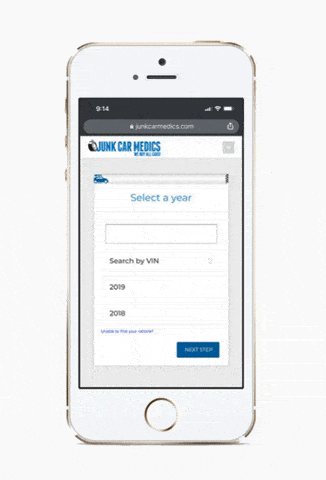 Why Junk Your Car to Junk Car Medics Cash for Junk Car Service in Lincoln?
Jon S. - Junk Car Medics Customer
I was trying to get rid of my 2008 GMC 1500 that needed a new transmission. Out of 8 different company's not only was there online quote fast and simple but they offered the best and highest price. When accepting the offer they made it easy with no complications. I scheduled my appointment and the driver came by the next day to remove it and pay me. If you are trying to get rid of your junk car they are the ones I recommend!
Recent Purchases By Our Junk Car Buyers in
Lincoln, NE
2001 Jeep Cherokee

Zip: 68502
Offer Price: $750
Offer Date: 10-04-2021
1996 Ford Ranger

Zip: 68507
Offer Price: $665
Offer Date: 09-26-2021
2012 Ford Focus

Zip: 68505
Offer Price: $880
Offer Date: 09-24-2021
1996 Nissan Pickup

Zip: 68508
Offer Price: $740
Offer Date: 08-26-2021
2013 Chrysler 200

Zip: 68504
Offer Price: $595
Offer Date: 08-11-2021
1991 Chevrolet C/K 1500

Zip: 68505
Offer Price: $525
Offer Date: 07-24-2021
2011 Volkswagen Golf

Zip: 68506
Offer Price: $915
Offer Date: 03-27-2021
2001 Volkswagen Passat

Zip: 68504
Offer Price: $90
Offer Date: 01-02-2021
Lincoln, NE October 26, 2021
Lincoln Junk Car Prices
Top 7 Used Cars in
Lincoln, NE
Coming soon
Top 7 Junk Cars in
Lincoln, NE
Coming soon
The #1 Junk Car Removal Service in Lincoln
Do you have a clunker to sell? Is there an abandoned truck on your property that you've been meaning to get rid of but don't know how? What if you could get paid just by calling a single phone number? At JunkCarMedics.com, we offer fast service for cars of all kinds, in all conditions, and we're ready to buy your junk car in Lincoln, NE.
JunkCarMedics.com Offers:
Easy money for junk cars in Lincoln, NE
Free removal in Lincoln, NE
Payment for cars without titles
Money for damaged cars and wrecks
The most up-to-date scrap prices in Lincoln, NE
Free Towing & Removal
One of the lesser-known dangers of selling your junk car in Lincoln, NE is paying hidden fees and being charged for services you don't need to pay for. Towing is a common example: most of our competitors charge for towing. This lets them make higher offers than they're actually willing to pay, since you're not likely to turn them down once they've already arrived at your home or place of business to the take the car.
At Junk Car Medics we never take part in shady business practices like that. We offer the exact sum we promise over the phone, without any hidden charges or extra fees. If you want to know how much your junk car is really worth, call us and ask for a quote.
Documents You Need to Sell Your Car
As highly professional auto recyclers, we like to keep things simple for you. You only need two documents to get your car sold today:
The vehicle title
Your state ID
As mentioned above, if you don't have the vehicle title we can use other means to establish proof of ownership in accordance with state law.
We Purchase Used Cars Too 
We're not only interested in junk cars, but in decently running used cars, too. As local expert auto recyclers in Lincoln, NE, we have an extensive network of auto parts dealers who are willing to buy working auto components and accessories. It is through this network of auto parts dealers that we can produce profits by parting out cars with valuable secondhand parts.
If you have a used or a junk car that still has functional parts, we want to buy it from you today. Call Junk Car Medics Cash for Junk Cars Service in Lincoln, NE and have us pick up your car from anywhere along the I-80: From Pleasant Dale to Greenwood or Prairie Home. We'll travel to Eagle or even as far as Bennet. Call us to find out more and get a quote on yours.
---
We also buy junk cars in nearby cities such as: Hickman, Milford, Seward, and Waverly.
We buy cars in the following zip codes in Lincoln: 68336, 68430, 68502, 68503, 68504, 68505, 68506, 68507, 68508, 68510, 68512, 68514, 68516, 68517, 68520, 68521, 68522, 68523, 68524, 68526, 68528, 68531.