Get More Cash for Cars and Junk Cars in Albuquerque, NM
Junk your car to Albuquerque's #1 cash for cars service that gets you up to $500 more.
Get a fast offer with our best price now:
We Buy Junk Cars for Cash in Albuquerque
As the most reputable junk car buyers in Albuquerque, NM, we offer the best rates and the fastest, most reliable service in the industry. We are fully licensed and qualified to buy all kinds of vehicles, from junkers and wrecks to used cars in running condition. Whatever the case is, we guarantee the best price around.
Since we are experts in the appraisal and recycling of used cars, we buy junk cars in Albuquerque and can accurately price out the value of each component in the car you provide to us. This, combined with our network of buyers and auto recyclers, makes us able to offer the highest possible amount in our industry. Not only that, but we provide complete accountability for the sale, as well.
When it comes to used cars and trucks, we are prepared to pay up to $10,000 for vehicles in decent condition. Wrecks and junk cars typically earn their weight in scrap metal, which can be a very attractive sum, especially considering that the only other option is letting the car sit and rust on your property.
Junk Car Medics Albuquerque
Albuquerque, NM 87101
(505) 240-8342

Calling Hours:
Call For Quote 24/7
Business Hours:
Mon-Fri: 8 am – 7 pm
Sat: 8 am – 2 pm
Sun: Closed
How to Junk a Car in Albuquerque, NM
Junk Car Medics makes selling a junk car for cash in Albuquerque, NM quick, easy, and painless. Get up to $1,500 to junk cars and up to $5,000 for used cars.
Here's how it works:
Step 1: Get an Instant Offer Online or by Phone
We'll ask you a few basic questions about your car's condition, mileage, and whether you have the title.  It's a quick process that'll take less than 2 minutes to complete, and you'll get a fair market offer to junk your car.
Step 2: Accept Your Offer and Make Arrangements
After you accept your offer a representative will contact you to make arrangements for the removal of your junk car.  Towing and removal are free of charge.
Step 3: Get Paid More For Using Junk Car Medics in Albuquerque
Upon pick up, sign over the title, hand over the keys, and you'll get paid on the spot with a check for your car.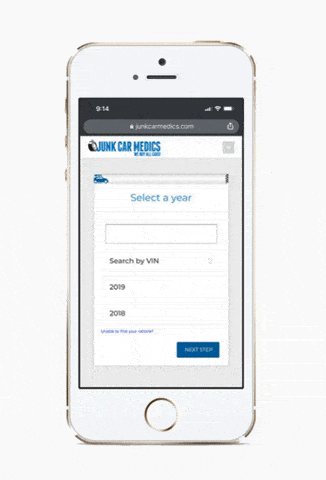 Why Junk Your Car to Junk Car Medics Cash for Junk Car Service in Albuquerque
Jon S. - Junk Car Medics Customer
I was trying to get rid of my 2008 GMC 1500 that needed a new transmission. Out of 8 different company's not only was there online quote fast and simple but they offered the best and highest price. When accepting the offer they made it easy with no complications. I scheduled my appointment and the driver came by the next day to remove it and pay me. If you are trying to get rid of your junk car they are the ones I recommend!
Recent Purchases by Our Junk Car Buyers in Albuquerque, NM
2002 Honda Accord

Zip: 87106
Offer Price: $610
Offer Date: 09-24-2021
1999 Honda Prelude

Zip: 87106
Offer Price: $570
Offer Date: 09-09-2021
2006 Dodge Durango

Zip: 87110
Offer Price: $590
Offer Date: 08-08-2021
2005 BMW X5

Zip: 87109
Offer Price: $630
Offer Date: 07-23-2021
2009 Volkswagen Jetta

Zip: 87102
Offer Price: $540
Offer Date: 07-22-2021
2005 Mercedes-Benz E-Class

Zip: 87112
Offer Price: $870
Offer Date: 07-19-2021
2005 Mercedes-Benz E-Class

Zip: 87112
Offer Price: $920
Offer Date: 07-17-2021
2008 Dodge Nitro

Zip: 87113
Offer Price: $775
Offer Date: 07-13-2021
1998 Jeep Grand Cherokee

Zip: 87107
Offer Price: $980
Offer Date: 06-18-2021
2005 Bmw X5

Zip: 87109
Offer Price: $755
Offer Date: 06-15-2021
2009 Chevrolet Impala

Zip: 87108
Offer Price: $705
Offer Date: 06-15-2021
2009 Chevrolet Impala

Zip: 87108
Offer Price: $705
Offer Date: 06-15-2021
2006 Cadillac CTS

Zip: 87108
Offer Price: $885
Offer Date: 06-09-2021
2009 Dodge Avenger

Zip: 87107
Offer Price: $545
Offer Date: 06-04-2021
2010 Chevrolet Traverse

Zip: 87109
Offer Price: $555
Offer Date: 06-04-2021
Albuquerque, NM October 16, 2021
Albuquerque Junk Car Prices
Top 7 Used Cars in Albuquerque, NM
Coming soon.
Top 7 Junk Cars in Albuquerque, NM
Coming soon.
The #1 Junk Car Removal Service in Albuquerque
Do you have a clunker sitting on your property, taking up space and becoming an eyesore for the neighborhood? How would you like to have that car towed away for free? What if you could get it sold at the same time and get money for it today? With JunkCarMedics.com, you can get top-dollar rates and immediate payment by selling your junk car in Albuquerque, NM.
We are local buyers with an auto scrapyard who purchase cars and trucks in all conditions. We will buy any vehicle you want to sell, whether it runs or not. You can sell us a wreck, a totaled vehicle, or even a decently running old truck you simply don't need anymore. Whatever the case is, we assure top prices, free towing and immediate service.
Free Towing & Removal
Not only do we pay the highest prices for junk cars in Albuquerque, NM, we also remove those vehicles and tow them away for free. This is particularly useful in the case of abandoned vehicles that can be stuck on untenable land or in positions where removing them is very difficult. You don't need to be concerned with that at all since our specialists will.
As a reputable auto scrap dealer, we offer a deep contrast to what many of our competitors do when it comes time to remove junk cars in Albuquerque, NM. Many will quote a high price for a vehicle and then drag the sum downwards with hidden fees and extra charges. This isn't the case with us; you get exactly the sum we promise in our quote.
What Do I Need to Sell My Junk Car?
This is a good question and it has a simple answer. To sell your junk car in Albuquerque, NM, you only need two items apart from the car itself:
A valid drivers license or state ID
The title of the vehicle
If you do not have the vehicle's title, we are still willing to buy it from you. New Mexico law specifies that some extra paperwork needs to be done for that to happen, but our regulation and compliance specialists are ready to take care of that for you. Just give us a call and ask to find out more!
Things To Know About JunkCarMedics.com:
We will buy any type of car or truck in any condition
You can get your vehicle removed off your property for free with our services
You can get paid the very moment we show up to remove your car
You can call us to learn the latest scrap prices in Albuquerque, NM
You can sell your junk car to us even if you don't have the title on-hand.
Call (855) 437-9728 to learn more about Junk Car Medics Cash for Junk Cars Service in Albuequerque and get a quote for the sale of your junk car today. We serve the entire greater Albuquerque metropolitan area and all major suburbs, from Corrales to Los Ranchos de Albuquerque and beyond. North Valley, South Valley, Ventana Ranch and the Sandias Foothills are all included, so call us today!
---
We Buy Cars in all zip codes in Albuquerque including these popular ones: 87101, 87102, 87103, 87104, 87105, 87106, 87107, 87108, 87109, 87110, 87111, 87112, 87113, 87114, 87116, 87119, 87120, 87121, 87122, 87123, 87125, 87131, 87153, 87154, 87158, 87176, 87181, 87187, 87190, 87191, 87192, 87193, 87194, 87196, 87197, 87198, 87199.
We also purchase cars within up to 100 miles including in cities such as Taylor Ranch, West Mesa, Barelas, Sunport, South Valley & all surrounding areas.