Get More Cash for Cars and Junk Cars in Cincinnati, OH
Junk your car to Cincinnati's #1 cash for cars service that gets you up to $500 more.
Get a fast offer with our best price now:
We Buy Junk Cars for Cash in Cincinnati
We buy junk cars in Cincinnati and offer the best rates. Our team of highly reputable auto appraisers is regularly able to part out vehicles and obtain great prices for highly sought-after parts. Even if you think your car is too damaged or worn out to offer much, you'd be surprised just how much you can make by selling your junk car to us.
We are prepared to buy any car, in any condition, including damaged and totaled cars of all kinds. We also run our own tow truck service, allowing us to offer free car and truck removal to automobile owners who contact us for quotes.
As junk car buyers in Cincinnati, we are able to get great deals for used cars in decent condition. You can earn up to $10,000 for a car like this, so feel free to call us and ask for a quote even if your car isn't a clunker. Our appraisers offer quotes based on the value of every component, so we are able to offer higher rates for cars in driveable condition.
Compared with trying to sell your car on the open market, you may be much better served by simply selling it to us. The time you save alone is worth it, since you don't have to show the car to a hundred prospective buyers just hoping one will buy it—we will take it, guaranteed!
Call us and ask for a quote on your junk car or used truck. With same-day service, 24-hour phone support, and a promise of immediate payment, you have nothing to lose and everything to gain by contacting us.
Junk Car Medics Cincinnati
Cincinnati, OH 45202
(513) 586-5948

Calling Hours:
Call For Quote 24/7
Business Hours:
Mon-Fri: 8 am – 7 pm
Sat: 8 am – 2 pm
Sun: Closed
How to Junk a Car in Cincinnati, OH
Junk Car Medics makes selling a junk car for cash in Cincinnati, OH quick, easy, and painless. Get up to $1,500 to junk cars and up to $5,000 for used cars.
Here's how it works:
Step 1: Get an Instant Offer Online or by Phone
We'll ask you a few basic questions about your car's condition, mileage, and whether you have the title.  It's a quick process that'll take less than 2 minutes to complete, and you'll get a fair market offer to junk your car.
Step 2: Accept Your Offer and Make Arrangements
After you accept your offer a representative will contact you to make arrangements for the removal of your junk car.  Towing and removal are free of charge.
Step 3: Get Paid More For Using Junk Car Medics in Cincinnati
Upon pick up, sign over the title, hand over the keys, and you'll get paid on the spot with a check for your car.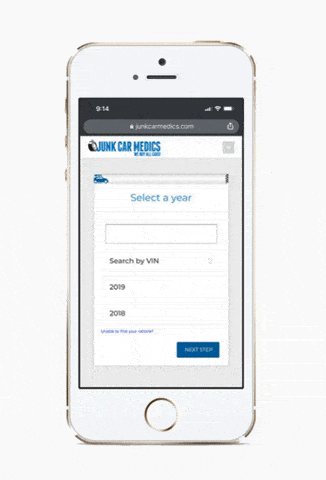 Why Junk Your Car to Junk Car Medics Cash for Junk Car Service in Cincinnati?
Jon S. - Junk Car Medics Customer
I was trying to get rid of my 2008 GMC 1500 that needed a new transmission. Out of 8 different company's not only was there online quote fast and simple but they offered the best and highest price. When accepting the offer they made it easy with no complications. I scheduled my appointment and the driver came by the next day to remove it and pay me. If you are trying to get rid of your junk car they are the ones I recommend!
Recent Purchases By Our Junk Car Buyers in Cincinnati, OH
2002 Lexus RX 300

Zip: 45231
Offer Price: $585
Offer Date: 10-12-2021
2008 Mazda 3

Zip: 45238
Offer Price: $500
Offer Date: 10-06-2021
2010 Dodge Journey

Zip: 45230
Offer Price: $860
Offer Date: 10-04-2021
2001 Mercedes-benz ML

Zip: 45220
Offer Price: $620
Offer Date: 09-26-2021
2010 GMC Acadia

Zip: 45219
Offer Price: $585
Offer Date: 09-07-2021
2010 Gmc Acadia

Zip: 45219
Offer Price: $540
Offer Date: 09-07-2021
2007 Gmc Acadia

Zip: 45239
Offer Price: $715
Offer Date: 09-06-2021
2006 Nissan Armada

Zip: 45237
Offer Price: $850
Offer Date: 08-10-2021
2000 Ford Crown Victoria LX

Zip: 45216
Offer Price: $550
Offer Date: 08-06-2021
2008 Honda Accord

Zip: 45211
Offer Price: $845
Offer Date: 08-03-2021
2004 Mercedes-Benz C-Class Wagon

Zip: 45238
Offer Price: $545
Offer Date: 08-03-2021
2003 Honda Accord

Zip: 45220
Offer Price: $590
Offer Date: 07-31-2021
2007 Hyundai Sonata

Zip: 45224
Offer Price: $690
Offer Date: 07-29-2021
2007 Jeep Grand Cherokee

Zip: 45227
Offer Price: $630
Offer Date: 07-22-2021
2007 Toyota Camry Hybrid

Zip: 45205
Offer Price: $830
Offer Date: 07-19-2021
Cincinnati, OH October 17, 2021
Cincinnati Junk Car Prices
Top 7 Used Cars in Cincinnati, OH
Coming soon
Top 7 Junk Cars in Cincinnati, OH
Coming soon
The #1 Junk Car Removal Service in Cincinnati
We offer instant payment for junk cars in Cincinnati, OH
We provide free car removal services in Cincinnati, OH
You can get the most recent scrap prices in Cincinnati, OH from us
You can sell us a car even if you don't have a title
We'll buy any car in any condition
What Do I Need to Sell My Junk Car?
Getting your junk car sold is easy when you choose to work with us. We only need two documents from you in order to start the process:
Your valid state ID or your driver's license
The title document of the vehicle
We're aware that sometimes titles get misplaced, stolen or damaged. If this is the case with your car, you needn't worry. We can help you sell your car even without a title. Typically this adds a little bit of paperwork to the process but it's nothing we aren't used to handling—our compliance specialists will be able to navigate the requirements of state regulation and get the proof of ownership needed to successfully sell your junk car in Cincinnati, OH.
The Simple Process of Selling Your Junk Car in Cincinnati, OH
Knowing that Junk Car Medics is ready to purchase any vehicle on the market, you can be sure that dealing with us is a simple process. Apart from offering the best rates on the market, we also offer the fastest and easiest transaction service in Hamilton County. All you need to do is follow these three steps:
Contact us and get a quote from one of our specialists
Work out a convenient time for pick up
Sign over your title and get paid on the spot.
Free Towing & Removal
Whether you live in central Cincinnati or one of its many suburbs, you can count on us to provide quick, reliable junk car removal services. We are ready to offer same-day service for picking up abandoned cars in Deerfield Township, Mariemont, Mason, Dry Run, or the Village of Indian Hill. We'll go just about anywhere and offer completely free removal services no matter how difficult or inaccessible your abandoned vehicle might be.
This is a valuable offer since many competing junk car buyers in Cincinnati, OH actually charge for this service. Even when paying out money, they will charge for the towing and removal, leveraging the sale to make them more profit than it does for you. We never partake in shady tactics, Junk Car Medics Cash for Junk Cars Service in Cincinnati, OH gets you the full sum as promised.
---
We also buy junk cars in nearby cities such as: Hamilton, Middletown, Fairfield, Mason, Oxford, Lebanon, Norwood, Forest park, Springboro, Sharonville, Blue Ash, Wilmington, Loveland, and Springdale.
We buy cars in the following zip codes in Cincinnati: 45202, 45203, 45204, 45205, 45206, 45207, 45208, 45209, 45211, 45212, 45213, 45214, 45215, 45216, 45217, 45219, 45220, 45223, 45224, 45225, 45226, 45227, 45229, 45230, 45231, 45232, 45233, 45237, 45238, 45239, 45243, 45248.