Get More Cash for Junk Cars in Columbus, OH
Junk your car to Columbus's #1 cash for cars service that gets you up to $500 more.
Get a fast offer with our best price now:
We Buy Junk Cars for Cash in Columbus
Having a junk car just lying around is the biggest waste of space, time, and money. We understand that a car is something you've invested in and you don't want to let it go. However, if you can't use the car, and the cost to repair it is considerably more than a) it's worth or b) you can afford, wouldn't it be nice to get rid of the headache to the best junk car buyers in Columbus?
Living in the capital city of Ohio is something you should have some pride for. But if your clunker can't get you to Easton Town Center or the Ohio Theater, then what good is it doing you? It's just sitting in your yard or in storage, collecting dust and providing zero value to you or your family. Instead, we buy junk cars in Columbus, OH so that you have more spending money and less stress. After all, wouldn't you love to take the family to an Ohio State game? Junk Car Medics can make that happen and take the junk off of your hands. Why bother with other salvage yards near me in Columbus? Call us now!
Contrary to popular belief, junk car removal in Ohio isn't so difficult. To make it easier, we want to make sure there aren't any surprises. Here are the things you'll need to do:
Locate the title of your vehicle: If you don't have your title try going to the DMV to obtain a duplicate title.
When we complete the sale, fill out the back of the title: The back of the title requires some information to be filled in. Make sure you fill in the mileage, sale price, and all other requested information clearly. If you don't you may have to pay for a replacement title.
Complete a Bill of Sale: You can get a sample bill of sale online.
Junk Car Medics Columbus
Columbus, OH 43215
(614) 963-8139

Calling Hours:
Call For Quote 24/7
Business Hours:
Mon-Fri: 8 am – 7 pm
Sat: 8 am – 2 pm
Sun: Closed
How to Junk a Car in
Columbus, OH
Junk Car Medics makes selling a junk car for cash in Columbus, OH quick, easy, and painless. Get up to $1,500 to junk cars and up to $5,000 for used cars.
Here's how it works:
Step 1: Get an Instant Offer Online or by Phone
We'll ask you a few basic questions about your car's condition, mileage, and whether you have the title.  It's a quick process that'll take less than 2 minutes to complete, and you'll get a fair market offer to junk your car.
Step 2: Accept Your Offer and Make Arrangements
After you accept your offer a representative will contact you to make arrangements for the removal of your junk car.  Towing and removal are free of charge.
Step 3: Get Paid More For Using Junk Car Medics in
Columbus
Upon pick up, sign over the title, hand over the keys, and you'll get paid on the spot with a check for your car.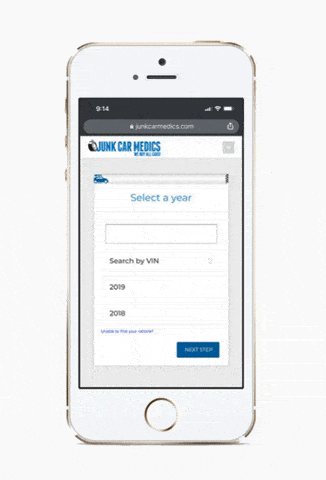 Why Junk Your Car to Junk Car Medics Cash for Junk Car Service in Columbus?
Jon S. - Junk Car Medics Customer
I was trying to get rid of my 2008 GMC 1500 that needed a new transmission. Out of 8 different company's not only was there online quote fast and simple but they offered the best and highest price. When accepting the offer they made it easy with no complications. I scheduled my appointment and the driver came by the next day to remove it and pay me. If you are trying to get rid of your junk car they are the ones I recommend!
Recent Purchases By Our Junk Car Buyers in
Columbus, OH
2008 Chrysler 300

Zip: 43209
Offer Price: $610
Offer Date: 10-23-2021
2008 Ford Focus

Zip: 43224
Offer Price: $535
Offer Date: 10-22-2021
2006 Chrysler 300

Zip: 43204
Offer Price: $590
Offer Date: 10-21-2021
2002 Toyota Camry

Zip: 43201
Offer Price: $600
Offer Date: 10-19-2021
2002 Ford Escape

Zip: 43206
Offer Price: $575
Offer Date: 10-19-2021
2009 Hyundai Accent

Zip: 43207
Offer Price: $535
Offer Date: 10-17-2021
2007 Infiniti G35

Zip: 43229
Offer Price: $710
Offer Date: 10-11-2021
2007 Infiniti G35

Zip: 43229
Offer Price: $710
Offer Date: 10-11-2021
2003 Honda Accord

Zip: 43202
Offer Price: $555
Offer Date: 10-11-2021
1996 Jeep Cherokee

Zip: 43211
Offer Price: $645
Offer Date: 10-02-2021
2011 Chevrolet Equinox

Zip: 43232
Offer Price: $795
Offer Date: 09-30-2021
2005 Mazda MAZDA3

Zip: 43202
Offer Price: $520
Offer Date: 09-27-2021
1997 Dodge Ram 1500

Zip: 43207
Offer Price: $530
Offer Date: 09-20-2021
2015 Toyota Camry

Zip: 43211
Offer Price: $95
Offer Date: 09-13-2021
2006 Hyundai Sonata

Zip: 43211
Offer Price: $675
Offer Date: 09-10-2021
Columbus, OH October 26, 2021
Columbus Junk Car Prices
Top 7 Used Cars in
Columbus, OH
Coming soon
Top 7 Junk Cars in
Columbus, OH
Coming soon
The #1 Junk Car Removal Service in Columbus
Owning a vehicle that is considered junk is hard enough as it is. You've put years of work and care into the car, and now it's worth nothing? You deserve some money and we are the auto recycler in Columbus, OH to provide it. You've earned it. In fact, we want to pay top dollar for your salvage cars in Dayton, OH. Even if you're over state lines in Pennsylvania, we'd love nothing more than to pay you for your cars in Pittsburgh, PA. All you have to do is give us a call. We'll find out what's ailing your car, and write the best prescription you could ever ask for: Dinero. It's quick and easy and you will be paid on the spot!
Who buys junk cars in Columbus, OH?
Columbus has its fair share of auto recyclers. How do you know you're not getting suckered out of money? Don't take the risk, call us at JunkCarMedics.com, and we'll give you a fair price on your vehicle.
Where can I get the most money for my junk car in Columbus, OH?
At JunkCarMedics.com, we don't believe in low-balling prices. We know how much your car meant to you, and its hard to put a price on something that's been so reliable for you. But every car has its time, and we want to pay fairly for your junk car in Columbus, OH.
Do I need a car title to sell my junk car in Columbus, OH?
Yes. You need to have either your car title or a replacement car title to get your vehicle removed. Things happen, and documents get lost. If you have no title, then you can head right over to your local branch of the DMV and they may be able to give you a replacement or duplicate title. You can learn more here at the local DMV.
Call Junk Car Medics Cash for Junk Cars Service in Columbus, OH Now!
---
We buy junk cars in Grove City and all zip codes such as the following in Columbus: 43085, 43201, 43202, 43203, 43204, 43205, 43206, 43207, 43209, 43210, 43211, 43212, 43213, 43214, 43215, 43216, 43217, 43218, 43219, 43220, 43221, 43222, 43223, 43224, 43226, 43227, 43228, 43229, 43230, 43231, 43232, 43234, 43235, 43236, 43240, 43251, 43260, 43266, 43268, 43270, 43271, 43272, 43279, 43287, 43291.
We also purchase cars within up to 100 miles including in cities such as Bexley, Whitehall, Clintonville, Forest Park East, Lincoln Village, Northwest Columbus, Hilltop, Zimmer, East Columbus, Blacklick Estates, Brice & all surrounding areas.