We Pay More Cash for Cars in Tulsa, OK
Junk your car to Tulsa's #1 cash for cars service that gets you up to $500 more.
Get a fast offer with our best price now:
We Buy Junk Cars for Cash in Tulsa
At Junk Car Medics, you can earn top-dollar payment for your junk car or used vehicle simply by calling us. We buy junk cars in Tulsa, in any condition, under nearly any circumstance. Have you lost the title to your vehicle? We can put the necessary paperwork together to get the car sold in full legal compliance with Oklahoma state law.
Our professional junk car buyers in Tulsa have the training and experience necessary to offer the highest prices for used cars of all kinds. We are qualified to price out the value of each individual component, selling them throughout an extensive network of buyers and auto recyclers who are willing to pay top-dollar for parts. This is how we are always able to provide our clients with the best possible prices.
In fact, we are prepared to offer up to $7,500 for used cars and trucks in decent condition, so you can be sure you're getting the best possible deal by working with us. Call today and find out how the Junk Car Medics can help line your pockets with money today!
Junk Car Medics Tulsa
Tulsa, OK 74008
(855) 587-0227
Calling Hours:
Call For Quote 24/7
Business Hours:
Mon-Fri: 8 am – 7 pm
Sat: 8 am – 2 pm
Sun: Closed
Top rated junk car buyers.
How to Sell Junk Cars in
Tulsa, OK
Sell junk cars in Tulsa, OK with our quick, easy, painless process. Get up to $300, $500, even $1,500 cash for junk cars, old cars, damaged cars, and used cars.
Here's how it works:
Step 1: Get an Instant Offer Online or by Phone
We'll ask you a few basic questions about your car's condition, mileage, and whether you have the title.  It's a quick process that'll take less than 2 minutes to complete, and you'll get a fair market offer to junk your car.
Step 2: Accept Your Offer and Make Arrangements
After you accept your offer a representative will contact you to make arrangements for the removal of your junk car.  Towing and removal are free of charge.
Step 3: Get Paid More For Using Junk Car Medics in
Tulsa
Upon pick up, sign over the title, hand over the keys, and you'll get paid on the spot with a check for your car.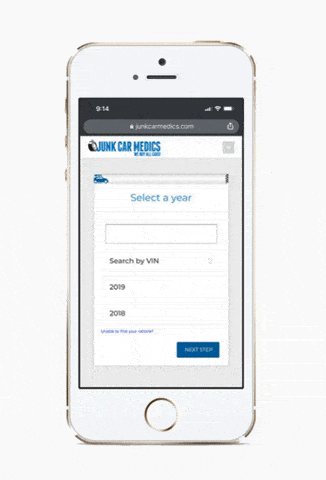 Why Junk My Car with Junk Car Medics in Tulsa?
Jon S. - Junk Car Medics Customer
I was trying to get rid of my 2008 GMC 1500 that needed a new transmission. Out of 8 different company's not only was there online quote fast and simple but they offered the best and highest price. When accepting the offer they made it easy with no complications. I scheduled my appointment and the driver came by the next day to remove it and pay me. If you are trying to get rid of your junk car they are the ones I recommend!
Tulsa Junk Car Prices
Over the last 12 months junk car prices in Tulsa, OK increased 77% on average for vehicle year models 1998-2008, the most commonly junked years! Let's take a look at some of the numbers:
Most Common Junk Cars in Tulsa
2006 Porsche Cayenne - $1,110.00
2006 Nissan Altima - $380.00
2006 Ford Expedition - $283.33
2013 Dodge Avenger - $753.33
2001 Chevrolet Impala - $325.00
2007 Honda Odyssey - $1,292.50
2000 Pontiac Grand AM - $212.50
2010 Nissan Sentra - $385.00
2008 Dodge Avenger - $472.50
1997 Honda Accord - $320.00
Junk Car Prices in Tulsa by Year
2000 - $236.00
2001 - $369.00
2002 - $517.50
2003 - $304.62
2004 - $408.50
2005 - $445.75
2006 - $450.69
2007 - $793.33
2010 - $759.29
2012 - $561.43
10 Junk Cars Worth Over $500 in Tulsa
2007 Ford F-150 - $1,575.00
2014 Volkswagen Jetta - $3,135.00
2002 Chevrolet Silverado 1500 - $1,450.00
2011 Hyundai Sonata - $1,340.00
2013 Hyundai Accent - $1,600.00
2005 Chevrolet Tahoe - $1,415.00
2002 Toyota Highlander - $1,660.00
2007 Cadillac Escalade - $2,805.00
2004 Ford F-150 - $1,155.00
2004 Ford F-250 SD - $1,585.00
The #1 Junk Car Removal Service in Tulsa
Do you own a useless junk car that is taking up space in your home? A wrecked truck sitting on your property? Abandoned vehicles that were there before you moved in? If the answer to any of these questions was yes, you can earn quick, guaranteed money right now by calling the Junk Car Medics. We are a professional used car recycler and scrap dealer in Tulsa, OK.
How Can I Sell my Junk Car in Tulsa, OK?
To sell a junk car in Tulsa, OK, all you need to do is collect some necessary documents and present the car to us. We will come and tow it away for free, paying the exact sum proposed so long as the car matches your original description. To get immediate payment all you need is:
Your driver's license or state ID;
The vehicle's title
Now, we are well aware of the fact that vehicle titles aren't always available or easily obtained, especially for auto wrecks and junk vehicles. Maybe the car has been abandoned for years and all documentation lost. Perhaps the car's documents were destroyed at some point. Whatever the case, you can rely on Junk Car Medics to supply the documents and paperwork services necessary to get the car sold.
We are experts in compliance with the state of Oklahoma's legal requirements for vehicle sales. Because of this, we can always find ways to establish the identity of a car's owner, proving that it is saleable. Once these documents are in-hand, we're happy to buy any car on the market.
Free Towing & Removal
One of the most valuable services we offer is free removal. If you have recently purchased a plot of land that has one or more abandoned cars on it, you can depend on us to remove the cars for free and pay you the latest scrap metal price for the car. If the car has any functional components intact, that will only raise the price. Give us a call and get a quote on the junk car removal services you need.
We offer same-day removals for most areas throughout the Tulsa region, including Catoosa, Bixby, Jenks, Broken Arrow and Sand Springs. We'll even travel out to Glenpool, Wagoner, Skiatook or even farther out to serve your junk car removal needs.
What You Should Know About Us:
We buy junk cars, used vehicles, and wrecked trucks of all kinds
You can sell us any vehicle and get paid for it on the spot
Our removal services are completely free
You can sell your car to us even if you don't have a title
You can trust us to get the latest scrap prices in Tulsa, OK
Give Junk Car Medics Cash for Junk Cars Service in Tulsa, OK a call and find out how much you can get for selling your junk car. We serve the entire Tulsa county region and are happy to provide you with immediate quotes and same-day tow-away service. Find out more about our service by calling our 24-hour hotline and asking to speak with one of our friendly and knowledgeable specialists.
---
We buy junk cars in the following zip codes in Tulsa: 74008, 74012, 74014, 74015, 74021, 74037, 74055, 74073, 74103, 74104, 74105, 74106, 74107, 74108, 74110, 74112, 74114, 74115, 74116, 74117, 74119, 74120, 74126, 74127, 74128, 74129, 74130, 74132, 74133, 74134, 74135, 74136, 74137, 74145, and 74146.
We service all of Tulsa's Downtown, Midtown, Northside, Southside, Eastside, and Westside areas. This includes neighborhoods such as the Blue Dome District, East Village, Oil Capital Historic District, Uptown, Buena Vista Park Historic District, The Pearl District, Riverview Historic District, Arkansas River Parks, Cherry Street, Maple Ridge & Sunset Terrace, Brookside, Lortondale, Ranch Acres, Patrick Henry, Highland and Whiteside Park Area, Kendall-Whittier, Swan Lake Historic District, Terwilleger Heights, Renaissance, Florence Park & Florence Park South, White City, The Greenwood Historical District, Brady Arts District, Brady Heights Historic District, North Cheyenne Historic District, Owen Park, Gilcrease Museum, Phoenix District, Southeast Tulsa, and Southern Hills.
Recent Purchases By Our Junk Car Buyers in
Tulsa, OK
2005 Chevrolet Suburban

74107
$70
09-15-2022
2003 Ford Ranger

74108
$815
07-23-2022
1999 Mitsubishi Mirage

74105
$70
07-07-2022
2007 Saturn Outlook

74107
$550
06-23-2022
2002 Chevrolet Blazer

74107
$70
05-19-2022
1999 GMC Sierra 2500

74105
$620
05-17-2022
2002 Chrysler Sebring

74103
$70
05-16-2022
2003 Chevrolet TrailBlazer

74107
$530
02-27-2022
2009 Dodge Grand Caravan

74107
$600
02-08-2022
2001 Ford Ranger

74106
$545
11-13-2021
2009 Chrysler Sebring

74106
$70
11-08-2021
2006 Ford Explorer

74105
$510
10-19-2021
2003 Toyota Camry

74107
$550
10-07-2021
2007 Nissan Altima

74106
$595
09-13-2021
2003 Ford Explorer

74104
$70
08-12-2021