Get More Cash for Junk Cars in Pittsburgh, PA
Junk your car to Pittsburgh's #1 cash for cars service that gets you up to $500 more.
Get a fast offer with our best price now:
We Buy Junk Cars for Cash in
Pittsburgh
Selling your junk car seems like it could be a headache. Where do you even begin? Begin with us, we buy junk cars in Pittsburgh and will take the hard work out of it for you. Get these things together: (They're required by the state of Pennsylvania)
Return Your Tags: This is the easiest part. Once we give you your money, you need to return your license plate tags to the DMV.
Vehicle Title: We need documents that prove that you are the owner of the car. The easiest way is to provide us with your vehicle title. Some other documents that are acceptable are: certificate of salvage, court order, or manufacturer certificate.
Registration: If you don't have your vehicle registration, then head over to the DMV and they can help you obtain a replacement. Normally people have this right in their glove compartment.
See? Selling your junk car in Pittsburgh, PA is really easy. We want to take all of the stress away from you. Learning that your car is junk is hard enough as it is. We want to try and help the pain by being the best junk car buyers in Pittsburgh. We take a look at the problems that your car has and instead of asking you to pay for them, we pay YOU to take the problem off of your hands. We'll give you up to $500 or more for your junk car in Pittsburgh, PA. Remember, we can also donate your car to a charity in Pittsburgh on your behalf as well.
Junk Car Medics Pittsburgh
Pittsburgh, PA 15208
(855) 587-0227
Calling Hours:
Call For Quote 24/7
Business Hours:
Mon-Fri: 8 am – 7 pm
Sat: 8 am – 2 pm
Sun: Closed
How to Junk a Car in
Pittsburgh, PA
Junk Car Medics makes selling a junk car for cash in Pittsburgh, PA quick, easy, and painless. Get up to $1,500 to junk cars and up to $5,000 for used cars.
Here's how it works:
Step 1: Get an Instant Offer Online or by Phone
We'll ask you a few basic questions about your car's condition, mileage, and whether you have the title.  It's a quick process that'll take less than 2 minutes to complete, and you'll get a fair market offer to junk your car.
Step 2: Accept Your Offer and Make Arrangements
After you accept your offer a representative will contact you to make arrangements for the removal of your junk car.  Towing and removal are free of charge.
Step 3: Get Paid More For Using Junk Car Medics in
Pittsburgh
Upon pick up, sign over the title, hand over the keys, and you'll get paid on the spot with a check for your car.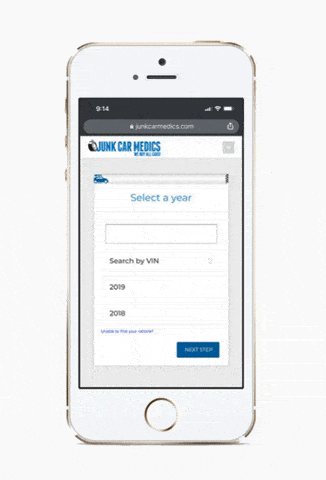 Why Junk Your Car to Junk Car Medics Cash for Junk Car Service in Pittsburgh?
Jon S. - Junk Car Medics Customer
I was trying to get rid of my 2008 GMC 1500 that needed a new transmission. Out of 8 different company's not only was there online quote fast and simple but they offered the best and highest price. When accepting the offer they made it easy with no complications. I scheduled my appointment and the driver came by the next day to remove it and pay me. If you are trying to get rid of your junk car they are the ones I recommend!
Recent Purchases By Our Junk Car Buyers in
Pittsburgh, PA
2002 Land Rover Discovery
Zip: 15206
Offer Price: $590
Offer Date: 10-27-2021
2001 Ford Ranger

Zip: 15202
Offer Price: $830
Offer Date: 08-29-2021
2001 Chevrolet Silverado 1500

Zip: 15205
Offer Price: $720
Offer Date: 06-16-2021
2017 FORD Fusion

Zip: 15207
Offer Price: $5395
Offer Date: 05-05-2021
2012 Ford Fusion

Zip: 15207
Offer Price: $595
Offer Date: 03-22-2021
2012 Honda Civic

Zip: 15201
Offer Price: $815
Offer Date: 03-02-2021
2009 Suzuki XL7

Zip: 15202
Offer Price: $530
Offer Date: 02-12-2021
2006 Honda Civic

Zip: 15206
Offer Price: $640
Offer Date: 02-03-2021
Pittsburgh, PA October 27, 2021
Pittsburgh Junk Car Prices
Top 7 Used Cars in
Pittsburgh, PA
Coming soon
Top 7 Junk Cars in
Pittsburgh, PA
Coming soon
The #1 Junk Car Removal Service in Pittsburgh
There's nothing worse than having a junk car in Pittsburgh, PA that you just can't get rid of. If your car is no longer running or you just want to get it off your hands, then call the Junk Car Medics today at (855) 587-0227!
So, you've had that car in your yard since your days at the University of Pittsburgh. It's seen you through some tough times. Now It's going through some tough times that are bleeding your pockets dry. Sometimes you just need to let it go, and move forward. But you shouldn't have to do that at the expense of your wallet. Even if you're not living in Pittsburgh right now, we also pay help with junk car donations to charity in Pittsburgh.  Unlike other auto junk yards around town.
Who will buy my junk car in Pittsburgh?
We do! Junk Car Medics wants to buy your clunker from you. All it takes is a phone call from you. We'll take a look at the car, and pay you money. We also take care of the removal fee. We don't ask you for any money at all.
Who pays the most for junk cars in Pittsburgh PA?
Many places claim to pay top dollar for junk cars in Pittsburgh, but they often don't deliver on their promises. That's why we don't give you a quote until we see the car. What we will say is that we'll give you $500 or more.
Do I need a title to junk my car in Pittsburgh?
Yes. You do need to have your title. However, the state of PA does know that there are circumstances where you won't have your title. If you happen to have a court order, a manufacturer certificate, or an out of state title, then that will be acceptable.
Can I get money for my junk car in Pittsburgh?
Yes, absolutely. Junk Car Medics solves your car problems by giving you the money you deserve to take those problems away. If only all of life worked that way. At least we can take care of that clunker in your backyard that is costing you more money to maintain than it would to have repaired and on the road. Instead of wasting money on getting it fixed, earn money by letting us have it.
Call Junk Car Medics Cash for Junk Cars Service in Pittsburgh, PA Now!
---
We buy cars in the following zip codes in Pittsburgh: 15201, 15202, 15203, 15204, 15205, 15206, 15207, 15208, 15209, 15210, 15211, 15212, 15213, 15214, 15215, 15216, 15217, 15218, 15219, 15220.